Lead Community Manager
Frontier
Hayo Zookeepers!
Today we'd like to give you an update on a topic we know the community has been asking about: Polar Bears! In a future update, we'll be changing the requirements for Polar Bears, helping make these wonderful animals easier to include in your Zoos but still maintaining the challenge of looking after them appropriately. To help explain the process we go through and the changes coming to the Polar Bear, we've asked Designer Kilian (you may remember him from our
Southeast Asia Animal Pack Livestream!)
to help give a few more details. Thank you Kilian!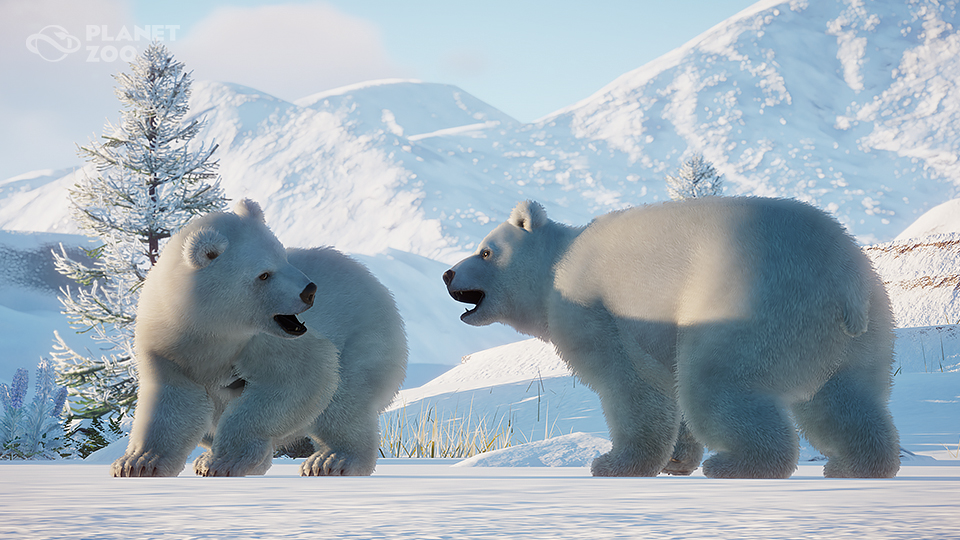 Kilian:
Hi everyone! Let's talk Polar Bears.

The Polar Bear was always an iconic animal we definitely wanted to see represented in Planet Zoo. Our research into this animal has also shown us that it is one of the most hotly debated captive species, with zoological and ethical standards for their exhibit space widely varying between organizations and institutions – numbers ranging between 500m² to 8000m² per animal.

When adding a new animal to the roster, we identify a specific gameplay challenge for each species and balance their needs accordingly, such as enrichment requirements, specific terrain, food costs – or habitat space. Based on our aforementioned learnings about captive Polar Bears it was clear that to reflect the real world debates that a good challenge for this animal would be the creation of an appropriately sized exhibit.

For this, we oriented ourselves on the higher end of minimum space requirements, as applied by institutions such as the Highland Wildlife Park. We also specifically looked at institutions with successful breeding, as this can indicate good welfare in captive holdings and also makes up a big chunk of Planet Zoo's gameplay.

Planet Zoo is a game that aims to champion and educate on animal welfare and conservation while at the same time delivering a fun and engaging experience for you. After reading your feedback we analysed the data for the Polar Bears kept in your zoo's and can see that the current requirements have impacted both placement and enjoyment of this animal.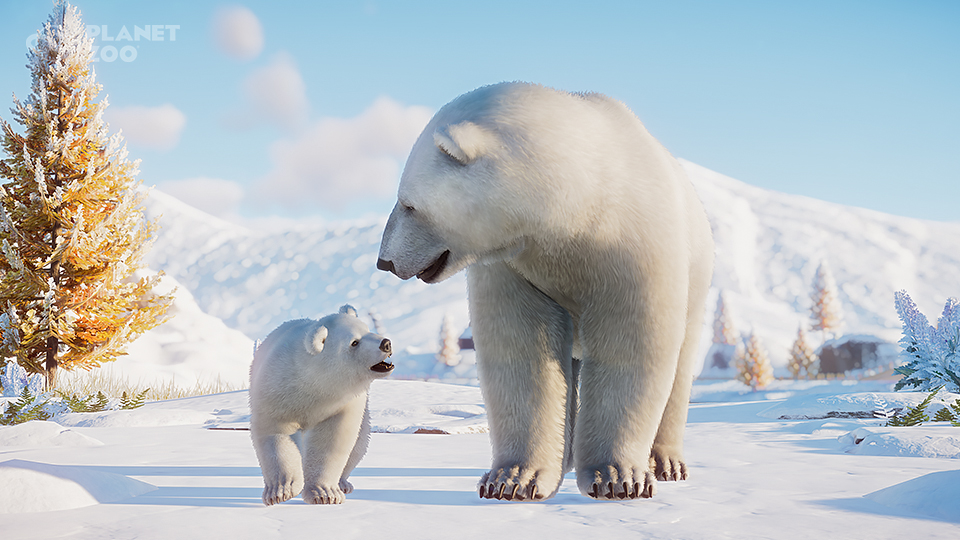 ​
As a result, we dived back into research mode and compared information on over two dozen holdings of captive Polar Bears, which led us to adjust the requirements for good Polar Bear welfare in Planet Zoo to stay true to what Planet Zoo is all about, but make the Polar Bear a more viable addition to your wonderful Zoos! Here are the changes we'll be making:
Land space requirement:
Reduced to 3250m² and 650m² for additional animals, down from 6000m² and 1000m², respectively.

We want to preserve the Polar Bear as the one of the top habitat space challenges and believe with these new changes they will comfortably keep that spot but bring the enjoyment of building a habitat for them in line with other species.
Water space requirement:
Reduced to 720m² and 360m² for additional animals, down from 2000m² and 250m², respectively.
Enrichment requirement:
One of the aspects we often found mentioned in Polar Bear habitat evaluations was the diversity and amount of enrichments, which can offset concerns about habitat size.

We have therefore slightly increased the enrichment need of Polar Bears – so make sure to place down enough toys!
Environment welfare:
In the same vein, we understand that a big part of the frustration with the Polar Bears came from the rather low variety of plants they would tolerate in their habitat.

To ease that point, and to more accurately represent the range of wild Polar Bears, we have added Continental suitability for Asia and Biome suitability for the Taiga biome to the Polar Bear.

Thanks for reading through that, I hope you all are looking forward to these changes and designing some new habitats for the Polar Bear in the future!