Community Manager
Frontier
Hayo all!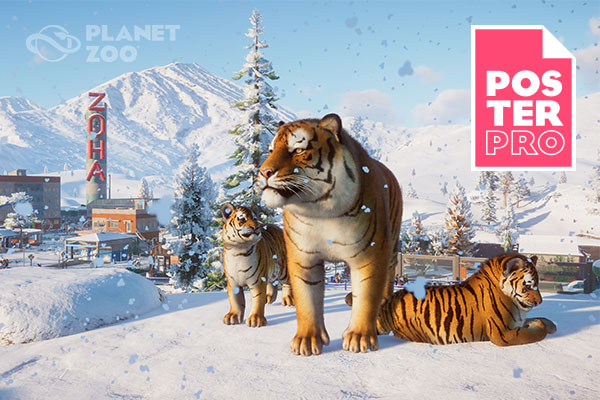 Since Planet Zoo's launch back in November, we know that many in our community have been working hard on their flourishing and thriving zoos. With so many Planet Zoo players, it seems like there's now an abundance of attractions to choose from! But, with all that competition out there, why should the crowd come to visit your animals, and how do they even hear about your zoo in the first place?
We're looking for a Poster Pro out there who knows how to advertise the best things about their zoo, and how to capture the gaze and imagination of their peers. We want you to design a bright, appealing poster advertisement that will have people racing to your zoos to get a look at what you've showcased, a poster that will inspire people to visit and meet new animals as soon as possible. We want our creative community minds to shine!
Think you've got just what we're looking for? Design your poster, save it as an image, and then email us at
community@frontier.co.uk
! All entries must be submitted by 5PM UTC on Thursday 26 March 2020!
Prize:
The winner of the competition will win a Planet Zoo goodie bag which contains:
A Planet Zoo tote bag.
A Planet Zoo plushie.
A Planet Zoo pin badge.
A Planet Zoo signed poster.
A Planet Zoo lanyard.
A Planet Zoo shirt.
A Planet Zoo jigsaw.
A Planet Zoo lunchbox.
Rules:
Your poster must include an in-game animal. This must not be copyrighted content; it may be an in-game screenshot or artwork you have created.
You may only enter once.
If you decide to put any language other than English on the poster, please provide us with the translation in the email with your poster.
Competition Terms and Conditions:
You only officially enter the competition when you have submitted your poster to community@frontier.co.uk with the subject link: 'Poster Pro'.
Your first entry is considered the only entry - please only send one poster.
All entries must be submitted by Thursday 26 March, 2020 at 5PM UTC.
Frontier have the right to remove any entry at their sole discretion.
Objectionable or offensive content will be disqualified.
The competition will be judged by an independent panel of Frontier staff.
The winner will be contracted by the Frontier Community Team via email.
The winner has 7 days to respond and claim the prize; if no response has been received after 7 days, you forfeit your prize.
Frontier employees are excluded from participating in the event.
Frontier reserve the right to exchange any prize of similar value.
Frontier have the final say on the winner and prizes of the event.
Last edited: