Introduction
Like many people I have found it hard starting with a blank canvas in Planet Zoo and often struggle to build further than an entrance and a couple of exhibits. I had considered recreating a local zoo which for me this would be Edinburgh Zoo, however, as this was already being done, I opted for something different. Since November 2021 I have been working on recreating Glasgow Zoo in its mid-2000's derelict state. Once complete I will then aim to "revive" the zoo by restoring and modernising its old unfit for purpose habitats and damaged buildings.
Background of Glasgow Zoo
Glasgow Zoo was founded by the Zoological Society of Glasgow and the West of Scotland in 1947 on a 99-acre site on the grounds of the former Calderpark Estate. The land the zoo sat on was initially purchased in 1938 however, the onset of World War 2 delayed its opening. The Zoos construction began as Scotland was recovering from the war and as such many of the zoo's buildings were made from old war materials, for example some of the zoo enclosures were built with concrete roadblocks which were designed to hinder the movements of tanks, bricks from demolished air raid shelters, and metal from battleships.
During the zoo's peak years, it amassed over 600 animals including the likes of Lions, Elephants, Rhinos and Polar Bears which attracted 140,000 visitors per year. The Zoo also contained a large number of birds, amphibians and farmland animals.

In the late 1990's the Zoo fell on tough times due to decreasing revenue and public funding along with being unable to compete with Edinburgh Zoo. Annual visitors to the zoo fell to around 40,000 per year and in a bid to avoid bankruptcy the Zoo tried to sell excess land and animals. The final years of the zoo were shrouded in controversy with various concerns surrounding animal welfare and the condition of the Zoo. In 2003 with accumulated debts of £3.5M the Zoo was unable to renew its zookeeper licence, having been unable to meet new standards on animal welfare and subsequently closed. Following the closure of the zoo and site became derelict with the buildings and enclosures within the zoo becoming heavily vandalised, towards the end of the 2010's the remains of the Zoo where bulldozed and replaced with a new housing estate.

Challenges
Recreating Glasgow Zoo possesses some challenges, the most obvious being that as the zoo has now been demolished and redeveloped into a housing estate, I cannot visit to gather more reference images. I have been able to gather 250+ images to date of the zoo in both a derelict state and from when the Zoo was still functional, however, it is not always obvious which picture represents what. To fill in the blanks I am using a mixture of the time feature on google maps and using my imagination. To guide my terraforming, I am relying on the altitude measurements in google maps however, these are set to todays measurements and since the site was redeveloped some heavy landscaping works where undertaken so elevation in my version of the zoo will not be 100% accurate compared to original site of Glasgow Zoo.
Glasgow Zoo Map (1990's)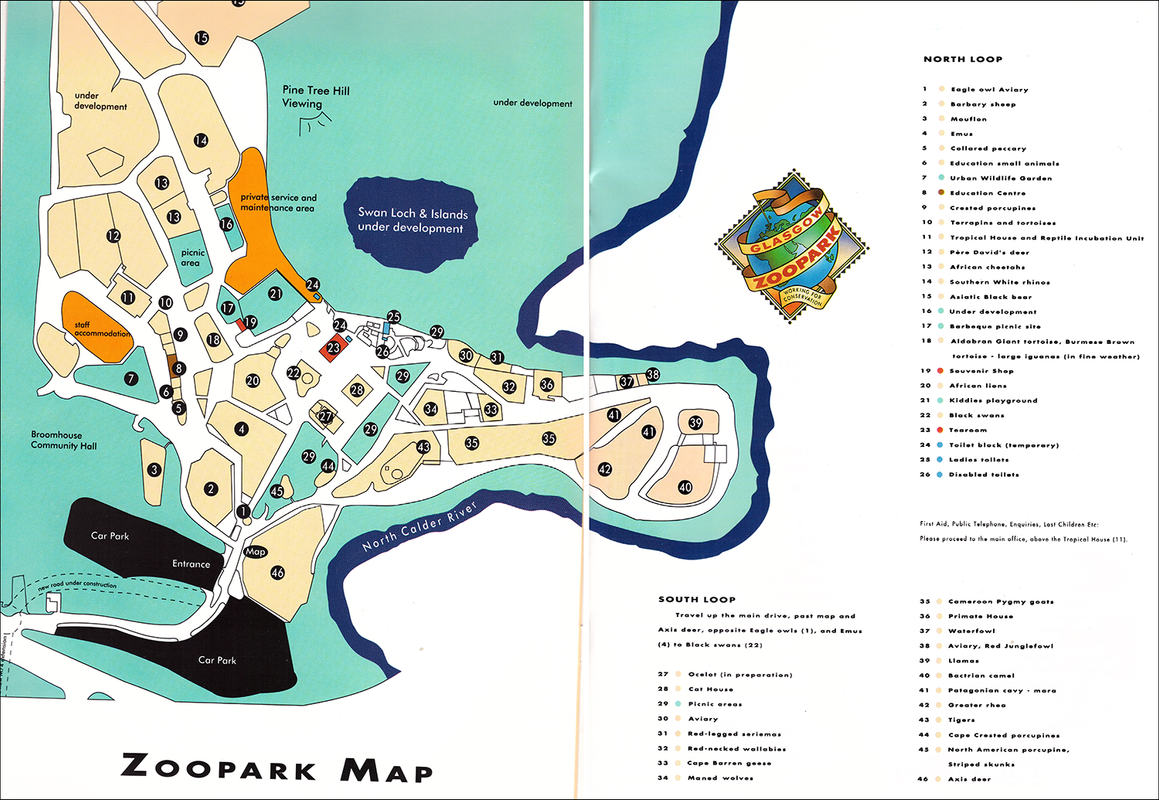 Planet Zoo outline
Below was my starting point which was an outline of each exhibit/building to scale using plaster pieces on an empty un-terraformed map. In each future update post I'll aim to provide some background information of the exhibit/building along with pictures of it in its original state and in its derelict state where possible.