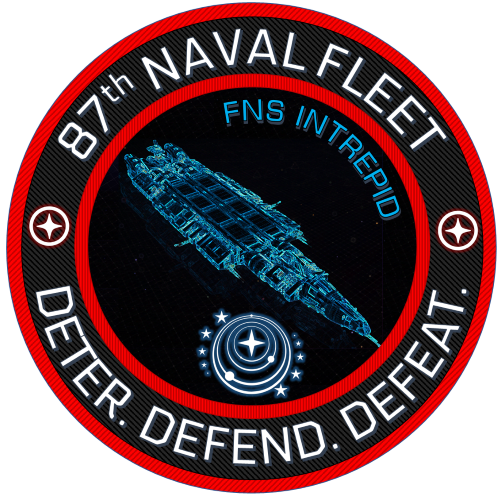 DETER. DEFEND. DEFEAT.
That is the Motto of the 87th FEDERATION AUXILARY NAVAL FLEET.
TL;DR
WE ARE A STORY BASED - ROLEPLAY GROUP!
​
PLAYER ABILITY DOES NOT MEAN YOU CAN'T JOIN CERTAIN ROLES. Roleplaying ability determines who goes where.​
We are a squadron of Federation pilots who accept Independent aligned and Federation pilots wishing to be a part of something bigger than themselves​
We are a formal military unit of Auxiliary Federal Navy pilots dedicated to roleplay within a military context.​
We have dedicated sub-wings, each with its own culture and playstyles​
​
Effectively we are trying to give meaning to Elite Dangerous and provide a "story campaign" of sorts in lieu of real campaigns, with a focus on honoring Lore.​
​
We play in OPEN, and PRIVATE GROUPS, but don't worry, we mentor new pilots, and engage in gameplay reminiscent of structured ARMA III military play with dungeons and dragons.​
​
We are not tied to any minor faction, but do help Federation Factions where we can.​
​
WE ARE RECRUITING FOR ODYSSEY AND INTERESTED ROLEPLAY-FRIENDLY-PILOTS
WELCOME RECRUIT! The 87th is in need of your service!
ENLIST TODAY
​
STRUCTURE
118th Tactical Fighter Wing
​
The core of the 87th Naval Fleet. Our foundation upon which we build the fleet. They are the guardsmen that have pledged to hold the line of the Federation against all who oppose it. Basic roles of the 87th are Fleet Carrier patrol, Combat Patrols, taking on hostile forces from factions and governments, limited service for our political parties, President Zachary Hudson and Minority Leader Felicia Winters, as well as combat against Thargoids.
MOBIUS SQUADRON
We are the heavy hitters in the 87th Naval Fleet. Federal Corvettes, Anacondas, Type 10s, yes even requisitioned Imperial Cutters. If it has overwhelming firepower, we are interested in having it aboard MOBIUS Squadron. Pilots in this wing act as the tanks of fleet formations drawing in firepower and deploying Ship Launched Fighters as needed.
OMEGA SQUADRON
Support? We are the Support! In every fleet formation there needs to be a ship that is the balance between firepower, speed, and armor. We are here to fill that niche. Federal Gunships, Federal Assault Ships, Medium Class support ships like requisitioned Imperial Clippers are also welcomed.
VIPER SQUADRON
A light strike Squadron within the 118th, we are here to deliver firepower from small ships, Vipers mk IIIs, Eagle Mk 2s, Type 6s, and Asp Explorers. We aim to provide a mixture of flexible affordable firepower in the midst of a heavy fight to complement our heftier brethren.
If the 118th is the core, then the 729th is the Right arm of the 87th Naval Fleet. These fine folks are what allows the 87th to aid the systems under the Federation. They are the silent force that projects the influence of the 87th Naval Fleet onwards. Without them, well, the 87th Naval Fleet would grind to a literal halt.
RAPIER SQUADRON
A rapier is usually used in tandem with a weapon known as a main-gauche, or parrying dagger. The technique was a dodge and weave type pattern, with the main-gauche being used to deflect and redirect the movements of an enemy weapon, and rapier for striking and slicing. As part of the 729th, Rapier Squadron is tasked with being the slicer and striker of enemy defenses. We use speed and lightly armored ships to avoid major confrontations while hitting our enemies' weak spots.
SABRE SQUADRON
The Sabre was introduced sometime in the 18th century to be a more militaristic version of the rapier, with a bigger cross guard for blocking, and a thicker blade, more for slicing. Built for precision attacks, Sabre Squadron consists of our frontline units, equipped with heavier ships built for dealing heavier damage to the enemy. We tend to require support from other squadrons but when at peak strength we slice right through the enemy.
CUTLASS SQUADRON
Indeed, a Cutlass is a type of sabre, just as the sabre is a type of rapier, but even broader, thicker, and with a sharply cutting edge. More for slashing and piercing than anything else. Cutlass squadron specializes in heavy hitting one sided attacks. With specializations in ground attack operations, Cutlass squadron pilots routinely equip Mine Launchers, Torpedoes, Cannons and other hard hitting weapons to deal with the Federation's Foes.
MARINE SPECIAL OPERATIONS COMMAND
Feet First into Hell
​
The Minor Faction "MARINE SPECIAL OPERATIONS COMMAND" is under the command of the 87th NAVAL FLEET. The Marine special operations command provides expedient service and warfare multiplying capabilities to the 87th Naval Fleet alongside a full theater of surface based and space based infrastructure from which the 87th Naval fleet conducts the majority of its combat operations. As a result, the fleet has come to rely on its MARSOC element for special black operations and operations that are beyond the capabilities of the fleet regulars.
Special Activities Division. In every fleet there is a need for more sensitive operations. This is the 6th Wing's Specialty, undercover focus with plausible deniability. The members of the 6th must be able to adapt to any mission scenario needed and accept the risks that intrinsically come with such responsibility. However they must be ready for they represent the Elite of the 87th.
Those Shadows...those nightmares that pilots who stand opposed to the Federation have...those shadows are the reminder that the 6th Wing's infamous 66th Squadron are always on alert, always hunting. The pilots of the 87th Naval Fleet are always under threat, but they take this is full stride, after all they signed up for military duty, but every now and then there are Elite enemy pilots that reach out of the darkness to assault our sworn duty to the Federation. This is where the 66th steps in. NO MORE! They call out into the depths of the black sky. FOR WE WILL LASH BACK OUT! Ships equipped to the extreme. Custom, unorthodox builds bristling with weaponry modified beyond measure. Crewed by pilots with skill unmatched.
I almost pity our enemies. For I would not want to be on the other side of the 66th Squadron.
OUR ODYSSEY INFANTRY GROUP! - Still determining how mechanics will work and this group's mission role
OUR ODYSSEY SRV GROUP - Still determining how to organize this group and its mission role
Ambassadors and Diplomats
​
As with all aspects of the 87th, we ultimately serve the Federation's as a whole. These are representatives from different corporations and factions of our great and mighty Federation. While their suggestion and orders do not supersede my own, my own orders are very much driven by their wishes and needs. Respect our officers. And make sure to always cast the 87th in a good light for these Officers.
​
EXPECTATIONS
1 - LOYALTY TO THE FEDERATION
2 - HONOR TO YOUR PEERS
3 - TO PARTICIPATE FULLY IN COMBAT / EXPLORATION / AID MISSIONS
4 - TO PARTICIPATE IN ROLEPLAY WITH YOUR FELLOW PILOTS TO INCREASE IMMERSION
5 - FOLLOW THE ORDERS OF YOUR FLIGHT LEAD
6 - TO SERVE THE FEDERATION WELL
WHAT WE PROMISE
Gameplay that isn't necessarily profitable, but that will be rewarding.
Base Assaults with air support, and a coordinated wing feeling.
Special bounty hunter hunts, where a wing hunts down one of our own for story reasons.
Exploration of the Guardian and Thargoid Ruins
Group BGS work that makes the factions feel meaningful and important
Coordinated combat with Small/Medium ships to up the danger and the reliance on your squad mates
Playing a role and feeling supported while knowing that your job is important no matter what.
FORWARD THE FEDERATION