My initial intention, when starting this game, was exploration. ED is the closest thing to space exploration I will probably ever get... I don't want to ruin the game by exploiting any features of the game, so i do not seek any "do this and make zillions in an hour" advices...
I first completed couple of mission, mostly Boom deliveries or similar. By mistake I took two Navy delivery missions, both set me back by roughly 5M credits, as I did not know, that Navy is not paying for the goods they order. At least not in full. So after purchasing the goods and delivering it and then receiving the rewards, the result was a loss of 5M credits... That was quite a setback, but I kept doing other missions and eventually managed to make up for it...
So my first personal expedition started.
Beginning of the journey: LHS 20 - Ohm City (I purchased my DBX there and made some outfitting)
Ship: DBX
Outfitting:
4A SHIELD GENERATOR
4A FUEL SCOOP
3C AUTO FIELD-MAINTENANCE UNIT
3E CARGO RACK
2E CARGO RACK
2E CARGO RACK
DETAILED SURFACE SCANNER
1E ADVANCED DOCKING COMPUTER
4A POWER PLANT
4A THRUSTERS
5B FRAME SHIFT DRIVE
3D LIFE SUPPORT
4A POWER DISTRIBUTOR
3A SENSORS
5C FUEL TANK
1I LIGHTWEIGHT ALLOY
2F MULTI-CANNON [GIMBALLED]
2D BEAM LASER [GIMBALLED]
HEAT SINK LAUNCHER
POINT DEFENCE
I tried to balance the equipment in a "Best money can buy at the moment/decent jump/decent survivability/decent exploration capability" way... However, I did not know, that for the AFMU, you need some materials, so I probably just carry a dead weight... Not sure, didn't check whether it works or not yet...
Anyway. I decided to go up and climb as high and far away from the bubble as possible. The first 700-1000ly, it was pretty much thoroughly explored already and I first found an unmapped body after that... What a joy! I mapped my first "unmapped" body! Now what... It does not say "First mapped by SleepyDelegate"! Oh, you need to return with the data to a station and turn it in at the cartography service... OK... No problem...
I continued and started finding systems with more and more unmapped and undiscovered bodies... I even found my first (unfortunately already discovered and mapped) ELW! What a beauty!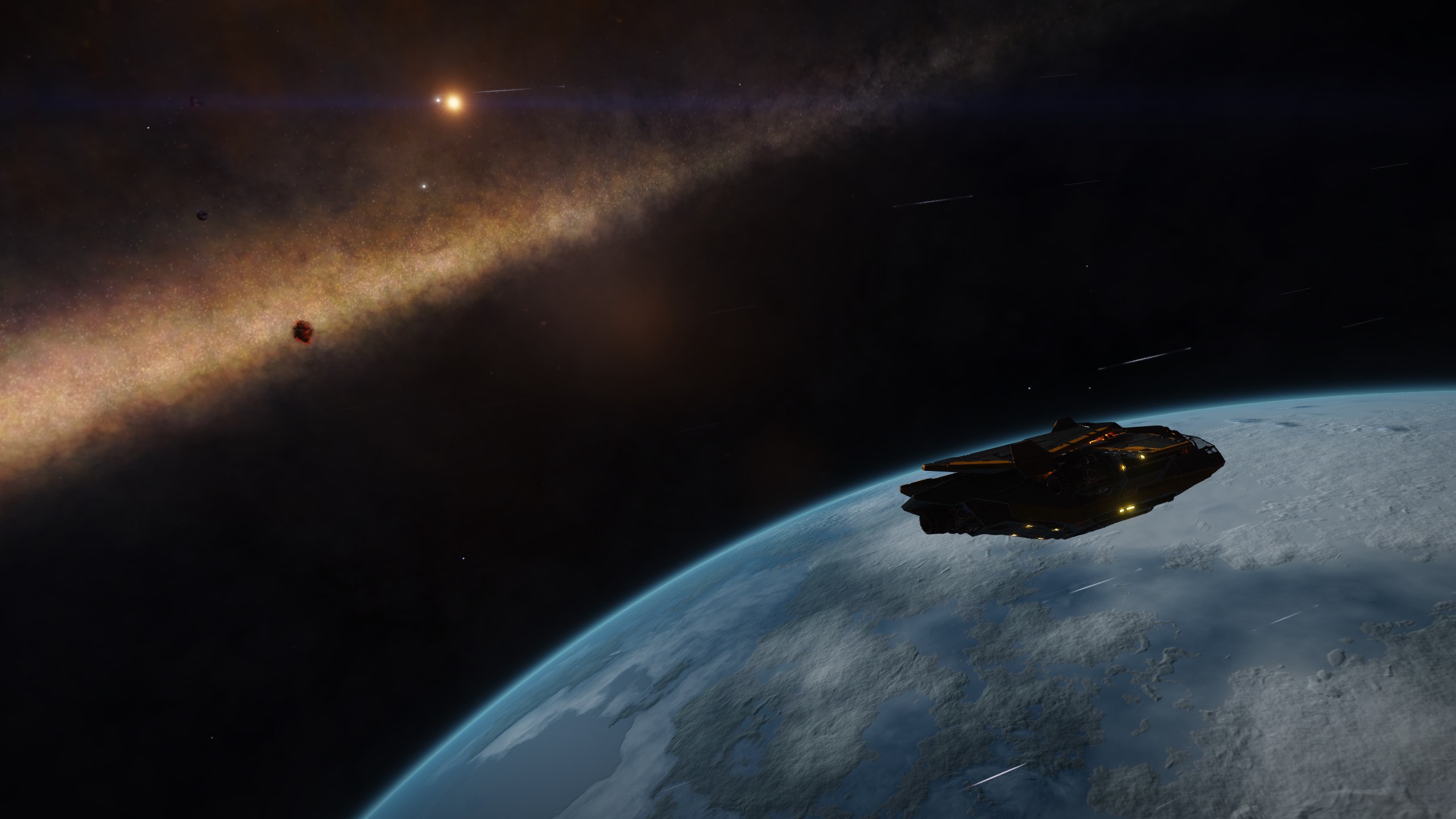 My journey continued to a system called Blu Thua TZ-N d7-1, where I parked my ship yesterday and called it a night. At that time, I was roughly 2500ly from my starting point... Today, I decided to set a destination, so that I do not just fly blindly. I decided to do what every explorer must do first. I'm going to Saggitarius (my destination is
Stuemeae FG-Y d7561
).
My observations so far, after visiting roughly 350 systems:
ELW's are rare, very rare
black holes are rare
white dwarfs are rare
neutron stars are rare
amonia worlds are rare
water worlds are rare
I can honestly say, that the space can be pretty boring place... Rocks and ice everywhere... Every star is the same... Every gas giant looks similar... Whenever you get excited, that you are the first explorer in the system that has 52 bodies (!!!), just to fire up the FSS and find out, that most of them are pieces of rock orbiting around couple of gas giants, or huge ice bodies...
But the views can be so amazing and you press the Jump button with excitement and expectation every time!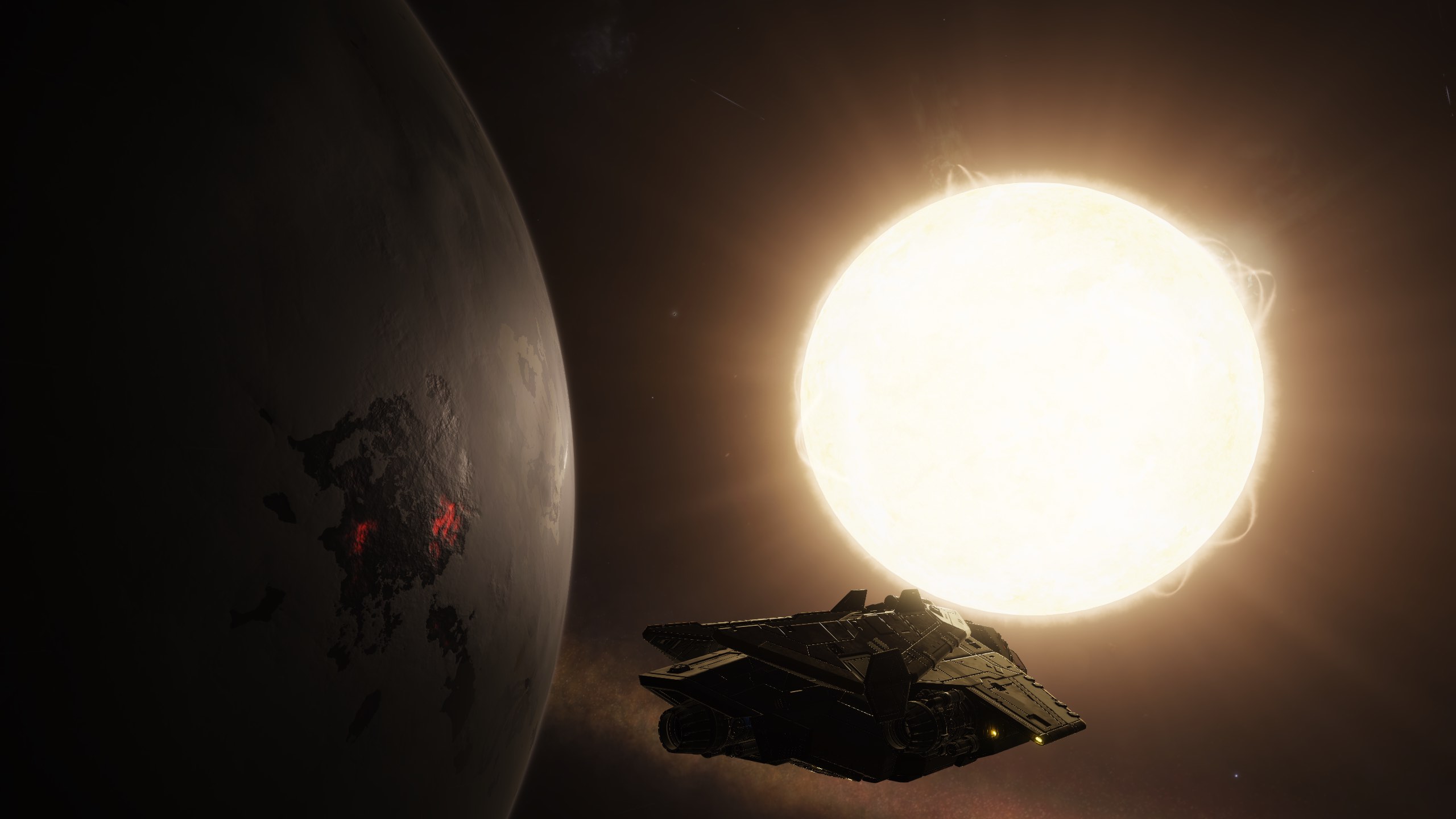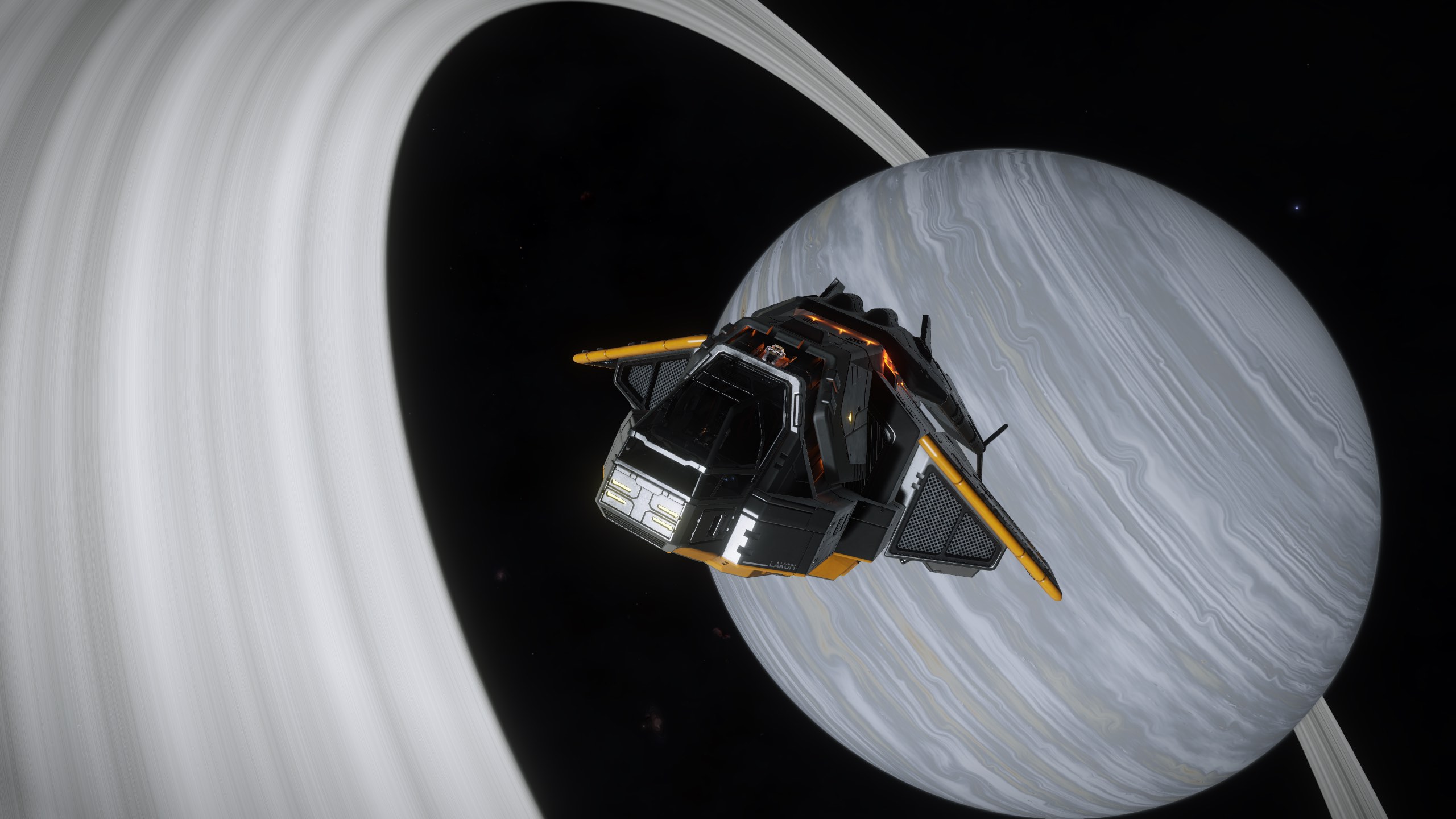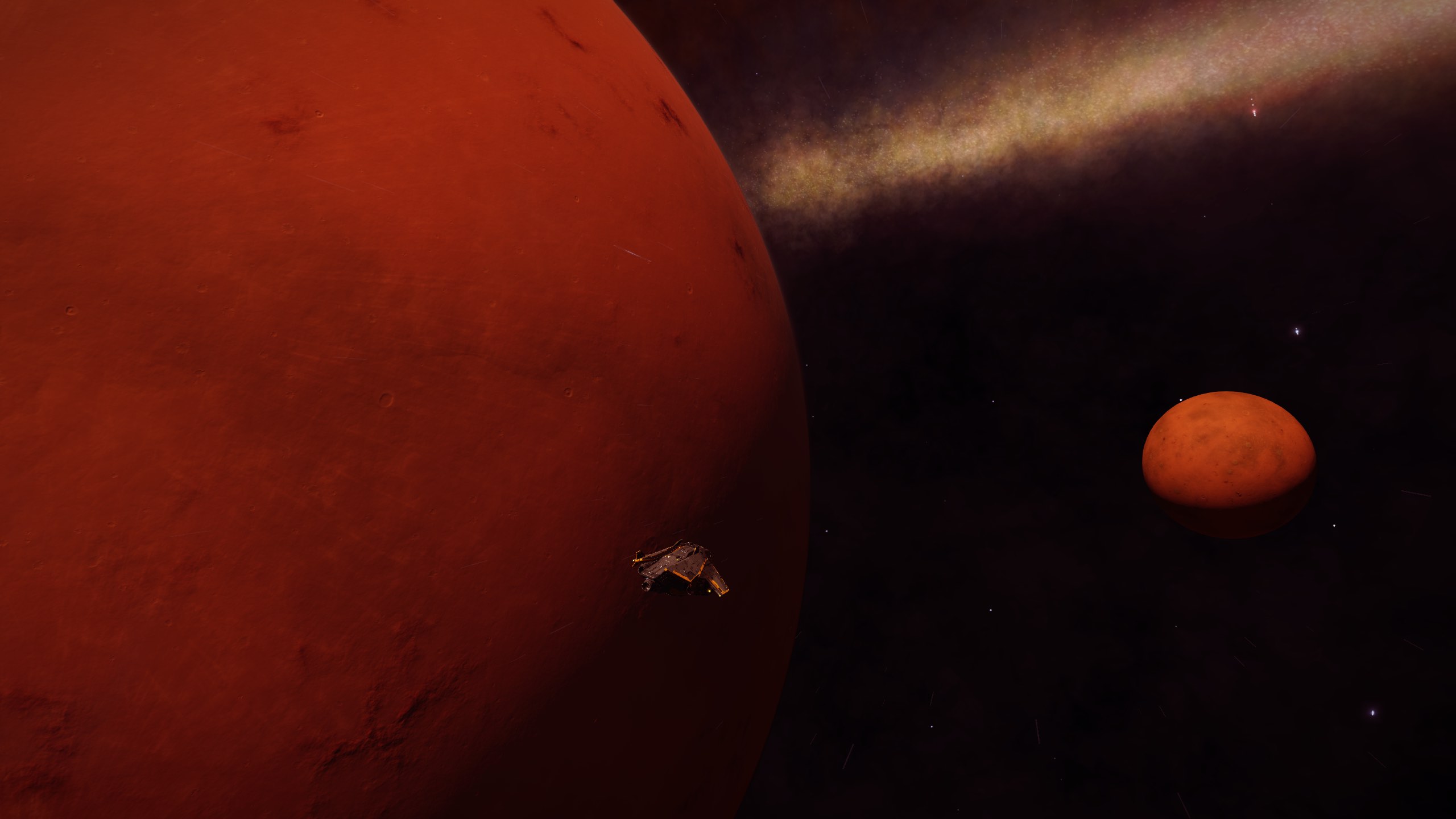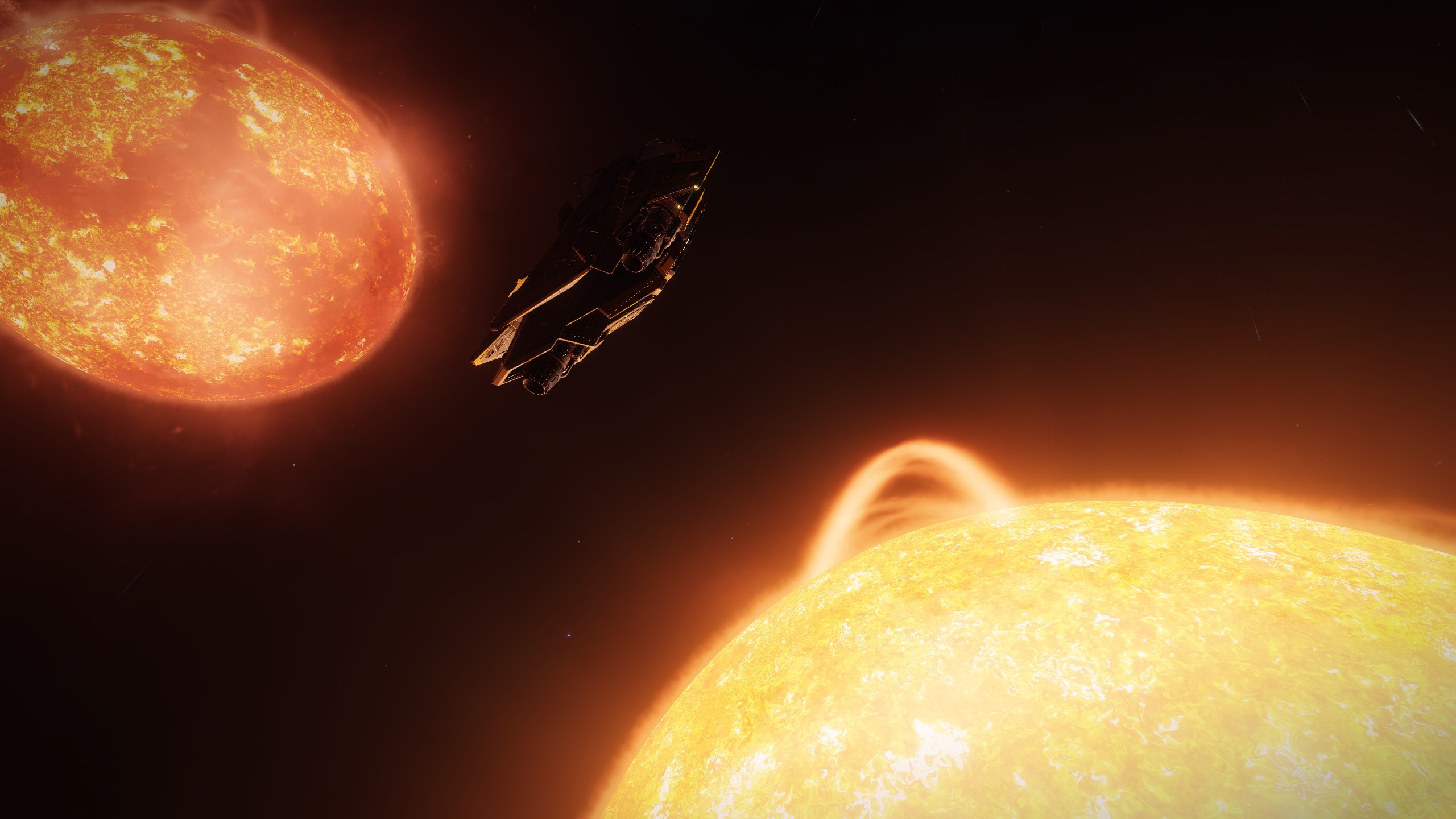 So what I need to figure out:
how do you find something interesting? Like how did people find all those strange things, like ruins, xeno life, volcanos etc? Do you need to search the system inch by inch and look in every corner, or does it pop up on the scanner?
how do I survive without hitting anything? (I almost hit a planet, I was supercruising towards it, getting ready to stop, my mind got carried away with some explorations stuff and "BANG!!!" - emergency drop out of supercruise... All I saw was the planet plummeting towards me at a speed I could not evade, I thought I'm dead, all the progress lost... Luckily the emergency brakes worked... But my heart stopped for a second... Then I almost hit a star, as I accidentally pressed 75% thrust instead of a FULL STOP and as a consequence panicked and turned my nose towards the centre of the star... humans can panic really fast!
If I make it in one piece to the Explorer's Anchorage, should I sell all the data immediately, or travel back to the bubble and sell something there?
So, this will be me explorers chronicles, I will occasionally share my progress here and I wholeheartedly welcome any useful tips from the experienced ones. But please no roads to riches or exploits...
Thank you!
CMDR SleepyDelegate
EDIT: Figured out all of my questions from this post already...
Last edited: