I'm having a bit of a strange sound issue which i can't solve.
A while back i noticed that when playing Youtube video in Firefox, the sound was very very low.
However, all other sounds played nicely and even in Chrome, Youtube sound was normal and on the same level as every other sound on my system.
So i started to look into it and it seemed Firefox had already quite a history with sound problems in Youtube which i never encountered until recently.
One solution was to install an extencion but i looked into it a bit further and found the culprit in the Windows Sound settings.
When a program runs, you get a sound entry for that program in the advanced Windows 10 sound settings.
I noticed that when you run Firefox, it puts more then a a few entry's in that list and all but one had the sound sitting at 1% instead of 100%.
So i played around with the Firefox entry's and on one of them, when i moved the slider up to 100%, the sound in the Youtube video playing in Firefox was restored.
Then i hit the reset button there to reset to Windows default settings and after rebooting all Firefox entry's had now 100% sound and Youtube was OK.
But... when running Elite, the sound is reduced to around 30% of the normal value compared to other software that uses sound (games or whatever) "even when the Elite entry is set to 100%. If i move the slider to zero, the sound goes to 0 but when moving the slider back to 100%, i get no more then 30% or so on the Elite sound output.
So the question now is... what happened to the Elite sound volume when i hit the reset button that set it to 30% even if the slider is at 100%.
(In game the sliders are set to 100%...)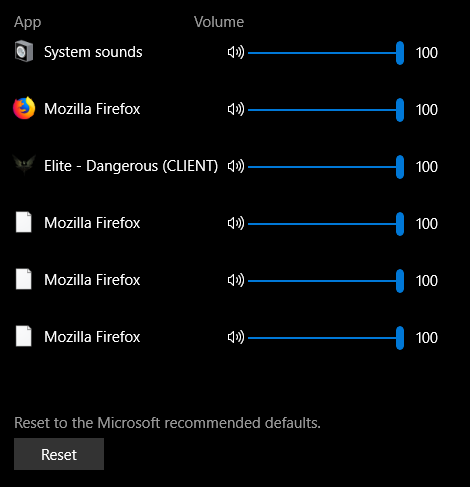 Last edited: