Community Manager
Frontier
Hayo, coaster friends!
The past few months, we've been hearing from our delightful PlanCo Entertainers, though with the launch of Planet Coaster: Console Edition, we've got a special treat for you. We're talking to Oswald B. Thompson (who you'll meet in the Career Mode of Planet Coaster: Console Edition) to get a first-hand opinion on how everything's been going so far. With a huge array of your fantastic creations already on the
Frontier Workshop
, and incredible parks already shared, we know he'll have a lot to say!
Hey Oswald, how's it going?
My oh my, what
isn't
going? I've seen such a surge of budding coaster park proprietors that I've been rushed off of my feet giving them the whistle-stop tour of my many wonderful, albeit, often incomplete, parks.
Is there a reason you often leave parks incomplete?
Well, incomplete is a subjective term! Is the Sagrada Familia incomplete? Or is it a true masterpiece in its current form? Leonardo Da Vinci often left unfinished and incomplete work! I much prefer the phrase "left with room to grow". I often find myself fantasizing about the next big coaster and that tends to require new scenery and a new location to let those creative juices flow. My mind works best when I have a blank canvas to sculpt on so I tend to start anew, often.
What's your favourite ride?
I'm certainly not one to toot my own proverbial horn, though my very own, and my first creation, 'Oswald's Magnificent Machine' includes both 'Magnificent'
and
my own name in it, so I'm quite fond of that one... I jest of course! Truthfully, wooden coasters fascinate me. An incredible mix of nature and machine as well as old and new technology - it always creates such an incredibly beautiful design.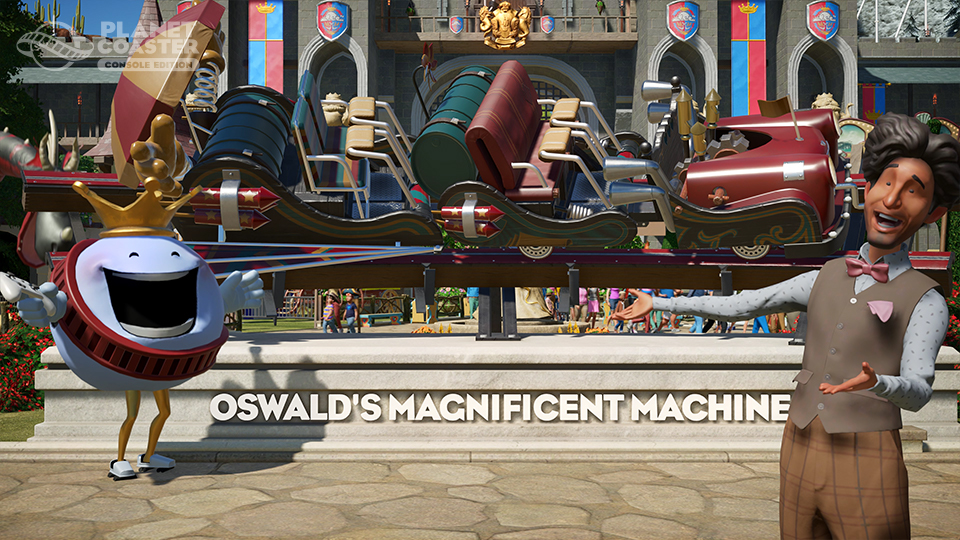 ​
Well with things going so well, I must ask, how's the rest of the gang?
Well, Lucy in particular has been exceptionally excited! Lucy's following has lept from 800 to 1000 with the recent success of her starring role in our career mode for Planet coaster: Console Edition. She recently came up to me and requested a funny little thing known as a "selfie". I hear it's all the rage with our younger guests nowadays, and I, supposedly, nearly went "Viral" - whatever that means!
It's better than it sounds! What's your favourite theme for a park, Oswald?
I'm glad you asked,
'partner'
... Perhaps best to leave that one with the entertainers, though as alluded to, nothing warms the cockles of my heart more than a Western-themed area in a park. Gunslingers, Miss Elly, and overall Ol' Time beverages! It's often a favourite for the many guests of our parks - something of note to those promising park creators out there.
Speaking of, what do you think about our new additions to the PlanCo fam?
Seeing and greeting new faces is my bailiwick! Though even I've been overwhelmed and impressed with just how many new and returning faces we've seen, and we still have one more expected group of new creators on the 19th. Then where do I begin to praise the incredible blueprints found on the Frontier Workshop? I'm certainly pleased such a platform exists to inspire a whole new generation of up and coming Oswalds! One day I'll have to pass on the crown and reviewing the incredible amount of blueprints the past few days, I know the Coaster world is in good hands! Coaster world... Let me write that down before I forget. Oh dear, I've left my pen. Excuse me, would you? EUGENE...! EUGENE...!
Last edited by a moderator: