Senior Community Manager
Frontier
Welcome back, Park Managers, to our latest Species Field Guide!
In this series of articles we will be spotlighting and discussing some of the incredible dinosaurs and reptiles you will be caring for and bioengineering in
Jurassic World Evolution 2
. With over 75 different species of prehistoric animals you'll be meeting both new and familiar faces, and we are incredibly excited to share them with you!
In
last week's Species Field Guide
, we showcased Coelophysis, a bipedal carnivore from the Late Triassic Period. This week, we're heading forward in time to meet an old friend from the Late Jurassic period: Stegosaurus.
A slow-moving Herbivore, Stegosaurus was the largest member of the Stegosauridae family of armoured dinosaurs, growing up to 9m in length, and would defend itself from predators using its impressive spiked tail, which is known as the Thagomizer, a term coined by cartoonist Gary Larson. Interestingly, the bony plates along Stegosaurus' back were actually embedded in its skin rather than its skeleton, so they are not always recovered with the body when fossils are discovered.
It was a relatively social creature, and lived in herds, slowly moving across plains and forests whilst feeding. It had a notably short neck and small head, so it's believed that it mostly ate shrubs, low bushes, and fallen fruit and ferns. Surprisingly, Stegosaurus actually predates grass, which didn't evolve until the late Cretaceous period!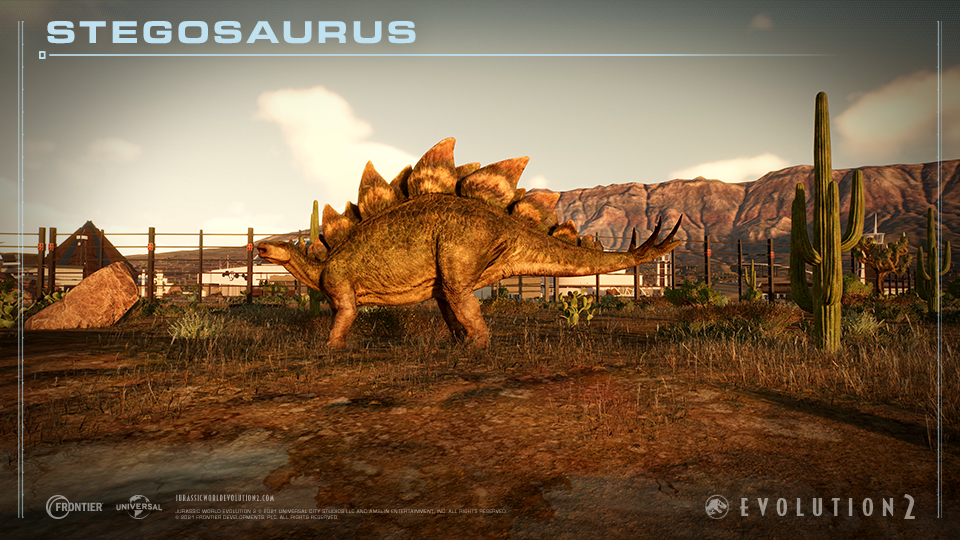 Stegosaurus in your parks will be amicable creatures that will require some company, and so can be placed within moderate herds, as well as with several other Herbivores - although make sure they give Ceratopsidae a wide berth, as the two don't really get along! They'll be able to defend themselves and the herd against some predators if sharing the same enclosure, and are too big for some smaller Carnivores to hunt, so it's worth keeping these facts in mind when thinking about pairing them up with other species. Stegosaurus require plenty of foliage, as well as some forest in their environment - and remember, due to their stature, they won't be able to reach some trees, so make sure you provide them with plenty of vegetation!
We're very happy to have Stegosaurus joining us again for Jurassic World Evolution 2, and we're sure guests will love seeing them roam their enclosure...just make sure they don't get separated from the herd or they might not be as pleasant to be around! Are you excited to have Stegosaurus back for Jurassic World Evolution 2? Let us know your thoughts in the comments below!
There are more dinosaurs for us to show you in the coming weeks and months. Be prepared to see both new and familiar faces as we highlight a small portion of the ancient animals you will be able to bioengineer in Jurassic World Evolution 2. Don't forget to follow us on
Facebook
,
Twitter
and
Instagram
for all things
Jurassic World Evolution 2
!
EDIT: This write-up previously mentioned feeders. There are no herbivore feeders in Jurassic World Evolution 2 and the reference has been removed to avoid confusion.
Last edited: