The common brushtail possum (
Trichosurus vulpecula
) is one of the most familiar Australian mammals, being a common sight in urban environments in Australia and being found in a number of zoos around the world – they are kept in at least 13 European zoos, some Asian zoos including the Singapore Night Safari and obviously a lot of Australian collections. Perhaps surprisingly, there are none in any zoos in the USA.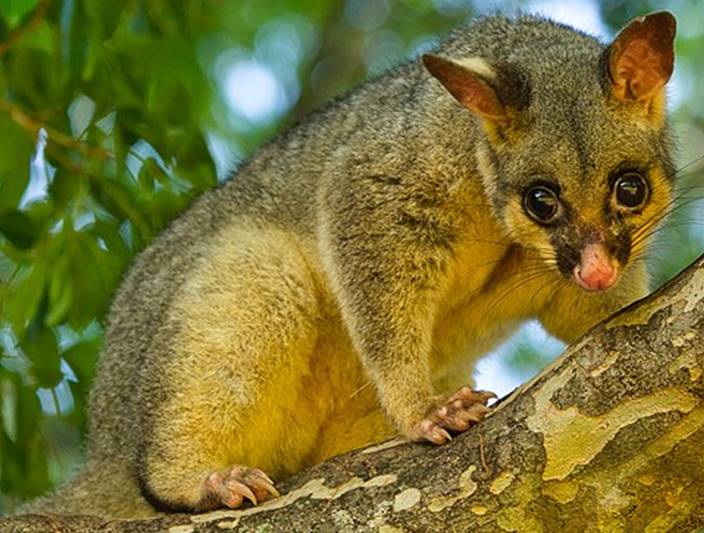 Common brushtail possums are one of the largest possum species, with adults having a head-body length of about 50cm, with a tail approaching 40cm long. An adult male weighs up to 4.5kg, with a female reaching about 3.5kg. This would make it a larger animal than the ring-tailed lemur, currently the smallest full exhibit animal in the game.
The common brushtail possum has an advantage of being unfussy in terms of habitat – they naturally occur in rainforests, temperate woodlands and dry savannah woodland. While their distribution maps do place them right in the heart of Australia (normally desert landscapes) it appears they actually favour moist forest patches along rivers and in gullies within this area. This would give the player lots of choice when constructing an enclosure.
Another main reason why brushtail possums would be an ideal candidate for an Australian DLC is that they could reuse the rig and a lot of in-game animations from the red panda. Both species move in a similar way (walking quite slowly with alternating steps), they climb in a similar way and also share a lot of more unique behaviours. For example, both species sit upright with the front feet hanging down: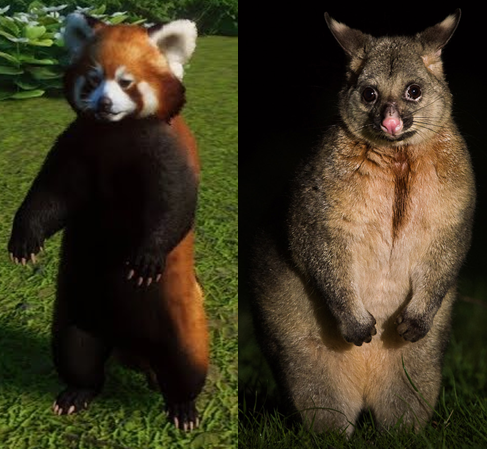 When fighting or playing, both species rear up and hold their arms up: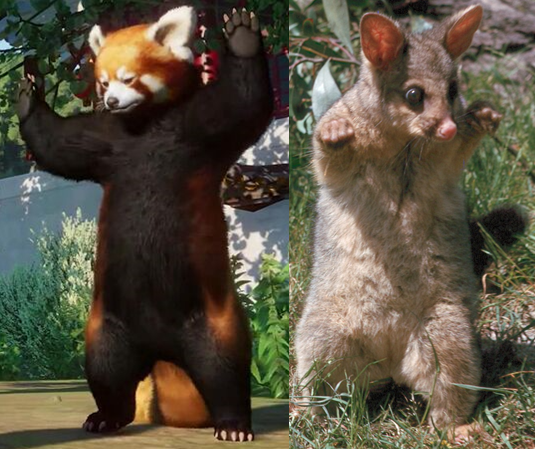 It also seems that both species share similarities in grooming (with a lot of paw-licking involved), sleeping (curled up into a ball, with the head resting on the tail) and feeding (picking up and holding the food in the front paws to eat it). In fact, there is very little in terms of animations to change – one difference is that a brushtail possum does sometimes hold its tail higher than a red panda when walking, although not as high as a lemur does.
They also have an interesting number of colour variations. Their typical colour is a silvery-grey with a yellowish underbelly. However, they also come in brown, deep red, black and, perhaps most famously, golden colour morphs.
While the common brushtail is a Least Concern species on the IUCN Red List, they still face some conservation issues. They are small enough to be vulnerable to predation by invasive predators such as cats and foxes, suffer from a horrific disease called exudative dermatitis and as a tree cavity-nesting species can suffer from the loss of old trees (although their broad diet has allowed them to move into towns where nest-boxes and roof spaces serve as adequate tree hole replacements).
In all, the common brushtail possum should be an excellent candidate for an Australian DLC pack that adds a species that is both quite well-known and also a unique choice, being an active climber that is equally comfortable on the ground.
Last edited: