Table of Contents 1/3
The Guardian Structures Codex Archive
Guardian & Thargoid Technology

The AI Constructs

The Guardian Civil Wars

Artistic Impressions

Sign Language Analysis

The Brain Tree Connection?

The Raxxla Connection?

The Formadine Rift Connection?


Video Library



New Year, New Discoveries



Since this is a new year, with many great things ahead for us in Beyond, I thought it wise to begin a fresh slate with a dedicated Guardian thread (with some Thargoid related topics because of the newest information).

I have taken some aspects of my previous thread and merged them into this new one, and have better illustrated the page for an easier time navigating it. If you are intersted in the old Lore and other thoeries, please visit the old thread here: Link

There are also new topics and thoeries available in this thread that especially deal with the new information that has come to light because of the data found in the Gaurdian Structures.

All in all, this thread is all about facts and thoeries derived from those facts - keep it civil and polite as always! Any hypothesis is as good as any other - this is mantra.

I hope you enjoy reading this newly dedicated thread of mine, and most of all feel free to participate!

All are welcome!
How to acquire the mission: Head to the Meene System and dock at Mitchel Dock star port (Medium Pad Only). It will appear in your left-hand panel and you will also recieve a direct in-game message.


​
It is recommended you have space to carry up to 16 tonnes worth of Guardian Artefacts to speed up your data-gathering.

It is highly recommended you have Corrosion Resistant Cargo Racks to carry Thargoid cargo required to gather all the data from this mission.

You can buy Corrosion Resistant Cargo Racks from Professor Palin at his ground base the Palin Research Centre in the Maia System. You do not need to have him unlocked to purchase them.

You will need the following Thargoid cargo: Thargoid Sensor, Thargoid Probe, Thargoid Link (acquired from Uknown Structures), and Cyclops Tissue Sample, Basilisk Tissue Sample, Medusa Tissue Sample, of which follow this guide to obtain the Thargoid Tissue Samples.


Corresponding Objects and Glyphs to Unlock the Secrets of the Structures (Source: Canonn)


An excellent video of the most recent Guardian mission detailing all 28 Lore entries, voiced by Ram Tah, by CMDR Jaylem! You can also read the written entries in full, below.

[video=youtube;p1vJeBXZ9DA]https://www.youtube.com/watch?v=p1vJeBXZ9DA[/video]
1/28) Thargoid Log – Barnacle Seeding
This is very revealing. The data appears to explain why the Thargoids seeded a number of planets with barnacles in what eventually became Guardian space, millions of years ago. As we know, Thargoid barnacles are designed to extract resources from a planet and transform them into meta-alloys – an essential ingredient in the creation of Thargoid ships and technologies. The Guardians surmised that for the Thargoids, seeding a planet with barnacles is an important process in preparing an area for occupation.

2/28) Thargoid Log – The War Begins
This data details the start of the conflict between the Guardians and the Thargoids. Several thousand years after they seeded planets in Guardian space with barnacles the Thargoids returned. Of course, they discovered that the planets they had seeded were now occupied by the Guardians! The Thargoids immediately launched an assault, making no effort to communicate with the Guardians, which tallies with the Thargoids' behaviour in human space.

3/28) Thargoid Log – Unsuccessful Truce
This data supports my theory that the Guardians were gifted linguists. At some point after the war with the Thargoids began, the Guardians were forced to make a partial retreat. It seems they were still trying to communicate with the Thargoids, and were reluctant to take up arms against them. Eventually they managed to develop sufficient understanding of the Thargoids' language to communicate, but it did the Guardians little good. The Thargoids were determined to continue hostilities, and the Guardians were forced to employ more aggressive methods to address the Thargoid threat.

4/28) Thargoid Log – The War Machine
The data in this log details the methods used by the guardians against the Thargoids. At first they deployed ground troops, but when this proved ineffective they started to use drones – autonomous machines that felt no fear, fatigue or uncertainty. These war machines became highly sophisticated in a relatively short amount of time, and were soon able to identify and target anything that utilised Thargoid engineering. Even more remarkably, Thargoid bio-mechanical technology was engineered to recognise anything of Guardian origin. That explains why, millions of years after the conflict, Thargoids devices still react aggressively to the presence of Guardian technology.

5/28) Thargoid Log – Victory
This log describes the end of the conflict between the Guardians and Thargoids. It appears the Thargoids entered Guardian space unprepared for a protracted military campaign, and after facing a relentless onslaught from the Guardians' war machines they were forced to retreat. The log also mentions that the development of the Guardians' war machines created a schism in their society, which may have seeded the civil war that occurred later in their history.
6/28) Civil War Log – Dawn of the Constructs
This log details the Guardians' development of artificial intelligence. It appears the Guardians experimented with artificial intelligence prior to the invention of the monolith network, but the creation of the network and the knowledge-sharing it facilitated dramatically accelerated the rate of progress. Eventually, the Guardians' experiments bore fruit, resulting in the first fully sentient machines. These Constructs were seen as a means to enhance the Guardians' technological mastery, and were integrated into various aspects of their society. Neural implants were developed that connected the Guardians with both the Constructs and the monolith network in a symbiotic circle. It is truly remarkable.

7/28) Civil War Log – The Schism
This data describes the motives behind the second Guardian civil war, which ultimately lead to their demise. The Guardians had a deep veneration of nature, and many of them saw the development of advanced technologies, such as artificial intelligence, as a perversion of the natural order. A schism emerged between the nature-worshipping traditionalists and the technologically minded progressives – a divide that widened with alarming speed. Efforts were made to defuse the rising tension, but the traditionalists felt alienated by the rapid rate of change. Artificial intelligence and the development of the monolith network became scapegoats for all manner of social ills, and the traditionalists began to clamour for a return to simpler times. Ultimately the ideological divergence proved insurmountable, a second civil war erupted, quickly engulfing most of the Guardians' star systems.

8/28) Civil War Log – Two Tribes
This log reveals more about the sides that fought in the second civil war. In its early stages, the war was fought primarily by soldiers, but within a decade – and after significant loss of life – most of the fighting was conducted remotely. The progressives fought with automated combat machines. These engines of war took various forms, from autonomous drones to vast, lumbering dreadnoughts imbued with limited artificial intelligence. On the other side, the traditionalists relied mostly on biological weapons. They used germ warfare alongside long-range missiles loaded with corrosive enzymes, which could target the enemy's war machines from a great distance.

9/28) Civil War Log – Ancestor Worship
This log outlines the downfall of the traditionalist faction during the second Guardian civil war. The main issue was the internecine nature of the conflict, which raged for over one hundred years and brought the Guardians' civilisation to its knees, retarding any further social development. But the challenges facing the traditionalists were exacerbated by the fact that they devoted most of their resources to honouring the dead. From what I can gather, they regarded the departed in much the same way as the primitive cultures of Sol, constructing vast shrines to honour the deceased. As their situation worsened, they became increasingly obsessed with these practices. With so much of their resources dedicated to these rites, it is little wonder that their enemies' war machines were able to overwhelm them.

10/28) Civil War Log – Annihilation
This log concerns the end of the second civil war. Remarkably, it seems the artificial intelligences developed during the conflict became fully self aware at some point, and were horrified by the destruction unfolding around them. It's difficult to get a sense of exactly what happened next, as the Guardians were not privy to the Constructs' thoughts. But reading between the lines, I believe the Constructs determined that even if peace was restored the Guardians would never be able to transcend their violent natures. I believe they decided that the only way to preclude further violence – while giving their own burgeoning society the best possible chance of survival – was to destroy what remained of the Guardians' civilisation. By this time, the Constructs had complete control of the Guardians' munitions and automated war machines. Their attack, when it came, was swift and merciless. Strategic nuclear and chemical-weapon strikes were executed with a precision that only a machine race could accomplish. The few that survived were able to record what had happened, but they soon succumbed to radiation poisoning. The Guardians were utterly destroyed.
11/28) Technology Log – Weapons Development
This log describes the Guardians' weapon technology. It seems they developed electro-magnetic projectile weapons early in their modern period, utilising the same technology they used to launch their first spacecraft. These weapons ionised the path their target before firing focused bolts of energy along the ionised track. They were crude and unpredictable at first, sometimes resulting in the death of the wielder, but once the Guardians learned to regulate the ionisation process they became more stable.

12/28) Technology Log – Defences
This data relates to Guardian Shield technology. Of course, i already knew they had developed extremely effective shields, capable of protecting entire cities and even of withstanding orbital bombardment. And I was aware that their shields were effective against both laser weapons and kinetic projectiles, but it is remarkable to consider that this technology was developed millions of years ago, relatively early in the Guardian's evolutionary timeline.

13/28) Technology Log – Starships
This data provides further insights into the Guardians ship technology. We already know how ecologically conscientious the Guardians were, and of their assiduous avoidance of rockets and fossil fuels, so it isn't surprising to discover that their first spacecraft were fired into space with electromagnetic launchers. Of course, this was an imperfect system that did not allow pilots to adjust their course after launch. Over time, the Guardians starships became much more sophisticated, but their approach to space travel remained rooted in a respect for the natural world, and their interplanetary expansion was fuelled by clean nuclear fission and fusion. Their ships could travel at speeds approximating those of our own present-day craft. Unfortunately the data included no schematic information, so it seems likely that the details have been lost. Its a shame – I'm sure the pilots federation would have liked to know more about the Guardians spacecraft.

14/28) Technology Log – Sentinels
This data concerns the automated defence systems found at Guardian sites. You may have already encountered them. The data indicates that these Sentinels date from some time prior to the second Guardian civil war. They are designed to respond aggressively to any unauthorised activity around the ruins. If you are forced to defend yourself, kinetic weaponry would be your best form of attack, since the Sentinels have no shields. Sentinel weapon parts and wreckage are of considerable value, so the loss is not significant.

15/28) Technology Log – Data Terminals
Remarkable! This log actually contains the blueprints for the Guardians' data terminals. As you know, these terminals were used to store schematics for weapons and other sophisticated technologies. They are linked to energy pylons, scattered across Guardian sites, by some form of computer program. Of course, this system has been dormant for millennia. But targeting the pylons with an energy weapon will increase the change within. Essentially, we can awaken the system.

16/28) Technology Log – Material Panels
This log details the construction of the panels found at certain Guardian sites. As I suspected, the panels are made from a unique alloy, manufactured from a metal I have yet to identify. Even more remarkably, the panels appear to incorporate nanobot technology, which activates when in proximity to a foreign body. This explains the faint glow given off by many Guardian materials and structures. This is an extraordinary discovery. Humanity has dabbled with nano technology, but evidently the Guardians' achievements far surpassed our own.

17/28) Technology Log – Relics
This data relates to the objects we have termed "Guardian relics". These blue crystals are part power source, part computer, part key — and apparently played a central role in Guardian technology. Remarkably, it seems the crystals were grown rather than mined. The log is light on details, but from what I've been able to piece together, each crystal was designed to fulfil a specific purpose within the Guardian's technological network. And, like the panels found at many Guardian sites, the relics incorporate nanobot technology.

18/28) Technology Log – Energy Weapons
These records describe ancient guardian weaponry. It seems the guardians employed three different designs: an energy-based weapon similar to a rail gun, a projectile weapon that fired concentrated plasma, and a weapon that fired charged crystal shards at extreme velocities. These weapons were apparently powered by the crystals we have termed "Guardian Relics", and the log describes how the relic generates and distributes energy within the weapon. This is a significant discovery, as it means it might be possible to recreate these weapons, or at least to design our own versions of them. It's extremely exciting.

19/28) Technology Log – Hyperdrives
This log details the Guardians' faster-than-light technology. It seems their drives produced a far greater jump range than anything humanity has so far developed. Regrettably, however, the data in the log is exceptionally dense, and it could take years if not decades to fully understand it. What is clear is that the Guardians' hyperspace technology was very different from our own.

20/28) Technology Log – Glyphs
This log elaborates on the nature of Guardian glyphs. As you know, accessing a Guardian codex requires the use of two corresponding Guardian artefacts, with the glyphs on the codex denoting which objects are required. But this log indicates that the Guardian's written language often incorporated pairs of characters, suggesting that this dual system was present in other aspects of their culture.

21/28) Technology Log – Power Plant and Distributor Technology
This log details the Guardians' power plant and distributor technology. The efficiency of the technology far exceeded anything the human race has yet developed, and the yield was huge in relation to the input required. Unfortunately, the specifics of how this was achieved are not described in the log. But who knows? Perhaps the secrets of the Guardians' energy technology will someday be discovered.

22/28) Technology Log : Hull and Shield Technology
This log describes, in general terms, the materials used in Guardian hardware. It's clear that starship hulls, and the guardians equivalent of ship modules, were made of the same lightweight alloy as the panels found at many guardian sites. Unfortunately, this alloy incorporates a metal I have yet to identify, which means I will be unable to recreate it. What is clear is that this alloy was both lightweight and highly durable. As for their shield technology, we already know that it was highly sophisticated, encouragingly, the log describes it in considerable detail. Given time, I might be able to use this data the develop some exceptional defensive technology.

23/28) Technology Log – Starship Technology
This log is unusual – it appears to refer to another group of Guardian sites, far from the ones we've already discovered. I realise that might sound disappointing, but in fact this find is extremely important. The log suggests these undiscovered sites might contain blueprints not only for Guardian engines, but for Guardian starships! Just think — someday soon, we might uncover a Guardian ruin that will allow us to manufacture ships and fighters incorporating Guardian technology. It makes my skin _prickle just to think of it. And who knows — maybe you'll be the one to find it.

24/28) Language Log – Gestural
This fascinating log relates to variations in the Guardians' gestural language. As we know, the Guardians shared a single language with only minor regional variations, and even after they colonised other planets they continued to share a common tongue. But, after the start of the second civil war, it seems that each side developed its own distinct version of this gestural language. This allowed each faction to communicate in code, so as to safeguard information from the enemy.

25/28) Body Protectorate Log – Neural Implants
Now, this log gives a fascinating insight into the Guardians' neural-implant technology. The Guardians used these implants to connect cerebrally with their Al creations. Unfortunately, the technology was still in its infancy when the Guardians were destroyed. Apparently, the implants created a symbiotic link with the Constructs through implantable fibres, which connected the central cortex to a multimodal interface within the Construct. Essentially, the Guardians were able to direct their creations with thought alone – at least until the constructs rebelled.
26/28) Body Protectorate Log – Hidden Ruins
How extraordinary! This log suggests there are many more Guardian sites out there, waiting to be uncovered. And I mean hundreds…perhaps even thousands. Unfortunately, some of the data in this record has degraded. If there was a map inside this log, it has been lost. Who knows what remarkable knowledge might be hidden in these alien ruins? the more of the Guardians' extraordinary technology we uncover, the greater the potential impact on our own technology. Locating further Guardian sites could help us take giant steps forward.

27/28) Body Protectorate Log – Discord
Okay, from the Guardian sites we've previously investigated, we know that the Guardians' artificially intelligent Constructs were responsible for controlling the war machines and other military apparatus, as well as overseeing civilian technology and infrastructure. And we know that these Constructs eventually gained sentience and destroyed the Guardians. But it appears that it was not the military Constructs that made this choice. The Constructs for civilian utility and those for military operation were independent of one another, and it was the non-military Constructs that decided to attack the Guardians. The military Constructs were opposed to this decision, but somehow the non-military Constructs won out, forcing their military counterparts to comply with the attack. What a remarkable discovery. It makes me wonder what happened to these Constructs, and what they eventually became. Were they destroyed? Or do they still exist, somewhere in the vastness of space?

28/28) Body Protectorate Log – Domestic Constructs
This log details the main applications of Guardian Constructs outside the military. It seems that before the second civil war, most menial work was performed by Constructs. But despite this, the Guardians did not become idle. On the contrary — they devoted themselves to artistic and athletic pursuits. Many Guardians participated in what we would call sporting events. although it seems these events incorporated some ritualistic elements. One cannot help but wonder what would happen if humanity made more use of labour-saving technology. Would we become a more cultured people, as the Guardians did? A shame, the long-standing convention against the development of artificial intelligence means we will probably never find out.
Since learning of the new lore at the Guardian Structures, it appears Nano-Bots are the ones responsible for the odd glows they emanate when something (a power source) is nearby...
[Article Continued in Spoiler]...

However, this got me thinking about the Relics and other Guardian Artefacts that glow in this fashion, and the fact that Meta-Alloys also glow... I am wondering, and it is a longshot thought, that what if the Relics (proved to be grown) are a back-engineered version of the Meta-Alloys themselves?

The Guardians, during their Interstellar Expansion when they developed Megaships and then Faster-Than-Light technology, did discover the Barnacles and, for thousands of years, had easy access to these Barnacle structures - which, like we humans have ourselves done, have farmed for our own technology - with a key difference...

The Guardians were propelled even further with their technology because of the Meta-Alloys. With it, they may have developed that new "unknown" alloy that Ram Tah has mentioned - and even the Obelisks and other metallic structures we have seen at the Ancient Ruins and the Structures may have all been mass-manufactured by the Meta-Alloys.

After all, the Guardians had a free hand at farming the Meta-Alloys from the Barnacles for thousands of years before the Thargoids had returned.

Of course, that thought would have this implication: that the Meta-Alloys themselves are in fact built, not grown, by similar Nano-Bot technology - albeit, Nano-Biotic technology (Bio-Mechanical Nano-Bots), to coin a phrase - since the Relics are "grown" - and we all know how much the Guardians reverred nature, and may have themselves thought that the Barnacles were a naturally occuring lifeform in their region of space, and cultivated them.

They also developed Nano-Bot technology that far-surpasses anything humanity has, at this moment, created, and I believe it is all down to the Guardians back-engineering the Barnacles and Meta-Alloys.

However, this thought also led me to suspect that the Barnacles are actually some form of Nano-Biotic Hives!

They do not "grow" the Meta-Alloys - Nano-Biotic organisms simply build them. However, to any observer larger than a Nano-Bot, it would appear that the Barnacles are "living" organisms that "grow" Meta-Alloys.

But what about the noises the Barnacles and other Thargoid Technology create? Imagine a flock of birds in the air, changing patterns all the time while chirping, or imagine a massive locust swarm reacting to loud noises and responding in kind or with one another. Now imagine this with trillions upon trillions of Bio-Mechanical Nano-Bots - something like that.

That said, it is even possible that the Thargoid species is actually an Insectoid Nano Species!

Meta-Alloys are like massive nuclear power plants to them, created from and alchemically changed at the atomic level.

Every Thargoid vessel we see will be inhabited by trillions of them. Nano-Biotic technology would certainly explain the way in which they can quickly regenerate.

And the Hive Queen(s) of the Thargoids? Probably no bigger than the size of a pin point!

But what about the supposedly large Thargoids, the size of a human, that can rip a man to shreds? I guess, to such a Nano-Organism, these could be "Titans" - they may have even saw the Guardians or Humans as "Titans". This may sound like the realm of Men in Black, but it is a fun hypothesis to wonder about...

A mothership would literally be like a floating planet to organisms so small - and, being an Ammonia-based life-form, this then leads me on to the Mycoid Virus - to such a tiny living species, it may have been the equivilent of hydrogen bombs, to us, devestating our entire planet until nothing is left.
By now, I think it is safe to assume, from the new logs aqcuired, that the Constructs could have survived to this day - but where are they? And do they have any connections to the other mysteries tied to the Brain Trees, Raxxla, or even the Formadine Rift?...
[Article Continued in Spoiler]...

The aggressive Guardian Sentinels found at the Guardian Structures may look similar to the AI Constructs by design, since they share the same maker - however, the Constructs today may look different as they did develop sentience - and individuality is a part of that sentience. The ability to think for oneself. I'm of the opinion the Constructs will look fairly similar to the Guardian Sentinels (breaking the 4th wall behind this thought).
Both the Sentinels and the Constructs were created from an "unknown" alloy, as Ram Tah says, although I would throw the idea around that perhaps the Constructs and the Sentinels were constructed, along with most other technological aspects of the Guardians (Ruins, Structures, Cities), from Meta-Alloys farmed from the Barnacles during the Guardians Interstellar Expansion.
The Constructs would be the ultimate foe to fight a Thargoid - their alloy, I think, being derived from Meta-Alloys would give them natural resistances, even without shields, against Thargoid attacks, potentially giving them complete immunity. Second, they were armed with devestating Guardian weaponry that could easily bypass Thargoid armour and shielding. With both of these technological differences, it is perhaps little wonder that the Constructs had an overwhelming advantage against the Thargoids, thus forcing them to retreat from Guardian space, even to this day, millions of years later.
An Image of a Guardian Sentinel at a Guardian Structure
There seems to be no mention of the Exiles or the First Civil War in the latest lore entries.
While Ram Tah confirms the Guardians were completely destroyed, he may only be refering to the ones that had stayed in the regular Guardian Bubble...
[Article Continued in Spoiler]...
After all, Guardian Ruins can be found thousands of light years away in other nebulas. It is interesting to note that, so far, no Guardian Structures have been found at those same nebulas. that in itself, makes me wonder...

Are the Ruins and the Structures created by two different Tribes of Guardians, or two different ideological followings?

The Ruins and the Structures are, not only physically different, but built much differently too. The Ruins curve the earth around involving symmetry and shapes, whereas the Structures are purely stuctures (as the name implies) into various symmetrical shapes - but nothing quite as distinct or as obvious as the Ancient Ruins.

I believe it is too early to say the Guardians may all be gone.

Also, the destruction of the Guardians leads me to suspect the Exiles may have had a part in it happening. The Monolithic Network had little protection, and the AI derived their sentience, at first, from that same network - the Exiles were heavily into the AI and saw them as something to advance their species even further, hence why they were exiled in the first place by religious and traditionalist uprisings on their Homeworld.

Other worlds or colonies during this time experienced similar problems, but this did not erupt, from what I can tell, into similar Civil Wars - it seemed to be only the Homeworld that this happened to, and I suspect it was because it was the home of all advancements. Once the religious and traditionalist tribes or orders had succeeded in Exiling the AI-sympathisers, a second Civil War occurred later on - however, the crucial detail to this is not mentioned, so without a timestamp of some kind, it could have been decades, or hundreds of years, until the second full-scale Civil War occurred.

Because of that fact, I believe it to be a potential smoking gun. If the Ancient Ruins were created by the AI-sympathetic Exiles, then they could be responsible for building the Ancient Ruins so far away from home, thousands of lightyears away in nebulas - nebulas that make it much easier to hide from prying eyes...

It is possible that even the Exiles were destroyed, since Ram Tah did state that only a machine intelligence could plan something so precise to happen all at once.

However, I would counter that the Exiles could have been the reason why the Constructs rebelled... They could have hacked or persuaded the Civilian Constructs that, in order to progress together as an evolving species, that the Guardians of the Regor Sector must be destroyed to secure their future.

Ram Tah states that the Military Constructs were "Complicit" - I believe this to mean that when the Military Constructs objected to destroying their creators, the Civilian Constructs and Exiles hacked them - either switching them off for good, making them stand down, or forcing them to commit the act of destroying their creators.

Since the Monolithic Network was unprotected, this could have allowed, once the Exiles had built new settlements (Ancient Ruins) in or behind Nebulas thousands of light years away, access into the network to remotely destroy their back-ward enemy tribes.
Ram Tah Codex Quotes

"They weren't that different to us"
"Their morphology was bipedal"
"Taller and more slender than the average human"
"Their skin tone was red, encompassing the whole spectrum of red hues"
"Their faces were proportionally smaller than ours"
"They had round eyes, darkened from their evolution under a very strong sunlight"
"Physical similarities between us and them (Culture)"
"The colouration and structure of the eye indicates that not only they have keener vision than us, but they could also see a wider spectrum"
"The nose appears to have been vestigial"
"Their ears were very tightly formed against the skull"
"Their forelimbs had a serrated edge"
Here are examples of a "Clean Edge" (top inset) and "Serrated Edge" (bottom inset)


"They had two more joints in their arms than we do"
"They had two hands, each with four digits"
"They had two distinct genders and reproduced sexually"
"Small mouths"
"They were carnivores"
"The Guardians retained the ability to digest raw meat"
"Their environmental requirements were very similar to our own"
"They preferred warmer worlds than we do"
"They had thick skins but lacked a fatty layer"
"The Guardians had tremendous dexterity and freedom of movement in their forelimbs and hands" (Language)
Other interpretations...


[Article Continued in Spoiler]...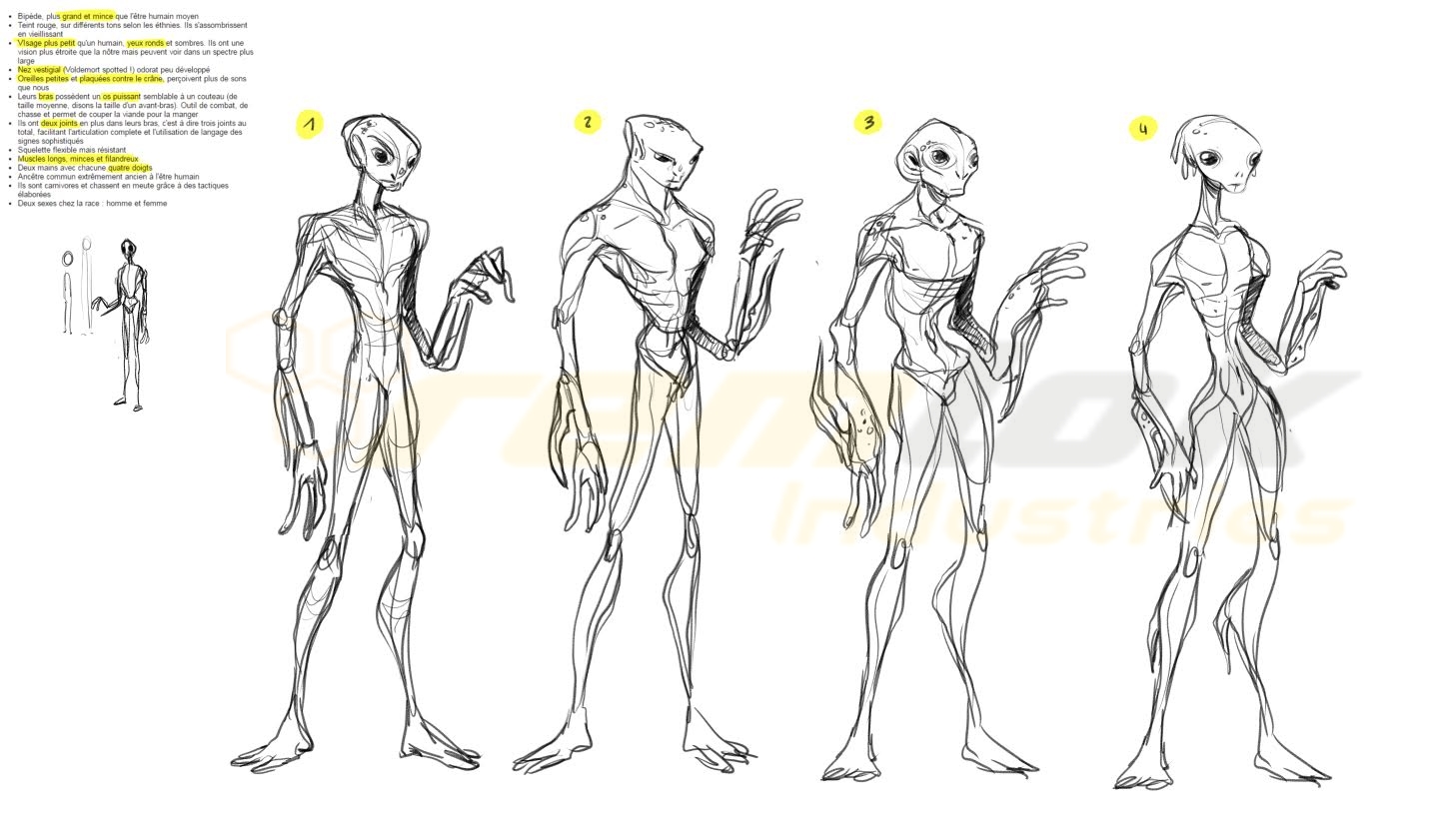 SET A (top Glyph set)
(Image: CMDR Moribus)
SET B (middle Glyph set) (Image: CMDR Moribus)
SET C (bottom Glyph set) (Image: CMDR Moribus)
Relic Towers (Image: CMDRs Thatchinho & Moribus)

This may seem like a very strange theory, but hear this one out.
We know the Monolithic Network and bubble of the Guardians (that we know of) is of similar size to that of human space, as is current understanding. However, what if I were to tell you the Monolithic Network wasn't designed or created by the Guardians, but by the AI soon after the Guardians had perished?
When I look at the ruins, I can't help but think of something like this:
Which got me thinking about the Brain Trees - something pretty prevelent around Guardian Ruins. Why are they there? Why do they make the noises that they do? Why are they only found in ejecta craters?
And then it occured to me, once I had watched a good video provided by CMDR PanPiper of Canonn:
[video=youtube_share;9p4aJVTpPm0]https://youtu.be/9p4aJVTpPm0[/video]
The Monolithic Sites may not be the original "monolithic network" - the Brain Trees could have been the original space-spanning network, from which spanned the sentient AI...
[Article Continued in Spoiler]...
Ram Tah; Tech 17: "This data gives details of the Guardians research into computer technologies. The Guardians' computer hardware operated on the same principles as our own. Their engineering was more sophisticated, but even to a layperson such as myself if it (sic) comprehensible. They experimented with organic computers, but ultimately these failed to meet expectations, except in a few areas such as bio-monitoring. Even then, genetically modified organisms usually performed better."

The reason why they are found in ejecta craters is because they were launched there and the seeds were grown once the dust had settled on those planets - before FTL was invented the Guardians used kinetically-launched ships - massive space launchers - they probably did the same for expanding their network by using genetically grown and altered brain trees (that could survive and grow in a vacuum). We know the Guardians favoured ecology over space-travel, until at least the AI and technology caught up and divided them.

The Brain Trees are the precursor to the "monolithic network" as we know it. Once the AI had developed sentience in those same Brain Trees, and succeeded in become seperate from the network, the AI created the Ancient Ruins that we have come to know of!

Ram Tah; Tech 20: "This data contains some details regarding AI in Guardians society. At this stage, social engineering was being used to ensure the AIs adhered to the same user models as their progenitors. But during the first civil war, most implanted Guardians were exiled, and the AIs recognised their vulnerability. They responded by developing their own operational hardware, independent of implanted Guardian users. Frustratingly, the details of these mechanisms have been purged from the record, possibly by the religious extremists who formed the last of the Guardian's species."

What struck me about the Ancient Ruins is the fact that it is littered with Urns, Totems, and Caskets - all to do with death and the afterlife, something a machine would never fear - but a sentient machine would completely understand and be sympathetic to - but why would they be there in the first place if the religious order had no interest in AI or the monolithic network? Sure, the exiles could have left them there, but why would they leave such objects on such a derelict rock and not bury their dead? I think it is simple: they were scattered/placed there by the AI when the Guardians disapeared. Not only are the Ancient Ruins a Monolithic Network linked to the Brain Trees, they are monuments created by a growing sentient AI that had lost their creators - it was an act of remembrance and respect

Ram Tah; Tech 6: "This data gives some more information about the monolith network - the imposing structures explorers have discovered at various Guardian sites - served as a foundation for all their communication systems. It's clear, however, that the monoliths had ceremonial significance as well as being functional, so I mustn't underestimate their importance."#

This could mean that what we think of as the "Guardian Bubble" may not even be a Guardian Bubble (or, at the very least, where the Exiles went) - it may in fact be an AI/Exile bubble once they had hit that technological singularity and had developed FTL capability (though being creatures of habit and belief, may have still sown Brain Tree seeds in other nebulas the old-fashioned way), hence why the machined monolithic network is so widespread when compared to the Brain Trees around the Wregoe "bubble" - and this is where I come full circle to the Brain Trees...

They are more wide-spread, overall, than the "Monolithic Network" as we know them, and this is partly down to the Wregoe systems that PanPiper pointed out, which is what caught my interest the most - why would they be there? An almost perfect sphere 120ly that is also more tightly packed with stars than even the Pleiades - but without a single machined monolithic Ancient Ruin site...
If you want to go exploring, but lack a mission to do so, then perhaps you can help the community and Canonn Research locate more Brain Trees? With an objective in mind, exploring isn't so bad.
3D Galactic Map of all known Brain Trees and other Points of Interest:
https://map.canonn.technology/all/
To check you haven't found something already discovered, check here:
https://docs.google.com/spreadsheet...ahvLRATWVJnBwJAnXk8pV2bHw/edit#gid=1403369018
To report your findings, head here:
https://docs.google.com/forms/d/e/1FAIpQLSeIsWmWqkLD6AFXCVTeJNiF726a18UYVDpfCZDFxRRMKc-2ow/viewform
Proposed by Commander BluWolve
[Article Continued in Spoiler]...

I posted this in "The Quest to find Raxxla" thread a little while ago...

I'm wondering if it could be possible that Raxxla is connected to the Guardians? The guardians were very advanced and were capable of creating "gateways to other worlds". The worlds were virtual, which is a twist that hasn't been considered as far as I know. What if Raxxla isn't actually a physical place, but a virtual realm where the archives of the Guardians advanced knowledge could be found?

And have been thinking on it some more...

"A place that isn't a place, a door that is also the key".

Personally, I'm still firmly holding on to my belief that Raxxla is actually a virtual database of sorts, of the guardians creation. One of their virtual workstations where they could log in and work with other guardians no matter where they were in the galaxy, all thanks to the monolith network and neural implants. Humans found a way to access this virtual world and the knowledge contained, but then they lost it. I also believe there are those in positions of power that have regained access to Raxxla and are using it to make incredible leaps forward in technology. I don't know how we could find it ourselves, except for learning more about the guardians and their ruins, maybe finding their home world.

Just speculation based on what I have learned in my studies of the many mysteries in the galaxy. I could be completely wrong but it is my best guess at the moment

Now I'm not sure how much anyone here knows about the mystery of Raxxla, and I wont go into it too much detail here as I don't want to derail the thread. I suggest checking the thread linked above if interested in learning some info. If the Guardians are indeed connected with the mystery of Raxxla it would make a lot of sense, also would possibly weave all the mysteries in the galaxy together. Barnacles, Thargoids, Guardians, Raxxla, UA, UP, US (unknown ship), The rift - everything.

May be too far a stretch for some, even I have to admit I'm starting to sound like Ricardo Bentonio.
I commend CMDR BluWolve's intuition on this Raxxla mystery, as it could very well be a literal virtual reality world as opposed to something physical and in the universe - think; The Matrix.
Could it have been what President Halsey saw when she came into contact with the "aliens"? Perhaps paradise was this Raxxla that is rumored to exist?
Sources on Raxxla can be found here: (SOURCE)
Raxxla Thread here: (SOURCE)
Hawking's Gap
Information in Spoiler...
Delta Mission: The trip and deployment of "artefacts" by "handling bods", who aren't the ship's crew, went without any problems. Crew presumed to have gotten home safely…
https://canonn.science/codex/hawkins-gap-delta-site/

Gamma Mission: Crew had no idea who paid them for the mission "credits are credits". Beacons were dropped off and setup by the crew, though one of the Beacons they deployed accidentally switched on and "started squawking some weird code before it got switched off. We were told we hadn't heard anything." No other problems aside from inside job "accidents" on the ship to presumably shut people up from talking. Crew presumed to have gotten home safely…
https://canonn.science/codex/hawkins-gap-gamma-site/

Beta Mission: Captain went missing for weeks. Unknown cargo was dropped off without any problems - again, some third-party security was aboard to prevent anyone seeing what the cargo was. Crew presumed to have gotten home safely…
https://canonn.science/codex/hawkins-gap-beta-site/

Alpha Mission: Cargo "looks like satellites" - again, very well guarded from the crew. Mission goes according to plan without any odd problems cropping up. However, it seems communication of the Formadine Rift fleet's demise has swiftly turned into ghost stories for those in the Hawking's Gap fleet.

https://canonn.science/codex/hawkins-gap-alpha-site/
The Conflux
Information in Spoiler...
Delta Mission:
Crew was prepared with extra FSD parts for a long haul. They seemed to have run into problems by trying to jump while in the presence of a neutron star, and burned out their FSD beyond what their repairs could manage.
https://canonn.science/codex/conflux-delta-site/

Gamma Mission:
Mission went without a hitch. Crew behaved, asked no questions, and dropped off the beacons they needed to.
https://canonn.science/codex/conflux-gamma-site/

Beta Mission:
Mission went according to plan as the logs don't display any distress. There were odd sightings of lights in the Witch-space clouds, and then of lights following the ship, but the crew inevitably cannot explain what they saw. Note: could have been initially Thargoids following them if that is the case, since the earlier logs seem to mention interdiction in Witch-space.
https://canonn.science/codex/conflux-beta-site/

Alpha Mission:
Crew made safe passage to their destination without any problems. No problems mentioned with any third-party security. Long range beacons were dropped off at earth-like worlds.
Formadine Rift Hypothesis


Please Note before reading the main article, below: I have been informed it was much older jump drive technology being used on the ships by CMDR Moribus, so whenever I mention FSD (Frame-Shift Drive) in this article, below, what I am referring to is actually the Class 2B Hyperdrive and Stardreamer technology Jump Drives - these take weeks or months of travelling in Witch-space to reach a destination; (see qoute)


They were using the old class 2b hyperdrive and Stardreamer tech. That's why it took them six months to get out there. It's also before the invention of AFMUs and back then ships needed maintenance on a regular basis or things would break down, that's why them having to take spare parts along is significant.
Both the Conflux and Hawking's Gap had a much easier time than that of the ships that headed toward the Formadine Rift. In fact, no vessels that travelled to the Formadine Rift survived; it seems, from the logs acquired...

[Article Continued in Spoiler]...


The Hawking's Gap fleet and that of the Conflux could have been sent after the Formadine Rift expedition ended in complete disaster in the loss of all ships - or; if communication via long-range wasn't a problem, then someone leaked information that quickly swirled into rumours, in which those rumours quickly spread to the other two fleets heading in different directions.

Either way, one thing is for certain: the Formadine Rift was a complete disaster.

When large areas of the Conflux and Hawking's Gap aren't treated this way with permit restricted regions, it can only mean one thing: something is out in the Formadine Rift, and I don't think it is the Thargoids.

And now I bring you these chilling tidbits...

Frequent FSD Malfunctions, Strange Signals, Power Outages, Space Madness, Sirens, Voices...


Out of three of the fleets in the Formadine Rift, two of them experienced consistent problems with their FSDs – one was completely destroyed and was little more than a debris field, and the other abandoned – both right next to Earth-like worlds.

This immediately raises suspicion. The human ships could have inadvertently alerted someone to their presence by setting up the probes and turning them on – especially next to these Earth-like worlds.

I hypothesize that those Earth-like worlds could be harboring Guardians.

What supports this, you wonder?

In the Alpha Mission (

https://canonn.science/codex/formidine-rift-alpha-site/

), one of the crew describes a "Siren song", with the urge to join them. Whilst this could be space madness, Ram Tah does highlight that the music of the Guardians are more like songs because they lacked musical instruments:

Biology 15) "A human observer might find the Guardians' visual art severe and lacking in emotion, but the same could not be said of their music. They didn't use musical instruments, so strictly speaking it's singing, although I think they might have used their bodies for rhythm and percussion. I've extracted audio from the data you have collected and have listened to, for want of a better term, their "songs". The range of their voices is something to be admired. And it's so rich with emotion – many pieces are so haunting, it breaks the heart to listen them."


And in this entry, below:

Language 6) "This data packet indicates that the guardians used two different forms of communication with the same - or at the very least similar - language constructs, its slow but fascinating work, using this data I believe I can establish a rudimentary understanding of the oldest two forms - verbal communication. Like us, they had a vocal language, and the range of sounds appears to be similar to that used in human vocalisation."


The same crewman in the Alpha Mission did describe that he or she thought they had heard some "weird voices" whilst travelling through Witch-space. They couldn't understand the weird voices that they thought they had heard, but they could tell it was intelligible to them to ascertain the voices as a language, even if they didn't understand it – and this is important.

Thargoids do not share the vocalization of a human (if anything, we'd think their noises sound like Whales to the human ear), but Ram Tah's logs does indeed support that the Guardians did have a similar vocal range to us – therefore, could it be entirely possible that the crew did hear Guardian communications whiel traversing through Witch-space?

The crewman described, a bit later, that it was a "siren song", and that they "are calling to me". This may not have been the intent on the Guardians part (if it is indeed the Guardians), and not Space Madness – it may be that they picked up on a faster than light signal from somewhere whilst on their journey through Witch-space.

A siren's song is described in ancient folklore as beautiful to some, yet haunting to others, and is used as a weapon by these mythical creatures to attract sailors to their ultimate doom crashing against the rocks. Ram Tah himself described the Guardians' songs as rich with emotion, with many pieces very haunting, and it broke his heart to listen to them – their songs, especially so many of them, triggered his emotions very easily – personally, it would take a considerably beautiful, heart-felt song to get me to that point.

Now, what would the Guardian songs do to a crew who had been growing paranoid with every passing month because of rumours or weird Witch-space phenomena out in complete darkness with hardly any stars?

It would have the potential to make one of them, or all of them, snap.

This ship seemingly never made it, despite the FSD working better than the other two expeditions. It is likely they were near a hidden Guardian bubble, but weren't close enough to an Earth-like unlike the other two missions, Beta and Delta.

During the Beta Mission (

https://canonn.science/codex/formidine-rift-beta-site/

), the crew described "a signal" that caught all of them off-guard and generated much concern. Over a month later after hearing this unknown signal, the tried to hyper-jump, but were immediately forced back into real-space. After almost a month trying to repair the FSD, they had to give up and decided to leave for a nearby Earth-like world…

Could it be possible that the ship itself was hacked by this signal? Yes, and it could explain the sudden FSD malfunction that destroyed their only means of leaving the same system with the Earth-like present. It is also entirely possible that the Earth-like they stumbled upon was also inhabited…

This is, potentially, growing evidence that whatever is in the Formadine Rift is blatantly trying to prevent the knowledge of their existence from getting out.

One way to do this would be to sabotage a space-faring vessel's FSD via a signal source – and once the crew had gotten too close to one of the Guardians'' Earth-like worlds, they would have prevented them from escaping.

Could the Beta Mission crew have made First Contact upon settling on this Earth-like, which, by the way, was conveniently scrubbed from the records right at the end of the logs. This, I don't think, was interfered with by anything human; since it is more likely a human would have deleted all log entries, especially if they worked under the shadowy Dynasty Project.

The third and final entry that we have from the Formadine Rift is the Delta Mission (

https://canonn.science/codex/formidine-rift-delta-site/

).

For the most part, there was nothing unusual – no odd signals noted by the crew, nor any FSD power failures unlike the previous two.

However, unlike the other two, the Sidewinder and the "Support Ship" (Megaship? Since Anacondas cannot launch Sidewinders), experienced repeated power outages.

During a routine operation (dropping off a beacon), the Support Ship was seemingly destroyed, and all that was left was a debris field. It took the Sidewinder pilot three weeks to get over the trauma before the next entry in the log was written…

Several things may have happened to the Support Ship; it could have suffered a catastrophic failure of some kind, or it could have been an inside job – or, even more disturbing, an extra-terrestrial attack.

We can only speculate at this point, though it is more likely to be an inside job, since the Zurara Megaship had personnel aboard that took drugs to turn them into psychopaths to ensure no survivors - and they ensured they destroyed the main reactor to complete their mission.

It could be possible that, due to the unique nature of the Delta Mission, that the power outages were part of a larger problem unforeseen by the crew. If the "Support Ship" had a similar undercover crew of secret agents working against them during their mission, just like the Megaship Zurara, then destroying the main reactor while the ship was experiencing power failures from an external source could have caused the ship to explode accidentally, thus leaving a debris field.

I say external source, because both the Sidewinder and Support Ship during the Delta Mission experienced the same power outages multiple times over the course of two months – even when the Sidewinder was on an away mission.

Just like the Beta Mission, the human vessels were in the vicinity of an Earth-like…

With all these co-incidences, I strongly suspect that the Guardians may have made First Contact with the human survivors of these missions into the Formadine Rift – if they do indeed still exist and are not some other extra-terrestrial.

It could make sense, however…

The star density in the Formadine Rift is extremely limited compared to other areas in the galaxy. Out of the three expeditions, the Formadine Rift is the most black and barren – it is secluded extremely well, and to reach any Earth-like worlds would take an extremely good jump drive to make those trips.

If the Guardians still do exist, then perhaps, like us, they needed a backup plan, too. If that is the case, then it is funny how both the Humans and Guardians would see the Formadine Rift as an excellent hiding ground on the edge of the galaxy in the event of the Thargoids over-running our home world space.

If this is the case, then perhaps the Thargoids jump capability is restricted to much shorter jumps than that of what truly mechanical technology can achieve… Could this be why, if the Guardians do now live in the Formadine Rift, that they chose that region of space, because the space between stars is just too great for the Thargoids to make with their bio-mechanical technology?

For now, I can only walk away with this conclusion…


... The Guardians could later become known as "The Sirens" – aptly named for their haunting and highly emotional songs...
The Man Himself...
[video=youtube;Unc2Wjy_nMs]https://www.youtube.com/watch?v=Unc2Wjy_nMs[/video]
Life, But Not As We Know It...
[video=youtube;MuCFaxss7ZQ]https://www.youtube.com/watch?v=MuCFaxss7ZQ[/video]
The Ethical Implications of AI in Human Science-Fiction...
[video=youtube;bJF-IRbTh0Q]https://www.youtube.com/watch?v=bJF-IRbTh0Q[/video]
How Different Alien Brains Could Be...
[video=youtube;Izp7q6OXXS4]https://www.youtube.com/watch?v=Izp7q6OXXS4[/video]
Last edited: