Foreword
I've been playing Elite Dangerous since the PS4 launch, and as my first post on the Frontier forums, I wanted to show some love by floating a suggestion for a new ship. I originally posted the idea on Reddit a couple of days ago, but it got buried in the usual hilarity, mad skills and beautiful screenshots. I've since edited it, taking on board comments from others (credited below) and I'd love it if it got some more traction on here. I wholeheartedly welcome any feedback/constructive criticism from the community. Thanks in advance for reading!
Intro
Size matters. The notion that "bigger is better" was drummed into the adolescent brains of our ancestors back in the 21st century. A thousand years later, we have threaded the loopholes of physics, harnessed the power of gravity and made the stars our home. Yet we are still obsessed with the image of status that a nice big ship yields. Length? Girth? It doesn't matter how you spin it; we all need a big one in order to get ahead.
As space wayfarers, we salivate at the prospect of boosting our ego and our cargo on an even greater scale. We celebrate the next lumbering
Thargoid killer
. We clamour for player-controlled
Capital Ships
and other gargantuan vessels that announce their arrival with a booming displacement of space-time. We dream of gaping hardpoints that can hold weapons the size of
casinos
. Always big, bigger,
bigger
... There's never time for anything less! If a bystander were to catch wind of these tendencies, they'd think we were trying to over-compensate for something.
Admittedly, I'm part of the problem. I can't wait until the day a stupidly wealthy associate can offer me a parking space on their
Moving Castle
as they depart with the rest of their fleet on a mass exodus. Or when a member of my PMF chimes in on comms with a friendly "Don't worry chaps, this one's in the bag," as his new Farragut enters the war zone, slowly
prizing itself
from a throbbing patch of witch-space. I won't lie: as a heterosexual male, these things excite me.
But every so often I wonder: what if, for once, we tried
down-sizing
? How would that look? Am I alone in thinking it might offer a nice alternative (or at least a distraction), not only for veteran pilots, but new recruits looking for a high adrenaline, high risk, quick reward means of earning a living early on?
The Pitch
Fellow commanders, I give you the
Hermes
- the secret project that Remlok were
rumoured
to be working on with Lakon Spaceways. It is a small ship. In fact, it is the smallest ship one can buy. It has been lovingly adorned with monikers such as the
Fever
, the
Pea Pod
and the
Remlok Casket
. One look inside would give even the most hardened pirate a panic attack. It would make a studio flat feel like a mansion. However, this "divine trickster" is not without its charm. It is, as the title suggests, basically as if we've fitted a cockpit on a speeder. It goes
fast
, it runs
hot
, and it makes one
hell
of a racket.
Details
The more detailed premise goes something like this: We strip a ship down to its bare essentials, creating a small-form factor that's not meant for combat or hauling vast numbers of economy passengers, or hauling anything at all for that matter (besides, perhaps, data). It would be similar to the ship-launched fighters already present, but would be an independent vessel that is managed and controlled like any other ship currently on the market. In terms of
looks
, I imagine something that resembles the thorax of the
Taipan
, omitting the more extravagant wing/fin designs. Or maybe something like the design below. I find this "cockpit strapped to a single powerful thruster" look rather appealing, but on a scale closer to that of the aforementioned SLF, or the Star Wars speeder above.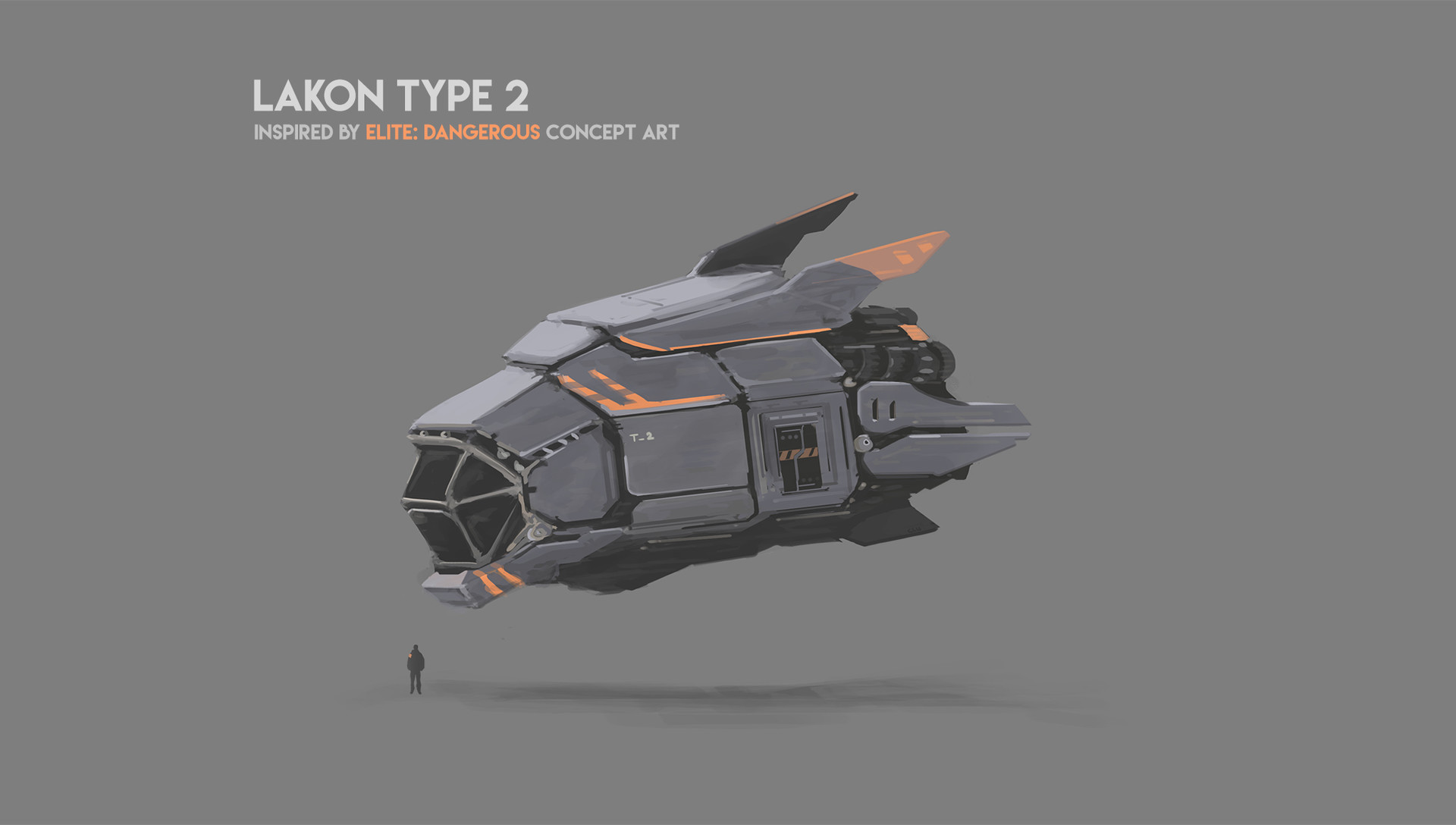 Sorry about the image size. This concept art is by one Aurélien Szczypa. I take no credit for their work, some more of which you can find on ArtStation - Aurélien, please get in touch if you want me to edit this post in any way.
When it comes to outfitting, there's plenty more room for debate. For the
core internals
, I personally think it would be interesting to have a ship option where every component was a size 1. With careful planning and power management, you could even fit 1A Enhanced Performance Thrusters; which coupled with G5 Dirty Drives could produce boost speeds of over a kilometre per second. The small frame and optimised mass would also allow for base speeds that
dare
even the experienced pilot to fly at a consistent 100% throttle when making their approach to a starport or celestial body. This is the superbike of space. There is not a chance you will be caught, but you had better be ready to hit the eject button in a moment of lapsed concentration. The ship would quickly usurp a
certain other role
currently occupied by the Eagle and her trendy cousin with the inexplicably perfect tan. Cue gaudy paintjobs, sponsor decals and the spaceship equivalent of underglow kits. Ideally, these things should be
heard
and not seen.
Optional internals
would be very limited - sizes 1 and 2 (max for mission reward cargo); possibly just one of each. A single
utility mount
would be used to compliment your chosen deed for the day. Multi-purpose this ain't. In fact, the idea is to be so single-purpose that it represents an ideal vessel for the minimalist, or the OCD sufferer who must cut every ounce of fat, leaving no superfluous modules or unused power. It would be perfect for someone who simply wants to spend some time whizzing about scanning Frame Shift wakes, or efficiently delivering data from A to B. For
hardpoints
, I'm thinking somewhere in the region of
zilch
. You could possibly justify having a lone small HP - to act as an additional mining laser (or even mine layer) for a larger wingman - although the underlying principle for this design is flight rather than fight.
"That's cute," you may well say, "but why would I choose this over my Viper Mk III? She is great for local mission running, puts the 'joy' in joyride, and can even put up her dukes when the going gets tough." I understand that this bare-bones speeder wannabe might not present such a convincing argument to the majority in and of herself, and so have prepared several ideas that may help to frame her existence, or balance her among current offerings:
(These ideas are not necessarily exclusive to the Hermes, and could be considered general suggestions for other areas of the game, albeit ones that have not been fully thought through. I also received some suggestions from Reddit users captf and starcinsider, to help support the original concept of the ship and maintain consistency. If you're on here, thank you again for your input!)
Terrible heat management: The Hermes runs very warm considering how the cheap components have been crammed into its tiny body. Smugglers and spies will have trouble running silent for extended periods, but daredevils will get a kick out of the limited time they have to make their move before the whole rig bursts into flames. The extreme internal heat build-up means Life Support automatically kicks in while silent running is active (making that 25 minutes a necessity for certain lifestyles). Pilots with a darker sense of humour have taken to calling this characteristic "Mercury poisoning" as a play on the Roman variant of messenger god lore, and the levels of danger involved.
FSD taxi: After hopping in their Hermes, owners can open the Galaxy Map, set a destination, and hit auto-FSD for an effortless ride to the target system. The ship will cunningly avoid crashing into stars, taking the most optimal route around the exclusion zone as it prepares for the next jump. It will adjust its trajectory if you have a Fuel Scoop equipped, making sure to keep topped up along the way (regular route plotting caveats apply). During this time, you can even shut down other systems (your PC/console) and enjoy an uninterrupted journey while you (and up to 2 passengers) sleep soundly in the knowledge that when you wake, you will be that much closer to your destination, if you haven't arrived already. This also makes the Hermes a good candidate for "tug-boating" other members of your fleet if you have limited time to invest in long-distance excursions.
Dedicated docking bays: The Hermes is too small for a regular small landing pad. New attractor devices have been installed as standard in stations and outposts throughout the galaxy. Once you're inside the docking bay, as long as you're going below a certain speed with landing gear out, these beams will catch you and pull you into a complex parking system within the hangar. (What do you mean you've never stayed at a capsule hotel?) You'll never be forced to wait outside (or switch to Solo mode) at a high traffic station. Plus, if you find yourself faced with a gauntlet of pranksters jostling and bumping in a mailslot blockade, you may have a slight edge as you dart your way inside to safety. Just make sure you don't hit anything on your way in, because no one can be held liable for such a ridiculous little vehicle (see the next point).
N.B. After some further consideration, I think part of the appeal of a ship like this would be to powerslide into a bay and manually land unscathed. Some kind of auto-landing field would detract from this, but I still think dedicated bays/pads are a good idea due to the ship's size.
Liability: To make flying the Hermes a little more interesting, it carries with it an insurance ultimatum: upon destruction you will still be able to rebuy as normal, but no fines/bounties will be incurred by the other party as long as no weapons were fired. This is mainly to detract starport suiciders and other mischief-makers. A Hermes is given about as much regard as a fly on a windshield. She is highly nimble and perfectly capable of dodging the current fastest ships. Just make sure you know what you're doing.
Volatile composition: General lack of bulk and protection means emergency or premature drops will severely damage the Hermes, if not disintegrate it outright. Extra care is advised during supercruise or orbital flight to ensure you do not approach celestial bodies above the speed threshold.
Tl;dr
I'd like it if Elite Dangerous featured a tiny, low cost, low maintenance ship that could be piloted like any other, with some unique perks balanced against massive trade-offs.
I realise a lot of the above ideas are taking things for granted, or not perfectly fleshed out, but I hope you can humour me and add your own thoughts to the pile. If you don't agree with something or find this whole business inherently flawed, please say so! Any comments are very much appreciated. Cheers and safe travels o7
Last edited: