o7 Greetings, Commanders!
I am Shinzo, a newbie in Elite who is eager to explore the whole palette our beautiful galaxy can offer. Inspired by other expeditions, I decided to try and make my own.
Ever since I started playing space games, I always made sure that I try to explore it as much as possible. Now Elite, to me, and probably to many others, is the first game with 1:1 scale world, that makes your mind explode when you think about it. That's the main drive of this expedition, to see how deep this rabbit hole can go, and, of course, to simply have fun along the way.
Even though I have close to no experience of leading people in Elite, I used to command fleets in other mmo's, so every bit of your help would be very welcome!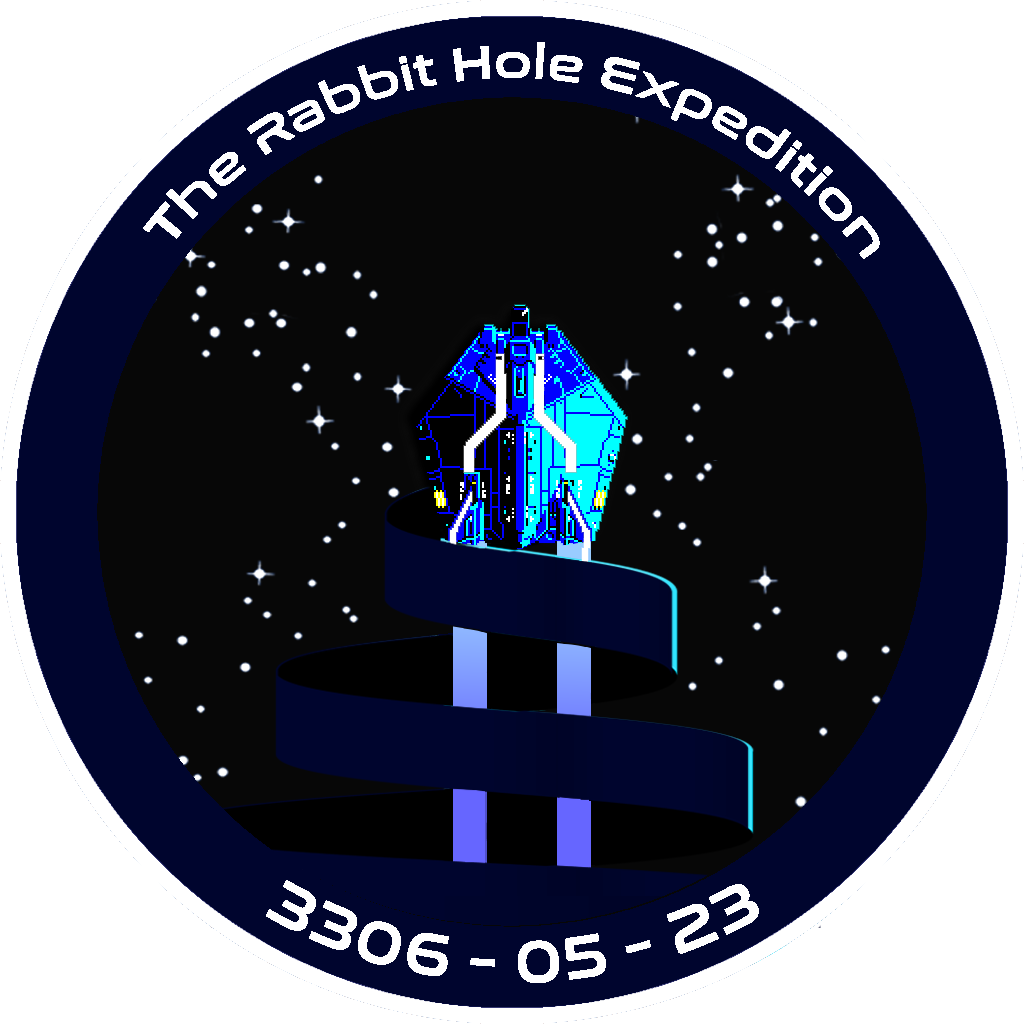 ___
​
When:
As the logo says, we expect to departure on 23th, but it can be delayed if some of you won't be able to get prepared in time. The expedition will take place for at least a few months. I will try my best to set the waypoints in such a way that the expedition won't feel rushed nor stretched.
How:
It's up to you. Any ships are welcome, any players, newbies and vets, especially if you haven't been there yet!
If you need any kind of help, ask away on discord, i'm there almost 24/7 because i'm quarantined.
The expedition will take place primarily on PC platform.
I do strongly suggest to get a ship with a decent jump range, somewhere around 50ly.

Here are some great informational websites to help you at preparations:
https://edastro.com/exploration/
System/Station database:
https://eddb.io/
https://www.edsm.net/
Where:
Note: there might be some changes of the route. Information here will be updated.
We will try to visit as many cool places as possible (and doing some fun stuff up there).
I've combined a few routes, the result is a whopping 87,296.26 LY long journey, it completes a circle from Bubble to Colonia to Sag a* and back, and there's a ton of stuff to see between those.
Here's the list so far in order:
| | | | | |
| --- | --- | --- | --- | --- |
| Number | Point: | Coordinates | Distance from last point | Total distance |
| 1. | Jackson's Lighthouse | 157 / -27 / -70 | 0 | 0 |
| 2. | Epsilon Indi | 3.125 / -8.875 / 7.125 | 173.07 ly | 173.07 ly |
| 3. | Bhare (Archived: Bhare (Vostok Canyon)) | 10.3125 / -86.96875 / 97.0625 | 119.33 ly | 292.4 ly |
| 4. | HR 5991 (Lewis' Loss (abandoned research facility)) | 56.09375 / 33.21875 / 166.375 | 146.10 Ly | 438.5 ly |
| 5. | Shapley 1 (Shapley 1 (The Fine Ring Nebula)) | 513.21875 / 34.875 / 857.53125 | 828.65 Ly | 1,267.15 ly |
| 6. | BD+22 3878 (Dumbbell Nebula) | -958.21875 / -71 / 535.5 | 1,509.98 Ly | 2,777.13 ly |
| 7. | Veil West Sector DL-Y d68 (Funfair Geysers / Veil Nebula West) | -1398.25 / -193.5625 / 418.90625 | 471.43 Ly | 3,248.56 ly |
| 8. | V970 Scorpii (Stellar Bowtie) | 98.96875 / -19.25 / 1603.8125 | 1,917.30 Ly | 5,165.86 ly |
| 9. | HIP 90600 (NGC 6664) | -1543.8125 / 27.875 / 3613.625 | 2,596.21 Ly | 7,762.07 ly |
| 10. | Thor's Eye | -439.84375 / -86.625 / 4205.15625 | 1,257.68 Ly | 9,019.75‬ ly |
| 11. | Omega Sector EL-Y d60 | -1420.34375 / -68.34375 / 5306.53125 | 1,474.70 Ly | 10,494.45‬ ly |
| 12. | CSI-06-19031 (NGC 6751 (Olympus Plateau)) | -3105.78125 / -657.875 / 5557.09375 | 1,803.06 Ly | 12,297.51 ly |
| 13. | Flyiedgai UL-C d13-41 (Flyiedgai Nebula) | -6294.21875 / -784.5625 / 9042.65625 | 4,725.60 Ly | 17,023.11‬ ly |
| 14. | Skaudai AL-O e6-27 | -5488.125 / -574.3125 / 10422.375 | 1,611.71 Ly | 18,634.82‬ ly |
| 15. | Eodgorph PI-T e3-21 (Spear Thistle Nebula) | -5869.21875 / 351.4375 / 11132.15625 | 1,227.21 Ly | 19,862.03‬ ly |
| 16. | Gru Hypue KS-T d3-31 (Gagarin Gate / Vostok-1 Nebula) | -4990.84375 / -935.71875 / 13387.15625 | 2,741.05 Ly | 22,603.08 ly |
| 17. | Gru Hypue AA-A g4 (Jo Ella's Flares) | -5179.875 / -933.46875 / 13505.5625 | 223.06 Ly | 22,826.14‬ ly |
| 18. | Blaa Phoe NC-D d12-230 (Death Spiral) | -5377.90625 / -1291.40625 / 15398 | 1,936.14 Ly | 24,762.28‬ ly |
| 19. | Boewnst AA-A h33 (Michell's Legacy) | -5548.90625 / -734.40625 / 15604.5 | 618.17 Ly | 25,380.45 ly |
| 20. | PSR J1846-0258 (The Kes-75 Magnetar) | -8886.75 / -75.15625 / 15572.5625 | 3,402.47 Ly | 28,782.92‬ ly |
| 21. | Eephaills SG-C c1-177 (Wind Chime Nebula) | -10369.21875 / -449.4375 / 16915.84375 | 2,035.24 Ly | 30,818.16 ly |
| 22. | Oephaif RJ-G d11-408 (Bonfire Nebula) | -10646.21875 / 621.5 / 17838.15625 | 1,440.24 Ly | 32,258.4‬ ly |
| 23. | Spoihaae XE-X d2-9 (Monde de la Mort (World of Death)) | -9346.125 / -1472.09375 / 19659.0625 | 3,064.16 Ly | 35,322.56 ly |
| 24. | C O L O N I A (Jaques Station / Archived: Animula Spires / The Mosta-Murdoch Raceway) | -9530.5 / -910.28125 / 19808.125 | 609.79 Ly | 35,932.35 ly |
| 25. | Kyloarph DV-Y e4134 (Céimnithe Nebula) | -6938.125 / -730.34375 / 20886.1875 | 2,813.36 Ly | 38,745.71‬ ly |
| 26. | Kyloaln GR-W e1-5394 (Simmic Kyloaln Nebula) | -6422.15625 / -1067.375 / 21016.53125 | 629.92 Ly | 39,375.63‬ ly |
| 27. | Screakou EW-N e6-5997 (La vie en Rose) | -5743.78125 / 234.25 / 21914.25 | 1,720.56 Ly | 41,096.19 ly |
| 28. | Dumbaa XJ-R e4-5596 (Blue Lilies Nebula) | -4252.625 / 196.09375 / 22780.84375 | 1,725.11 Ly | 42,821.3‬ ly |
| 29. | Phroi Flyuae MN-S e4-4719 (Copycat Nebula) | -2902.53125 / -84.9375 / 24197.96875 | 1,977.37 Ly | 44,798.67‬ ly |
| 30. | Myriesly EC-B c27-381 (Amethyst Cloud Depot) | -528.0625 / 38.875 / 25726.5625 | 2,826.66 Ly | 47,625.33‬ ly |
| 31. | Sagittarius A* !!!!!!!!!!!!!!!!!!!!!!!!!!!!!!!!!!!!!!!!!!!!!! | 25.21875 / -20.90625 / 25899.96875 | 582.89 Ly | 48,208.22‬ ly |
| 32. | Nyuena JS-B d342 (Altum Sagittarii) | 29.09375 / 1976.53125 / 25859.5 | 1,997.85 Ly | 50,206.07‬ ly |
| 33. | Zunuae HL-Y e6903 (Zunuae Nebula) | -437.34375 / 199.53125 / 23539.96875 | 2,958.97 Ly | 53,165.04‬ ly |
| 34. | Athaip DW-N e6-3063 (Archived: Athaip Wisteria Nebula) | 511.84375 / -1020.875 / 23171.3125 | 1,589.42 Ly | 54,754.46 ly |
| 35. | Great Annihilator (Great Annihilator Black Hole) | 354.84375 / -42.4375 / 22997.21875 | 1,006.13 Ly | 55,760.59‬ ly |
| 36. | Hypoe Flyi HW-W e1-7966 (Galionas) | -857.65625 / -912.875 / 22318.1875 | 1,639.79 Ly | 57,400.38 ly |
| 37. | Dryaa Pruae BG-X d1-1087 (Fleur-de-Lis Nebula) | -2516.53125 / -966.15625 / 20884.71875 | 2,193.07 Ly | 59,593.45‬ ly |
| 38. | Whamboi KT-F d12-2262 (Archived: Red Prophecy) | -1644.5 / 1169.3125 / 19212.0625 | 2,849.29 Ly | 62,442.74‬ ly |
| 39. | Dryau Aowsy MR-W d1-6259 (Archived: Keelblack Rings) | 432.71875 / 79.375 / 18295.84375 | 2,518.38 Ly | 64,961.12‬ ly |
| 40. | Froarks GM-D d12-355 (Gleeson's Gem) | -533.59375 / 209.6875 / 15375.09375 | 3,079.21 Ly | 68,040.33‬ ly |
| 41. | Chroabs TI-S d4-58 (Goliath) | -423.78125 / 1769.1875 / 14719.34375 | 1,695.32 Ly | 69,735.65‬ ly |
| 42. | Gria Hypue UG-S d5-779 (Archived: Aquitania) | 6.03125 / -59.15625 / 13558.53125 | 2,207.95 Ly | 71,943.6‬ ly |
| 43. | Bleae Aewsy IY-N b9-1 (Bleae Aewsy Nebula) | -290.09375 / 572.28125 / 11936.03125 | 1,766.04 Ly | 73,709.64‬ ly |
| 44. | Skaudou TO-I d9-17 (Archived: Arethusa) | -733.9375 / -1171.75 / 10030.125 | 2,621.28 Ly | 76,330.92‬ ly |
| 45. | Lysoorb FW-N e6-15 (The Rings of Atreus) | 777.4375 / 245.0625 / 7886.46875 | 2,981.09 Ly | 79,312.01‬ ly |
| 46. | Syralia JT-V b7-0 (Gibb's Bridge) | 1276.1875 / 1016.84375 / 5509.09375 | 2,548.79 Ly | 81,860.8‬ ly |
| 47. | Herschel 36 (Lagoon Nebula) | -468 / -92.1875 / 4474.625 | 509.62 Ly | 82,370.42‬ ly |
| 48. | Thor's Eye | -439.84375 / -86.625 / 4205.15625 | 270.99 Ly | 82,641.41‬ ly |
| 49. | Droju IG-M a103-0 | -264.78125 / -33.28125 / 3876.46875 | 376.20 Ly | 83,017.61‬ ly |
| 50. | HD 175876 (Heaven's Lathe) | -644.1875 / -472 / 2299.3125 | 1,680.43 Ly | 84,698.04 ly |
| 51. | 46 Upsilon Sagittarii | -653.1875 / -442 / 1598.3125 | 701.70 Ly | 85,399.74‬ ly |
| 52. | Antares | 71.5 / 138.40625 / 531.375 | 1,414.35 Ly | 86,814.09 ly |
| 53. | HIP 72043 (Institute of Galactic Exploration and Research) | -22 / 118.5 / 58.78125 | 482.17 Ly | 87,296.26‬ ly |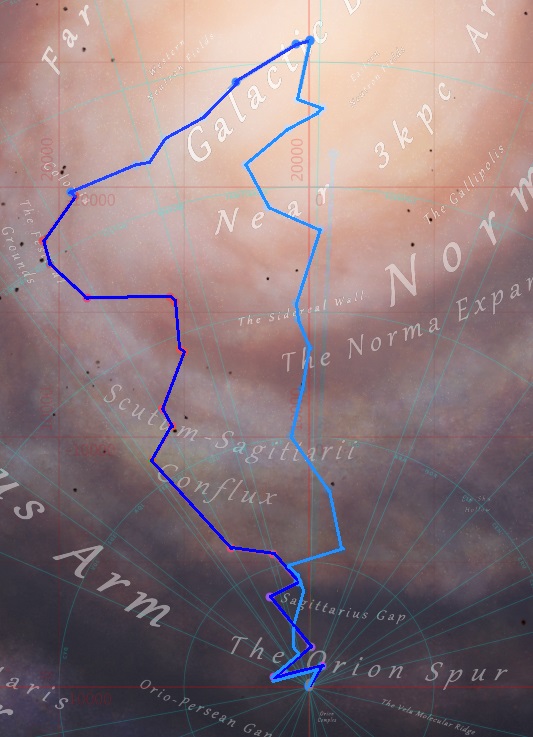 Registration:
https://forms.gle/xjcukMVhU3FwRrUG8
List of people registered:
https://docs.google.com/spreadsheets/d/1UglkRU3pgU1bYdJKAMVZ6zAZj7hXHGamzLKKESomaG0/edit?usp=sharing
Join our Discord:
https://discord.gg/JSqUBRq
EDSM:
work in progress
Fly Safe! o7
Last edited: