Bought the:
Thrustmaster T-Flight HOTAS One - Xbox One
AS WELL AS:
Thrustmaster TFRP Flight Rudder Pedals for PC & Playstation 4
Although I don't have many flight hours (yet) I can confirm that the rudder pedals do in fact WORK. Using GOOGLE I couldn't find a
definitive
statement that they work... so my first objective in this post is to CONFIRM THEY WORK.
Here are my notes.
1. In my opinion the flight pedals are not necessary for standard flight ops such as landing, exploration, docking... but I suspect they may be more critical if engaged in combat.
2. If you fly flight assist OFF I think the rudders are more critical.
3. If you think you are likely want pedals eventually then GET THE PEDALS RIGHT AWAY and learn to use it all at once. I wouldn't advise getting the pedals later. It is more efficient to just get them NOW and learn the new game all at once.
4. The process of changing the controls from "controller" to "HOTAS" in the options section was easier than I thought it was going to be. Be patient and don't get all freaked out that you are never going to get it to work. I DID tweak some items thought and it improved my gameplay experience quite a bit.
5. The HOTAS has greatly improved my exploration experience. Now when I jump into a system I can zero the throttle and enter the system near the star and have no danger of crashing into it. I don't need to "remember" whether or not I am in FA/off or if I remembered to throttle down. I can SEE that whilst I am up getting a snack my throttle stick is set to zero and I don't have to wonder if I need to rush back to prevent a star crash. When I enter the system my throttle will be ZERO because my throttle is ZERO, duh. Seems like a small thing, but for me it was big.
6. The graphic on the Thrustmaster website showing the controls is kind of half-baked if you ask me. The color listing is out of order and "toggle camera suite" was missing. I kept getting confused with the graphic. There was another mistake on the graphic too, I forget what it was.
I created my own graphic for the button settings. Once you have used it for a while you don't look at the graphic much, but it helped me initially to have it handy to re-learn what used to be intuitive on the controller.
Here is a photo of my temporary setup using an old typewriter stand. Works well enough.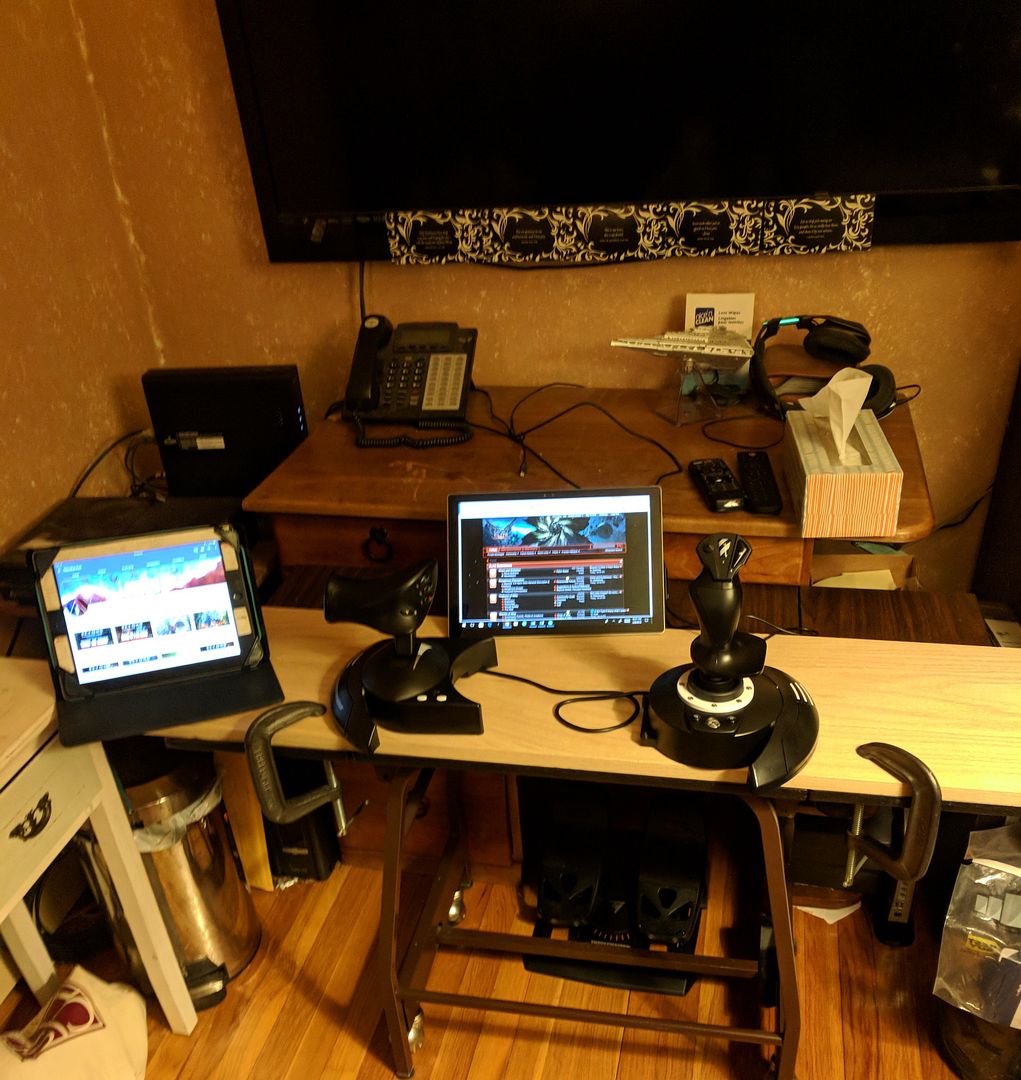 After doing this I would RECCOMEND XBOX players switch. You need to have a good spot to set the sticks down at the right height... but wow, much better immersion.
I am certain other commanders have other helpful info, so please post. I haven't spent a lot of time in the SRV and I know I don't have those settings right. Screen captures from commanders who have done this already would be great.
Last edited: