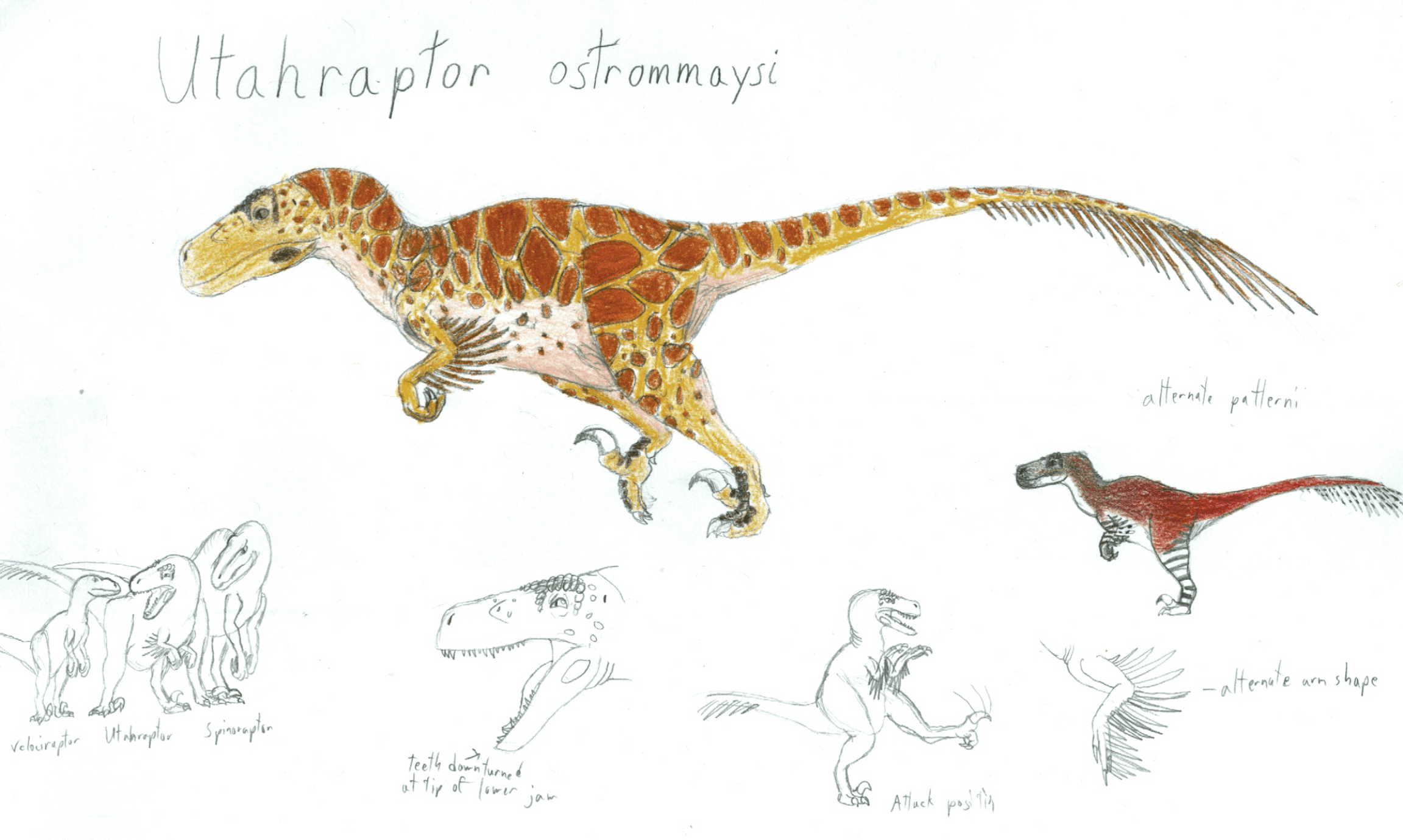 This is an old piece I had started that was my attempt at drawing a Utahraptor as I would like for it to appear in JWE, the ultimate goal being to keep it within the JP/JW style while making it more scientifically accurate compared to Velociraptor and Deinonychus which are obviously very far off from the real animals, as many think dromeosaurs can be too easily mistaken for the JP Velociraptor unless significant differences are made. With the exception of the lack of feathers and pronated hands, I kept the anatomy as close to the modern reconstruction of Utahraptor as possible, as Utahraptor was a really hefty and heavily built dromeosaur, so even it's silhouette would be distinct from the smaller Velociraptor. As such I also gave it a unique pattern that is unlike what the raptors and other small carnivores in the game currently have, as most have mostly monotone colour schemes. The most obvious addition was the quills on the arms and tail, where the larger penaceous feathers would be on the animal in life, which also helps to make them more visually appealing.
On the bottom-left I have a size comparison between the in-game Velociraptor, Spinoraptor, and my proposed Utahraptor to showcase the visual differences between these three animals and how the Utahraptor could be a true "medium sized carnivore, able to fight small carnivores and smaller large carnivores, much like how the Iguanodon fights them.
The middle-left image is just a close up of the face, mostly to showcase the unique down-turned teeth that Utahraptor had the tip of their lower jaw. The purpose of this feature is still currently unknown, but even showcasing small things like this helps make the design feel that much more genuine.
Middle-right is an example of a unique attack animation the Utahraptor can have, as they have smaller front arms than other dromeosaurs, and so the usual swipes that small carnivores do in-game would not work as well with this animal. Instead I figured giving it a powerful kick attack could help showcase the power of their hindlimbs.
And lastly, bottom-right shows an alternative look for the front arms that would hold them in a more realistic position, which could help to differentiate it even more from other dromeosaurs.
I was inspired to finish and share this upon seeing some of the incredible mods that the community have done for this game, and to help show how the JP aesthetic can be blended with more paleontologically accurate interpretations of these wonderful animals.