Community Manager
Frontier
Hayo Coaster Friends!
The Vintage and World's Fair Bundle has now
launched
for Planet Coaster: Console Edition on Xbox Series X|S and Xbox One, PlayStation 5, PlayStation 4!
With a plethora of new rides, scenery, and exclusive console content, your guests will be running around a retro wonderland - in awe with the cultural architecture around them! Have a look at exactly what the Bundle has to offer:
10 New Rides and Coasters!
Zephyrus - An example of the world's first high thrills and high-speed wooden roller coasters, dating back to designs from the 1920's. The whole aesthetic is beautifully aged to capture its tarnished charm.
Aces Sky - A historic type of wooden coaster but instead of using a traditional track this coaster negotiates a large wooden pipe through which it can freely ride up and down the side.
Round the World - Combining the gentle motion of a Ferris wheel with the insanity of spinning, inverting gondolas. It might not look safe but rides like these have really stood the test of time and still operate today!
Loop Da Loop - Buckle up and prepare to loop head over heels in this twin cabin inverting swinger from the 1930's!
Test Flight - Take off and practice your flying skills in this spinning, inverting plane ride. Each car has a set of wings which the guests control to roll the cabin in this vintage aircraft.
Hurricane - Twisting and turning that's so fast your world will be a blur. This is a real classic found in many parks and fairgrounds around the world.
Centrum - Feel the excitement of spinning at high speed at a thrilling 50 degrees in this classic centrifuge ride that's been a favourite for generations of fairground and carnival fans.
Polarity - An unmanned rapid transport system that uses magnetic forces to propel the train forward at great speed. This has a unique and flexible track system that aesthetically has a futuristic feel but is equally fitting in most parks.
Jixxer and Interceptor - A dueling duo of launched motorcycle coasters (two separate coasters), this is a type of high speed hydraulic launched track with riders leaning into the corners in a new seating type as they embark on a high octane motorcycle chase. Are you the good guys or the bad guys?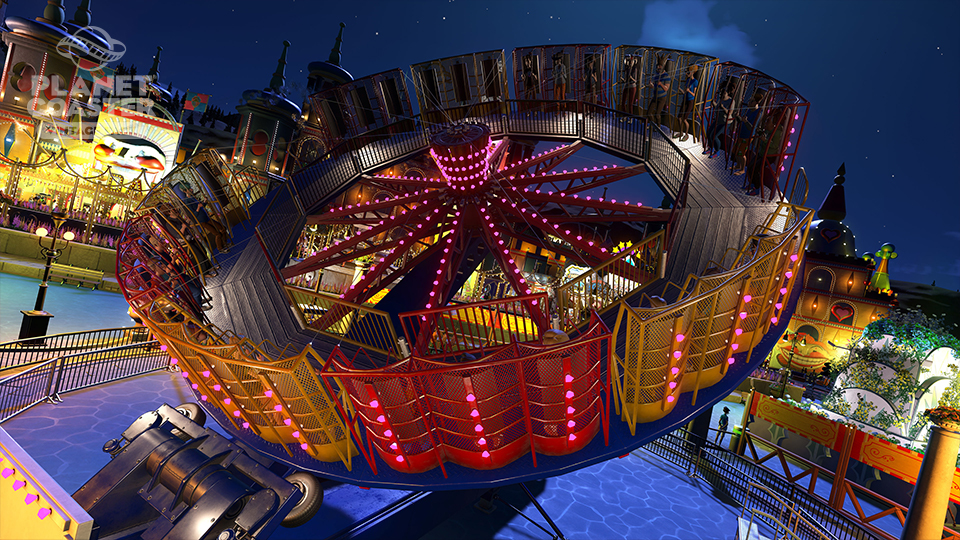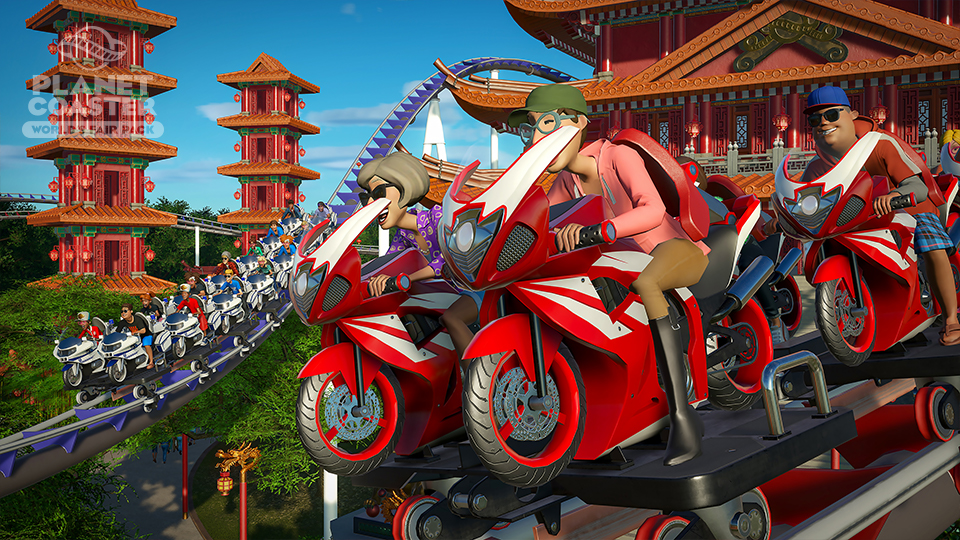 ​
All-New Scenery
Build nostalgic buildings and fairground-style areas with new vintage-looking scenery and wall sets. Decorate your parks with Victorian pillars, animal statues, and lightbox lettering, and entertain your guests with barbershop quartets and trapeze artists! Have your guests try out the brand new Gumball and Popcorn machines reminiscent of old-school town fairs, or predict your fortunes with the Zoltan!
In addition, celebrate the wonder of global culture, with 10 new themes based on a selection of countries; China, USA, France, Morocco, Italy, Germany, Japan, UK, Mexico, and Spain. With incredible wall set styles and cultural props, your guests will be amazed at the bountiful selection of new scenery in your park!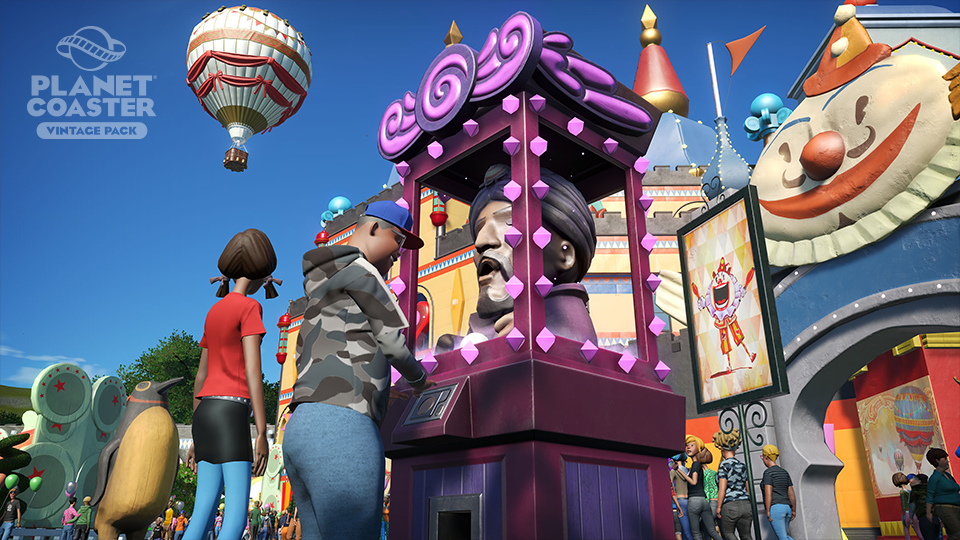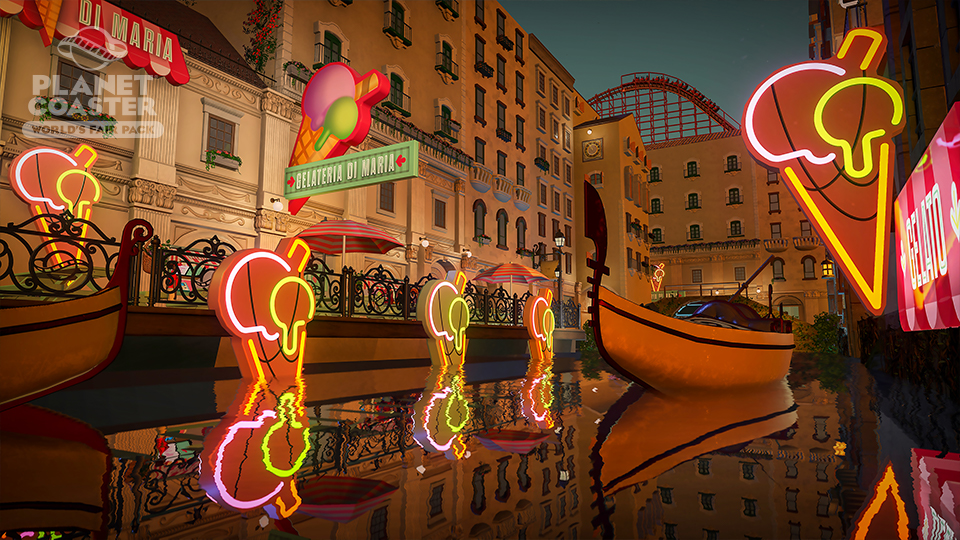 Brand New Blueprints
Create your new park that celebrates the magic of nostalgia and the wonder of global culture in no time at all with blueprints! With over 250 exclusive new console blueprints, you'll be spoilt for choice - from Victorian plazas and vintage ticket stands, to Bavarian towns and Chinese pagodas, create a new park faster than ever with a vast array of cultural variety!
Find it in the PlayStation Store or Microsoft Store for
£11.99 ($14.99/€12.99
)
or individually for
£7.99
($9.99/€9.99
)
each!
Update Notes:

Stability
We are aware that some players have been experiencing frame rate inconsistencies on Xbox Series X|S due to certain TV set compatibility. We've added an optional 30fps framerate lock option on Xbox Series X|S that can be enabled if you encounter this.
Fixed softlock when sorting the Trigger Sequence of any ride.
Fixed a crash caused by a certain state in terrain edit mode.
Fixed a crash caused by the game trying to update display sequencers which had been destroyed by the undo function.
Fixed a crash in path editing.
Improvements to the system memory management to reduce occurrences of crashing on Xbox Series X|S.
Various other crash fixes.
User Interface (UI)
Fixed an issue with setting Delete Path Mode to its minimum distance after changing measurement unit type.
Fixed an issue in Park Management where the "Fastest Coaster" statistic was displaying incorrect data.
Move Snap distance units now properly converted from previous units, which will stop the snap distance being able to be set to 0.
Fixed an issue in the "shootable targets" list UI which had been causing the list to scroll on any input.
Staff & Guests
Fixed issue with mechanics not fixing "Rush Hour" in the Downtown Scenario.
Fixed some guest position "popping" when using half length sloped path pieces.
Text & Localisation
Various text and localisation fixes applied.
Misc.
Fixed flickering trees/background textures.
Fixed an issue some players experienced with achievements not triggering on Xbox platforms. Any missed achievements should now be awarded upon next load.