I do personally think that when designing this new scanner, FD didn't actually know what explorers think makes a system interesting, and what makes Exploration an activity worth doing over and over without getting bored of it.
Now, in the FSS, basically all the information it shows you is the planet types, and through this, what they're worth in credits.
That's really not it! i have six hundred million credits, it's the Stellar Forge that makes exploring fun to run through.
So much information, important information for explorers, is now lost in the new viewing mode. This information is really really important for finding out if a system is worth exploring... and that's much more than the credits.
Getting SCANS on the entire system is much faster now for sure, but getting INFORMATION is gone.
One very good example is orbital configurations, which are not shown in the FSS at all.
If i wanted to specifically look for a moon orbiting extremely close to a gas giant, that's not possible in the new FSS.
If i want to look for a planet orbiting extremely close to a neutron star, white dwarf or black hole, that's not possible.
If i wanted to look for a ridiculously complex multiple planet system, like for example a trinary, quadnary or even pentary(?) no, that is not possible either.
Another one is that just displaying "type of planet" is way too simplistic. There are a few sub-types of unique planets, that have all been painted under the same brush now.
For example, there is a huge difference between the very common icy dwarf planets, and rare, gargantuan iceballs twice as large as Earth.
These and the even rarer rocky/metallic giant planets? Can't easily find that anymore.
Green gas giants, the ones with luminous green clouds? It's exceedingly unlikely that i would ever find one, but they DO exist, however now that i would need to scan the whole system to ever find one, the chance is now even slimmer for a new one to be discovered.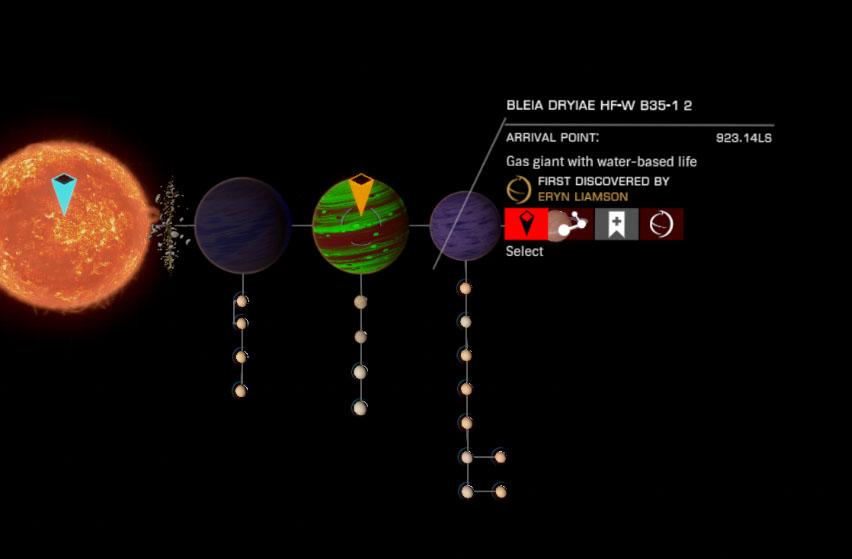 Super-oblate planets, highly stretched into an egglike shape from very strong rotation and tidal forces? They now appear all the same.
These are just a few examples of all the wonders that exist in the galaxy, that will now all be painted under the same brush as many, many completely unremarkable worlds. Will they be IMPOSSIBLE to find, for sure not.
But it's now not really possible to make a specific, narrowed search, because you will now spend a lot longer looking around while doing the exact same thing.
You have for sure improved some things with this new scanner. The actual experience of scanning them, when you do want to get all of them, is nice, and the planet prober i certainly have no problems with.
However, in the actual real game of exploration, which is finding unusual, procedurally generated things, so much has been lost, and that will for sure make exploration a more boring activity to me.
I am, on the average, fairly positive to the new scanner, but now that i have read it, the uniform critique raised by certain famous veteran explorers is very, very valid, and we need a synthesis that allows us to have the best of both worlds; the rich and immediate information of the old system map, and the actual gameplay and enjoyable experience of looking around the radar.
Last edited: