I'll be doing like Arti and posting my projects here in a single tread as work in progress. I think it's a good idea to keep it clean and have a continuous conversation about what's cooking in my little creation lab.
I have been lucky enough to receive loads of comments on the workshop and on discord. My assets have been on the streams many times. I'm overwhelmed by all the love I have received over the past few months. THANK YOU!!!!! thank you so much for all this positiveness. It has become quite precious to me.
Been asked special orders, doing collaborations with other creators like lilibat and pegylac. I've been so lucky. I am NOT a good modeler! NOT at ALL! Most of the assets I made were of the simplest possible kind : box, walls, floors, and flatten circles. Don't even try to ask me some complex model like a character. I'll make you one ingame with basic art shapes! lol! So forget about animations and what not! I found that there's plenty of that on the workshop and I'm big a fan of their work too.
Most of the work I put in is in designing the skins of items = creating original textures and layouts for the bread and butter of planco builders : collections of static assets. I Reaaaallllyyy like stuff that glows and I really love the lighting of the game, so a lot of the assets I do are emissive and/or has some effort put towards the shine/roughness of the assets. I also get somehow annoyed when the ingame items can't be colorable, so I tend to make everything with color slots.... cause we can! I think I have received a lot of love and support from the community and I and so grateful, so encouraged and motivated to create more and make stuff that makes your game fun! That's my thing... I try to make items that are fun to play with ever since I saw lilibat's cathedral. (you must see that if you did not). I try to create pieces that you can create angles and patterns with. Sometimes, that doesn't mean very complex items - look at what has been done with basic shapes! Still, I do things slowly.... test a lot and try to stick with planco esthetics and mindset as much as I can. I have a few ongoing projects :
1- Community homage stained glass and art pieces : this is a tribute to some creations of the community where I turn a screen capture of a friend's BP from the game into an asset. I have started this project at the very lauch of the toolkit to fight against some of the resistance against user-created content amongst some of the most influential creators of the workshop (when the use of the asset was slowing down our games - it was a bad time release stuff!). It's still an open project. But I've been putting more time toward project 2...
2- SciFi - advance civilisation asset collection : the Atlantis collection. This is for a collaboration park on the stargate theme in the dragonian community. I'm making modular assets to be able to build the advance scifi cathedral atmosphere like in the stargate series. Little of those assets are actual replicas, I tried to capture the vibe but keeping them original. I made assets so you could build something like Atlantis, but it can be for cyberpunk or any other high-tech sort of feel.
3- Wanted : those are some other stuff that just happens to be in the conversation... I made lately a spooky stained glass collection using lilibat's drawing of a spider and bat with a new 'spookyfied' finish when the ghostbuster DLC got out. And right now, I'm working on giant magic crystals for a fantasy cave theme, a small collection of maybe 4 assets x 2 sizes.
Love you all, will post pictures of ongoing project in here from now on!
Here a capscreen of the crystals testing site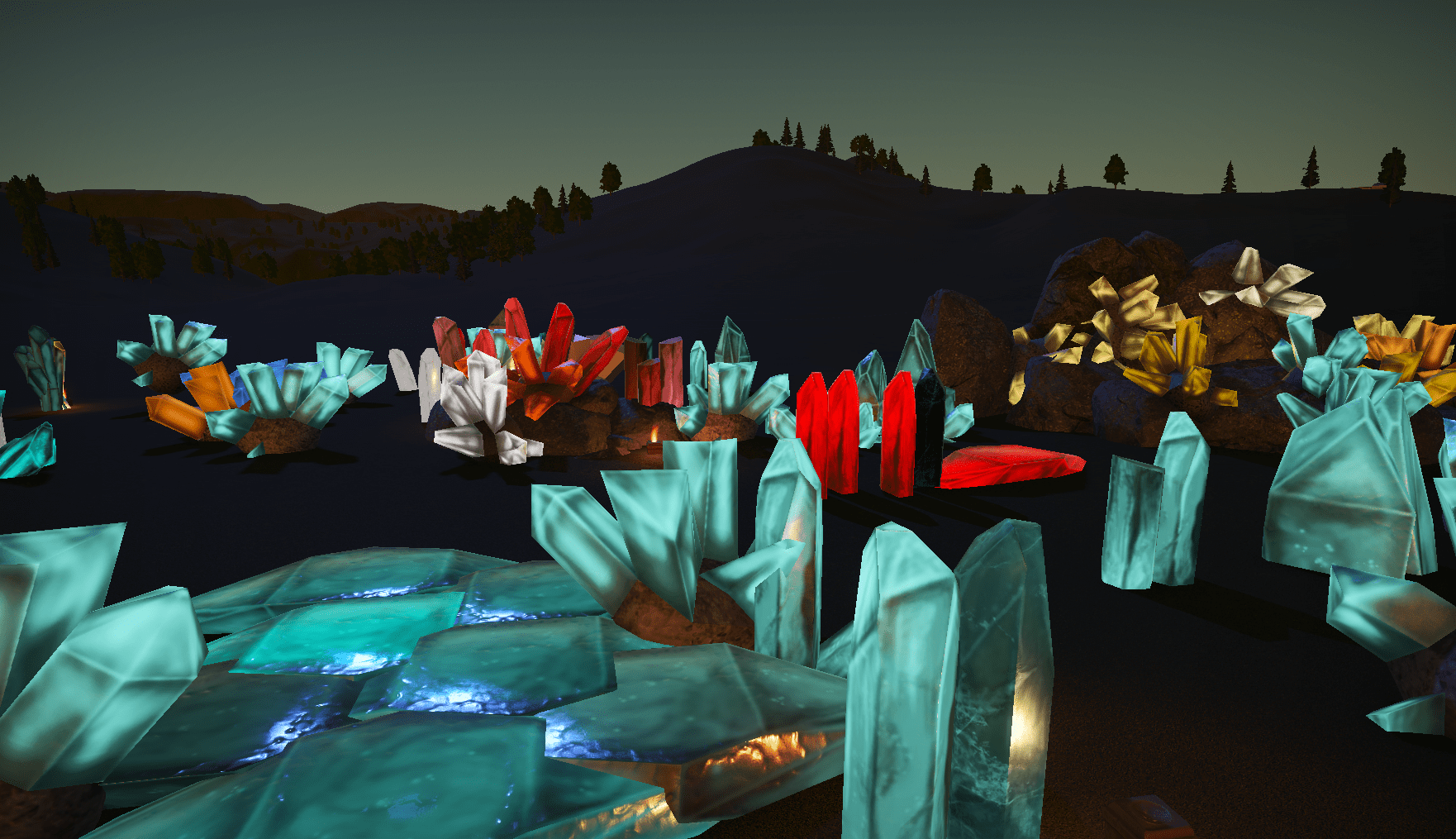 ***edit : the crystals have been released on the workshop. There are 5 pieces in the set so you can mix and match. The set is in this blueprint here, enjoy! :
https://steamcommunity.com/sharedfiles/filedetails/?id=1784330720
Last edited: