Update: Release 1.0.0 is now available.
---
Hello everyone,
I'd like to share with the community a new tool that I've been working on to help provide insights on the evolution of Minor Factions' influences in star systems over time.
To go straight to the point, it's a desktop application that can plot MF's influence data over time as charts.
Of course, there are already several great web based tools out there that can do that - and much more - such as
Inara
,
EDSM
or
Elite BGS,
but they all come with limitations in that specific area, in that they don't offer the user the possibility to specify exactly what (e.g. which factions, in which system) is represented in a given view nor how (line charts, area charts, stacked area, etc...) it is represented.
Furthermore, the time range that can be visualized is limited to a couple of months, either explicitly or because performance start to degrade fast as the time range becomes larger.
So the idea is to use a specialized tool, which is
only
capable of plotting charts, but in return offers the user the flexibility needed to compose precisely the view of the data she/he wants, and then navigate through it, zooming in or out.
In corporate jargon, I guess one would call that
Elite Dangerous Minor Faction Intelligence Self-service Analytics(tm)
(it still needs some blockchain and deep learning for a perfect score on the Buzz-O-Tron, mind you...)
Now, I realize that this is somewhat a bit a niche use-case, to say the least, but I know that many people around here are quite serious about their BGS, so I figured this might be of interest to someone else that just me. I put together a plugin for an open source time-series browser called
binjr
that I originally developed for something entirely different to allow it to consume MF historical data through the
Elite BGS API
(by cmdr
@Garud
).
The "Edit Mode", where user compose the view by dragging data sources from the left pane onto the chart view, and choose the time range and visualization type":
The "Presentation Mode" of the above view, as line charts:
or as stacked area charts: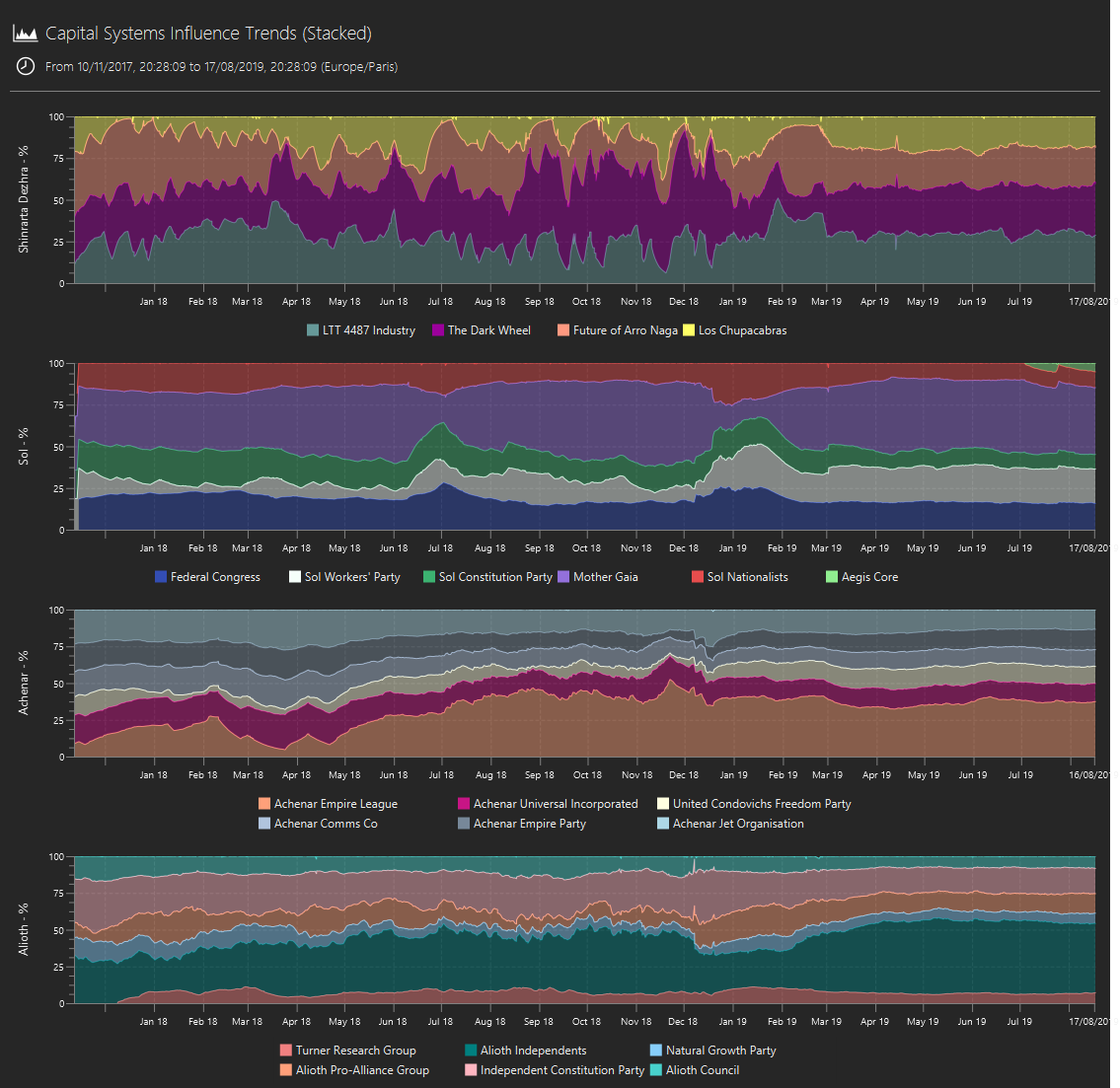 Also, I intend this to be a fully community driven project, so to anyone interested, please do share your comments, ideas, suggestions on the forum.
Furthermore, all the code for both the plugin and the main application is entirely open sourced, licensed under the Apache License version 2.0, and available on github:
Last edited: