Lead Community Manager
Frontier
Welcome to the first ever
Planet Zoo Developer Journal
, where we'll be taking you behind the scenes, introducing you to some of the wonderful people working on Planet Zoo, and discussing what you can expect when the game comes out! As the developers are hard at work making Planet Zoo the best it can be, these journals
won't be a weekly occurrence
. Instead, we'll be releasing them when we have more information to give you!
In this piece we'll be talking to
Producer
Felix Von Wolfersdorf,
Gameplay Lead
James Lockett and
Senior Environment Artist
Joanne Taylor about what's it's been like developing Planet Zoo for the last two years.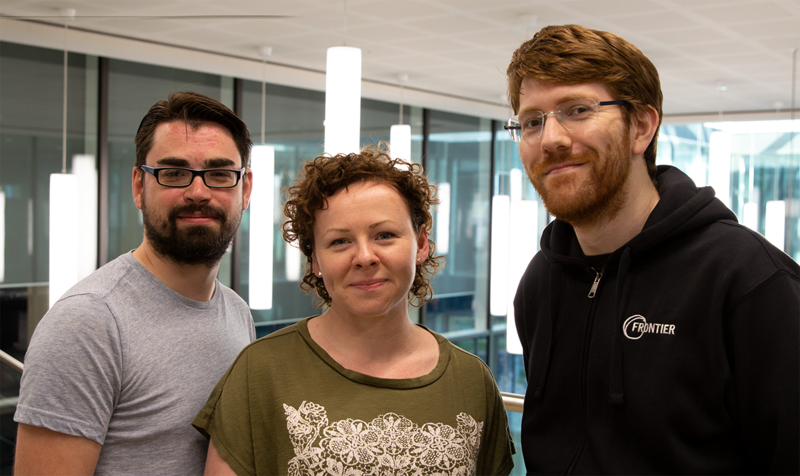 From left to right: Producer Felix, Senior Environmental Artist Joanne, and Gameplay Lead James

​

Hi everyone!

Thanks for having us, it's lovely to be able to talk to people like yourselves who are just as passionate about Planet Zoo as we are. The game's been in development for around two years now so it's great to be able to talk about what we've been working on all this time!

James:

The team's been expanding a lot since the project first started, I came on board about a year and a half ago and it's been a fantastic experience. Every day is filled with surprises: from realistic animal animations to new creature calls in the background, or even someone coming up with an interesting take on how a habitat should be laid out. We're constantly sharing cute and funny animals as inspiration and everyone is motivated to make this game the best it can be.

My typical day-to-day would usually involve getting to my desk and working through my list of features; if anyone on the gameplay code team has issues to raise or need suggestions on things I'm always around to work it out together. I'm a liaison for other teams in the project when we need to figure out the best approach for each challenge we come across, so that usually involves checking something at other people's desks or being in a meeting where we make sure everyone's on the same page for what we're working on. The team is really energetic so it definitely helps the day-to-day workings when you know everyone here is hyped to see the game through. Working with people enthusiastic for what we're doing makes things easier and our jobs a lot of fun.



Felix:


It's definitely been an awesome experience so far; one of the things I love most about working on Planet Zoo is seeing the animals come to life from the early stages to the final, gorgeous model, showcasing a large set of lifelike animations. It's also amazing listening to the realistic animal sounds and seeing how the game code and design bring them to life in-game. Our animals display a wide array of behaviours in the game, which makes you feel that much closer to them!

The team are fantastic; it is very fulfilling to work with a team who clearly enjoy and are passionate about their work. You can feel the support everyone gives each other and there is a strong sense of great ideas and collaboration among the team. We all feel proud of how far we've come and we're going all-in to deliver the best animal sim we can. All of this is more than I can wish for.



Joanne:


I've loved working on Planet Zoo, seeing how quickly the game evolves is so inspiring for everyone. All of the teams are extremely passionate and dedicated to making this the best game that it can possibly be. An ongoing favourite aspect of the game for me is the weather! From the first time I saw the snow fall and settle in-game, I thought it looked absolutely fantastic and the way that it interacts with the world is just incredible. The Planet Zoo team is amazing! We hold regular reviews where the whole team is present (that's a lot of people) and we all get to see what the other teams have been doing. The Animation department usually put together a very funny video of their work which always has everyone laughing!

As an Environment Artist, I've spent most of my time working within the Facilities team which deals with functional environmental elements within the game. More recently, I've been working on smaller environments which house some of our little critters. Researching these guys has been a big eye opener as they have such interesting characteristics and behaviours. We've done our best to put these findings back into the game for you to discover as well.

James:

To make a successful simulation game, we have to identify what attracts you to a system, then we need to make the challenge of controlling and expanding it engaging, and give you continual, satisfying and interactive feedback to your actions. In this case, caring for your animals of course draws you in with their varied personalities, looks and necessary surroundings. We're hoping to challenge you to get the right balance of ensuring animal welfare, while also keeping the zoo running and educating guests. It's one of the things that makes Planet Zoo really special, along with the fact that you can bring these wild and characteristic animals to life, in a place that you can create to look and feel like your own. You often find yourself getting attached to some of your favourite animals in a way you can't get by viewing them alone.

We need to know a lot about these animals in order to create a simulation where we capture every little detail about them, so the team spent a lot of time with a number of experts absorbing everything about the animals that will come alive in the game. I've personally learned a lot of species names and I keep learning new bits every day!



Felix:


Planet Zoo has the most realistic animals any game has ever seen to date, and you will laugh, cry, and be emotionally invested on your journey with the animals; it's a simulation in which you will be able to really care for and build a strong relationship with them, and that's what makes the game special to us. A successful simulation game needs everything James mentioned as well as a strong foundation of a core game loop and features, which interconnect, combine and click with each other. We wanted to offer a wide range of tools and features that vary in complexity so you can decide how deep you want to go, while also leaving enough room to go wild with your creations! Joanne: Our animals are very important to us and they look, move and sound absolutely exquisite! There is so much fun to be had playing around with building their habitats, figuring out their needs and watching your zoo unfold with absolute control over a huge range of details therein. For me, what makes Planet Zoo special is the love that we've put into it. The details provide depth and through that we have made a really interesting and diverse zoo management experience.

We are really happy with the game that we are making. Planet Zoo is one of those games that as a developer, you can't wait to play once it's been released. I think the whole team is really happy with the reactions to the trailer and what the world has seen of the game so far; it's always a really lovely moment to see you thanking Frontier and the project teams for the hard work that we put into our games because we do – we put everything into these games and it's wonderful to read your excitement towards the end result!

We're really looking forward to having you experience it yourself when it comes out in the Fall.

Thanks for having us!
Last edited: