Community Manager
Frontier
Welcome to our fifth
Developer Journal
! These interviews are a chance to introduce you to our hard-working team behind Planet Zoo and to highlight new features that they have been designing. After showing you some amazing Staff features at E3, we think it's high time we share more about them.
Today, we're welcoming
Senior Audio Designer
James Stant and
Programmer
Johan Holthausen to talk about
Zookeepers and Staff Paths
in Planet Zoo!
Please give them a warm hello!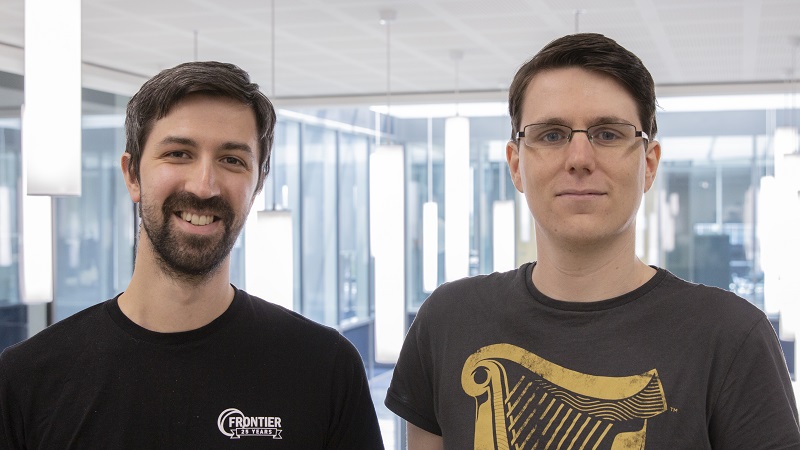 Hayo everyone! Thanks for letting us share some more information on Zookeepers and Staff Paths, it's exciting for us to reveal some more about what we're working on in Planet Zoo!
James:
Zookeepers are vital in your zoos. They are responsible for the welfare of the animals and the cleanliness of their habitats. They provide food and water that complements the animals' dietary requirements and, without them, the animals would live in unsanitary habitats, as the zookeepers vacuum up poop to ensure the inhabitants are provided with decent living conditions. You simply cannot have a successful park without zookeepers! If you don't employ these staff members, animals will begin to starve and dehydrate... and if that wasn't bad enough, they'll do so surrounded by poop! It's also important to make sure that your zookeepers are happy, or else they'll become demotivated and carry out their responsibilities in a slower and more careless manner.
Johan:
Your zookeepers have a busy schedule, full of preparing food, feeding the animals and keeping the habitats clean. There's a lot to keep in mind to make sure they perform their roles correctly, and it's important to remember that there needs to be a balance between how many zookeepers are available to look after animals, as some require more care. Don't give your zookeepers too many habitats and animals to look after; make sure that they have all the necessary facilities required to do their jobs correctly within reach. If your zookeepers don't do their tasks well, they can stress the animals out, which in turn makes their job even harder! The more the animal is moving around its habitat, the more spread out the poop is and the longer it takes to get cleaned up!
James:
It is fun watching the zookeepers carry out their tasks; I personally love watching them prepare food, as it offers a glimpse behind-the-scenes for Planet Zoo players! I make a salad for my lunch every day, so, as an Audio Designer, naturally I recorded myself for the zookeeper food preparation (knife chops, scrapes, rests, etc). I can't claim to have gone to such literal lengths for the poop-scooping, but the audio team have collaborated superbly on that to give the vacuum a fun, creative and satisfying array of sounds.

Your park guests may not like seeing these working areas, but as a player, I love moving the camera into the facility interior so I can watch the zookeepers ready the animals meals (surrounded by posters decorated with the Planco language)! Like all guests and staff in Planet Zoo, the zookeepers do indeed speak the language of Planco. Often they will emote to express themselves when carrying out their day-to-day tasks, but you may well hear them exclaim 'YODOPA!' (Hooray!) in delight when being trained to the next skill level, for example. We are also recording new emotes so that if you click on a staff member, alongside the UI panel pop-up, an emote will sound to summarise their current mood. You might even recognise some of the voices you hear in game; for example, one of the female zookeepers is voiced by our own Senior Artist Liesa Bauwens, who does a fantastic job of bringing the staff member to life.
Johan:
Speaking of park guests not liking being able to see the working areas, staff paths are a new feature in Planet Zoo and an absolute necessity to keep your park guests happy. Guests will only try and look at animals from standard paths, as they try to find a spot as close as possible, which can cause congestion to the overall crowd navigation. If a staff member is getting stuck inside this congestion, it will impact their work roster and this will snowball in all of their tasks and impact other staff members. For example, if a keeper cannot reach the habitats in a timely fashion, this will impact the animal welfare, as none of your animals will appreciate their food being late!

There are some buildings in the game that will have a negative impact on the guests, so as long as they do not get directly confronted with those areas, you shouldn't encounter any problems! When playing, you'll have to think about the zoo layout, where to place buildings, habitats and the staff paths between them. Staff buildings come in a variety of sizes, so it's best to plan where you are going to place them before you design the path network around them, or even how you will place your habitats.
James:
It's cool to talk about these features, because I loved seeing all the reactions to the announcements and gameplay previews we shared at E3 this year. It provided a nice insight into the terrific progress being made by our talented team and our dedication to making Planet Zoo a magnificent experience for you!
Johan:
It always used to put a smile on my face when I saw you speculate on Planet Zoo before we'd announced it, and sometimes even making zoos in Planet Coaster! We all felt so inspired! Seeing what you've already made in Planet Coaster, I cannot wait to see what you can create with Planet Zoo.