Community Manager : Elite Dangerous
Frontier
Greetings Commanders! Happy Tuesday.

It's time, once again, for the latest installment of our Issue Report fly-overs.

Below you'll find the latest Top 20 table, based on your most voted issues in the Issue Tracker. Below that you'll find a bit of a status summary on where we're at with each to set expectations as best possible.

Note:

The status and planned release of each issue is subject to change as various factors affect the ongoing development schedule.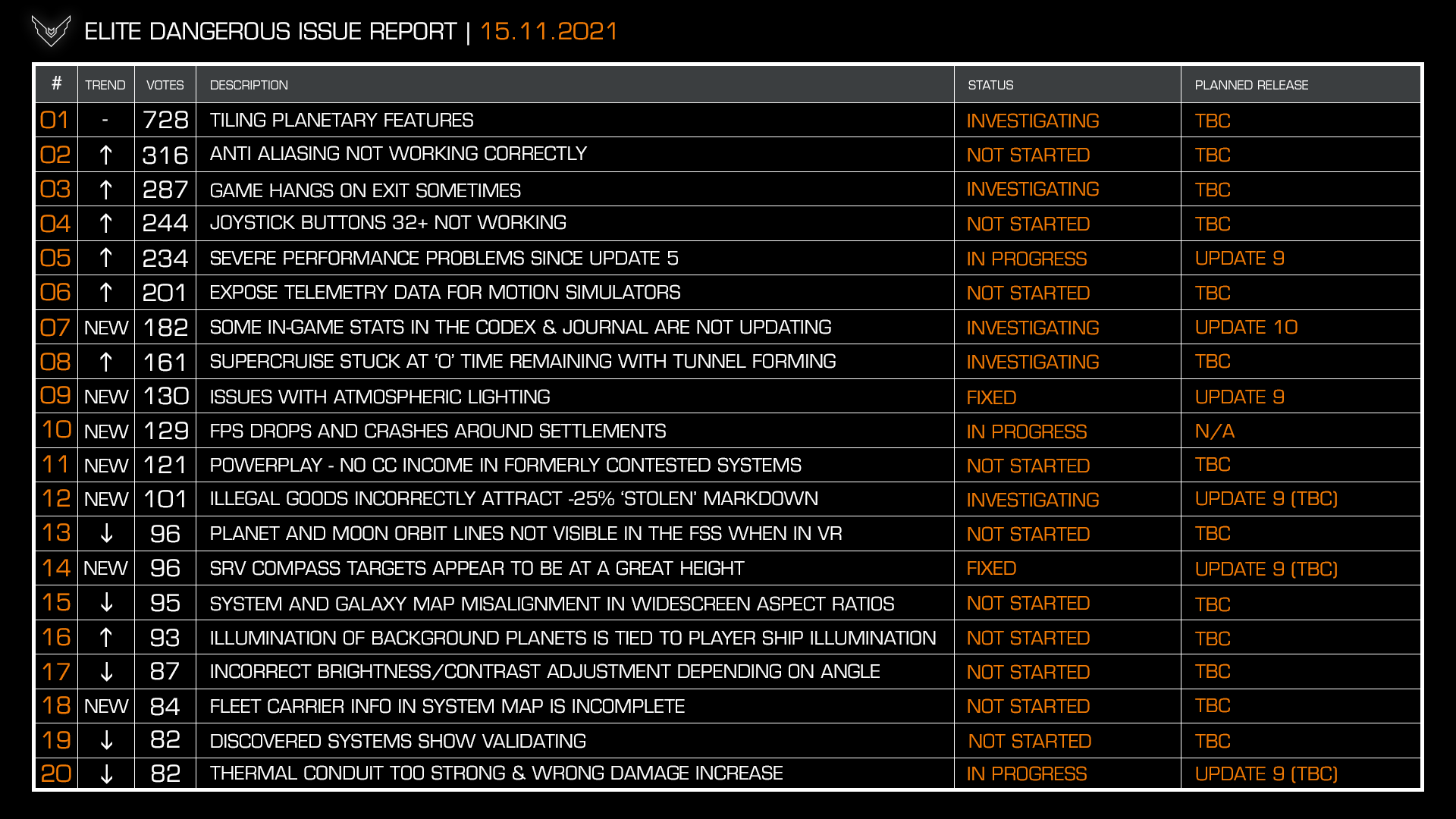 Top 20 Issues
Fixes for Known, Immediate Issues:
As a small taster of things to come, I'm including a few (
there are more! Not disregarding the
more
) of the known, immediate issues we've managed to tackle as part of the forthcoming update
so far.
These are essentially issues which have fallen out of recent updates and had a frustrating impact all of their own, but haven't made it into the top 20:
Selling cargo results in 'Yellow Adder' error (since update 7) - Resolved, pending QA.
Paintjobs not visible in multicrew - Resolved, pending QA.
Ship HUD visible in external camera view of Camera Suite - Resolved, pending QA.
When using a Hatch Breaker Limpet on any Cargo Hatch or Escape Pod on a non-dockable megaship an invalid limpet target error is shown - Resolved, pending QA.
Stations Visibly Pop/Load In After Manually Jumping Out Of Supercruise - Resolved, pending QA.
Re-balance cockpit canopy effects - Pending QA
Ship Engine Smoke Trails Appear Ahead Of The Ship After Exiting Supercruise - Resolved, pending QA.
Apologies, but to focus primarily on a view to call out progress with fixes and Top 20 status progression in this post,
I won't be including the "Immediate Open Known Issues" in this post too.
Just because that list isn't here today does not mean it doesn't count anymore - just to reassure you. Everything we collect here together and that's been acknowledged is still very much
under the wing
.
Thanks millions.
As always, (pretty much what the guys say when they type up these things) please do continue to remember that this a reflection of the current situation as we see it, and
the
planned release for these fixes is subject to change
following testing.
o7, Commanders.
See you in the black.