Community Manager
Frontier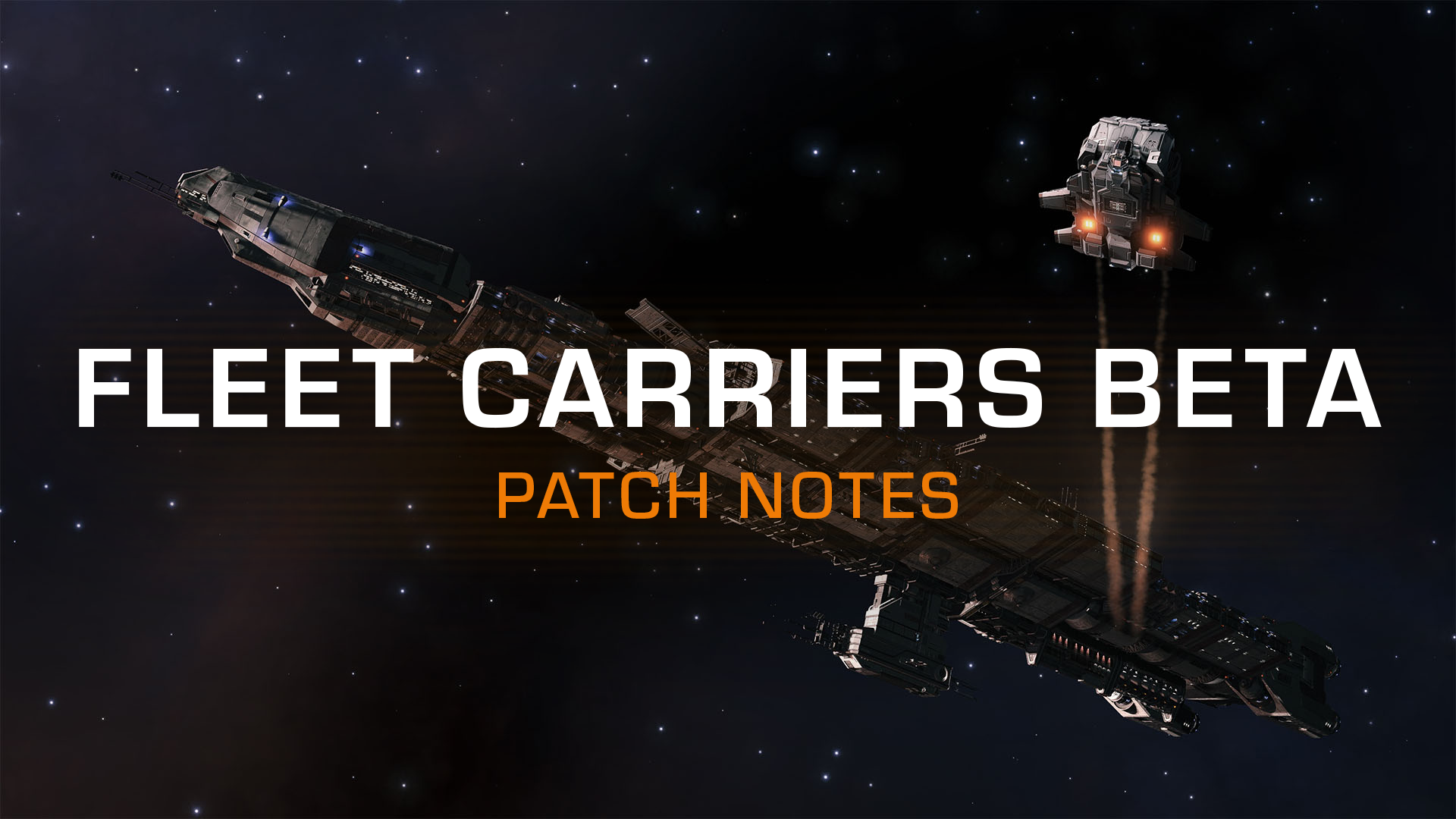 Greetings Commanders,
As a reminder, the Fleet Carriers Update Beta 2 will be going live today
at 11:00 (UTC)
, for PC, Xbox One, and PlayStation 4 Commanders.
We will publish more information to a dedicated Beta section on how you can participate and what to look out for, when the Beta goes live. We would also like to remind everyone that if you participated in the first Beta, that you will not carry over any progress to the second Beta, (
what happens in the Beta stays in the Beta)
.
Please find the Patch Notes below:
Fleet Carriers updated features
Upkeep cost for all additional services has been reduced by 80-90%.
The core running costs have been reduced by 50%.
The Debt Threshold has been updated in line with the upkeep changes (This means with all services installed, a carrier can go 10 weeks (up from 4) without paying upkeep before being issued a final warning).
The total upfront activation costs of some of the more expensive services have been reduced by 35-45%.
The time between jumps has been decreased to 15 minutes for jump preparation and 5 minutes to cool-down.
Added Universal Cartographics as an optional service on Fleet Carriers.
Fleet Carrier owners can now store their ships and modules aboard their Fleet Carrier by default.
When decommissioning a carrier you will now receive a full refund.
Voluntary decommissioning will incur a fee equivalent to 50% of the Debt Threshold.
When cancelling the decommissioning of your Fleet Carrier, you will now receive an inbox message to confirm the cancellation.
Reduced the amount of Tritium consumed with each jump by around half.
Added a better indication of arriving and decommissioned states for Fleet Carriers on the Cockpit Navigation Panel.
Fleet Carrier Services menu now displays the name of the owner.
The trade screen in Fleet Carrier Management, now reports the number of imported and exported commodity types separately rather than in a total for both.
Fleet Carrier Bug fixes
The all time profit now correctly updates on the Fleet Carrier budget screen.
Fixed a crash that occurred if you were in an instance with an arriving Fleet Carrier.
Fixed a crash that would happen when replotting a cancelled Fleet Carrier jump.
Fleet Carriers can now be filtered in the Galaxy Map regardless of whether the player is docked or not.
Fixed the way that Fleet Carrier owner names are displayed in the targeting panel.
Fixed a bug which would allow players to target destinations for their Fleet Carriers which shouldn't have been allowed (e.g. starports, asteroid belts).
Limpets can now be restocked at Fleet Carriers.
Fixed an issue which made it look like restocking wasn't working via the quick action on the Docking Menu.
The target reticule will now properly indicate when a selected Fleet Carrier is on the other side of a body.
Stopped the Fleet Carrier destination icon from displaying on all Fleet Carriers in the System Map.
Mining
Sub-Surface Mining Deposits can now eject multiple Resource Chunks from one successful hit.
Codex
Fixed a bug which caused focus to jump to the top of the grid after exiting out of any section within Knowledge Base or Pilots Handbook.
Missions
Megaship Turret Missions will now indicate system distance on the Mission Board.
If the player has an active Delivery mission, then the mission commodity will no longer have the mission required icon next to it on the Commodities Market.
CQC
CQC matchmaking from in-game will now require the usual delay before exiting the game if you are in danger.
Thargoids
Fixed Caustic damage not being removed by overheating your ship.
Ships
Fixed a bug which caused Landing Gear/Cargo Hatch to visibly clip into the cockpit.
Player Journal
Added an event for when a Fleet Carrier is renamed.
Fixed a bug where RefuelAll and RepairAll events were written with a null string as the event name.
EngineerProgress event is now correctly written when ranking up with an Engineer.
Bounty events now include localised ship names.
"latlong" flag now set when in a station.
Fixed status flags for HUD in analysis and Low Fuel when in SRV.
Fixed loadout data written after launching a Ship Launched Fighter.
We no longer write a value for ReservePercent to the Journal if total balance is zero or negative.
We now include the body name in CarrierJumpRequest.
Added Fleet Carrier docking restrictions to market.json file.
Added an event for cancelling a Fleet Carrier jump.
Please note that these Patch Notes are for the Fleet Carriers Update - Beta 2, and not reflective of the final Fleet Carriers Update Patch Notes.
Last edited: