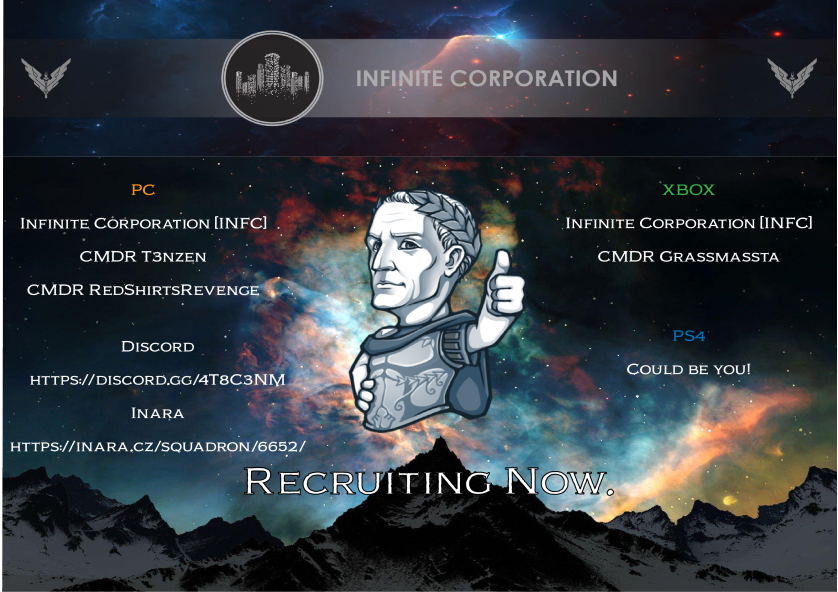 Infinite Corp Looking for Active Players!
From the dark days as slave traders, to the bright future of Painite miners (and some targeted assassinations of course), Infinite Corp. has returned to the stars. While we may have found our foothold in space on the backs of others, we're now rapidly expanding deeper into the void.
If you're looking for a fun and active group, come chat with us on Discord. Most of our members are veterans and very willing to help, whether you've been playing for 10 hours or 10000. We are a fun group of people covering the US and EU time-zones primarily (and have other coalition groups that cover the globe). We are always happy to expand and many of us sleep less than we should.
We believe everybody should play the game how they want to play, and we have no strict obligations or demands from our members.
Infinite Corp enjoys engaging in a war or two, continuing to expanding our minor faction roles, sniping thargoids, killing other players (PvP not ganking) or dying in the act, bounty hunting, pirating or getting high and checking out pretty sunsets. Looking for mature, respectful and relaxed gamers.
To join, come say hello in our Discord:
Check out the Infinite Corporation community on Discord - hang out with 203 other members and enjoy free voice and text chat.
discord.gg
See you out there Commander!​