Hello all,
I have been working on this map for aaaaages and I've finally uploaded it and would love for people to have a look and enjoy themselves playing around in it.
Here's the link:
https://steamcommunity.com/sharedfiles/filedetails/?id=1405353652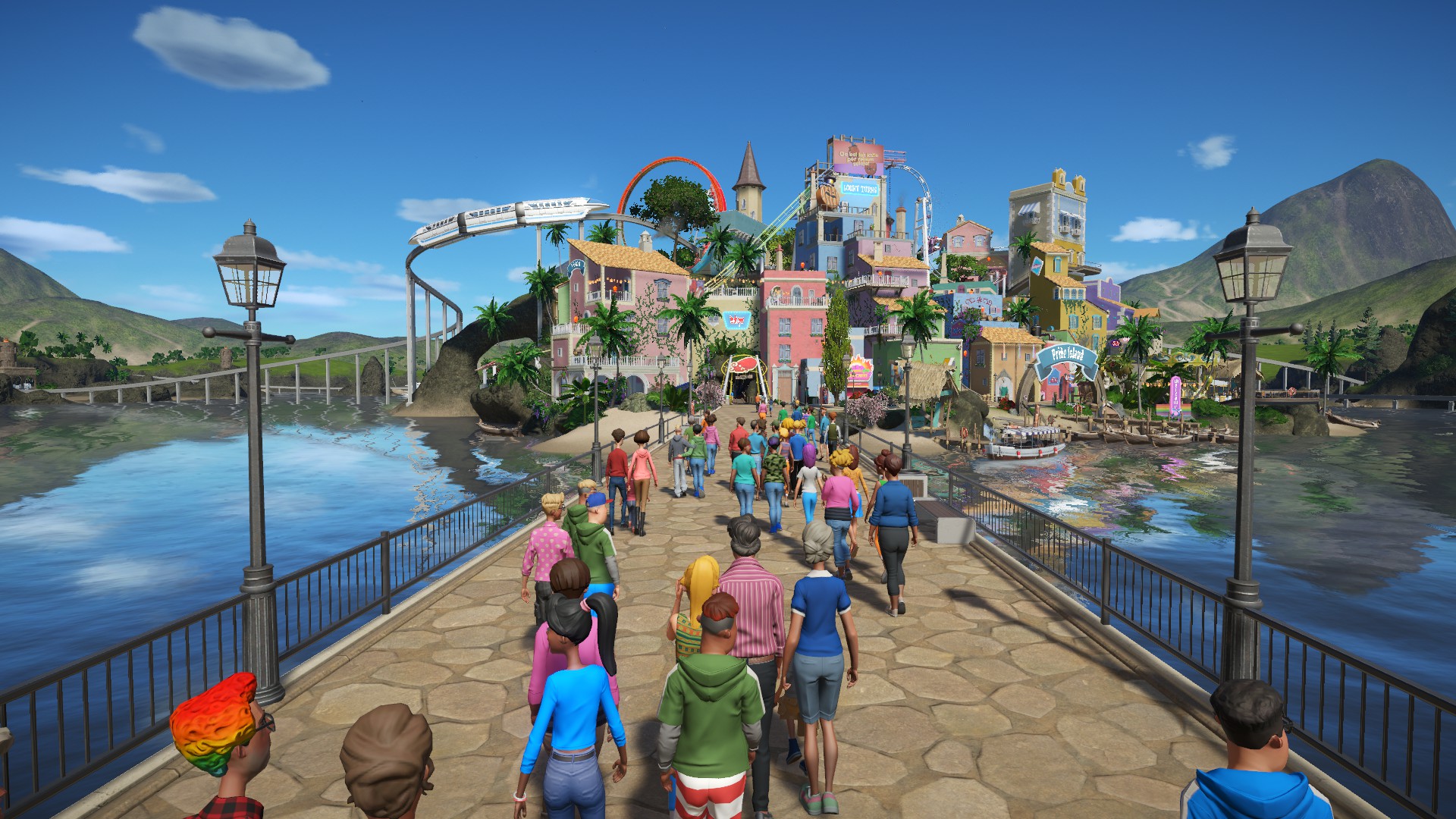 Description copied from Workshop item page:
A New Scenario!
It's Pride and this year local residents are gearing up for a bigger celebration than their small town has ever seen before! Help the party get going, spilling into the neighbouring isles.
Difficulty, Length & Objectives
| Difficulty | Length |
| --- | --- |
| Medium | 2-3 Hours |
Objectives:
Employ 5 Entertainers (For 6 Months)
Achieve a Park Rating of 1700 (Before the end of September year 2)
Build a Coaster (Before the end of September year 3 with at least 7.0 Excitement and a minimum speed of 70MPH)
The Park
Historically Pride Island has thrown rather quaint Pride celebrations. But now, with the rampant commercialisation of the event across the globe, sponsors have trained their sights on this idyllic town and its LGBTQ+ friendly community and entrusted you to go bigger and better by expanding beyond the resident's borders, building on surrounding islands that had been left undisturbed for decades. (To this end your employers have funded the building of a monorail system connecting Pride Island with its neighbouring islands. It will be down to your discretion as to which island you deem most suitable for hosting this years festivities).
Pride Island Itself
Pride Island, at first glance, is not much more than a small rock jutting out of the water. Yet its natural beauty and surrounding views are undeniably a sight to behold. With available land being rather limited, the locals have had to make use of what little they could, building across every square inch and even inside the island's cave system. Property prices are known to be exceedingly high.
The Hissing Isle
Pride Island's neighbouring volcanic island, known as The Hissing Isle (due to the sound that carries over the water from continuous eruptions) has very limited space to build on. However, the jagged landscape and beaches blanketed with ash are sure to thrill more adventurous visitors. Local trivia notes that the volcano was dormant until approximately ten years ago, when suddenly, eruptions formed a mountain in the middle of the island.
White Sands
Lush, fertile and the most accessible of the nearby islands, White Sands has incredible potential. Potential that should not be squandered, (being the only piece of land to offer so few challenges to new builds beyond having similarly limited space).
Forgotten Cove
Few travel to Forgotten Cove and return to tell the tale of it. Now, with a monorail connecting all of Pride Island's neighbouring isles, we can finally explore its opportunities. This island does present some challenges to developers however, with tides regularly submerging its beaches that are also punctuated by jagged rock formations and encompassed by tall cliffs.
Scenario Tips
Managing Pride Island's attractions whilst expanding to new territories will sustain healthier profits
All of the neighbouring islands are ready for development. The monorail can transport guests just to the islands you wish to
More and more people are flocking to the island, and so to meet the demands of so many guests, planning permission for shops and stalls has been made available to allow you to adapt to the needs of growing crowds. (You can edit shop faces/ stalls)
This year, your sponsor wishes for you to promote brands that have affiliated themselves with our event. Therefore, only entertainers dressed in approved mascot outfits may take part in the celebrations. Thank you for understanding.