I have to wonder what Frontier's goal is. There are arguments that they don't consider the BGS as something that is meant to be manipulated as we do. But it is something that we manipulate; it's a huge driver for a big part of their community. There've been a lot of interesting comments in this thread, but I think the takeaway so far is that while some like the quiet, others are finding the additional work to be a bad change.
It's worth noting, that while I almost definitely consider myself one who would prop up the "BGS isn't meant to be manipulated as it is" argument... or closer to what I usually say, "It's not meant to be the overarching, competitive strategy game we make it"... it'd be a lie for me to say I don't wish it
was
designed to be manipulated in the way it is.
Back when Powerplay first got announced, before any details were abound, I saw that as "The BGS for the movers and shakers". Small-time players like myself could exert control over a region of space within the domain of their faction, while the big players would have their factions rise and fall periodically out of the BGS, into Powerplay and back again. But with Powerplay pegged as the "Big-group strategic gameplay", it was predicated on a thoroughly balanced BGS. But the BGS has never been balanced, and so FD could never actually turn Powerplay into that factional-ascension mechanism.
The very first statement I ever recall reading from FD in the context of the BGS (and damned if I can ever find it, maybe it was in the first livestream) came about just before FD introduced PMFs. I distinctly remember the quote being something along the lines of FD being "...surprised at how attached to factions players became.". This was a time when Lugh was taking off while players like myself had picked a home, and were gradually looking to overthrow their first system.
I firmly believe that sentiment underpins everything we have in the BGS to-date; a series of unplanned responses to activity FD never expected players to get so attached to. But is it any wonder? Meaningful allegiance to the Superpowers has never, and continues to be absolutely non-existent beyond a means to unlock permits and ships. That's what I cut my teeth out of in FE2, and what I came here to do, but the absence of any gameplay around this (I think I delivered some minerals to rank-up to king, rather than run countless surveillance, bombing and assasination missions like in FE2), I turned to the minor factions, which had meaningful outcomes and reflections of my actions.
Meanwhile, Powerplay again stirred my interest... "Wow, instead of being loyal to the Empire, I can be loyal to a particular faction within the Empire. Sounds like Torval is going to be all about economic development, Patreus all about military effort, ALD about politics and Aisling about abandoning the Imperial ways of old. Patreus sounds like my jam, I'll move down to him in anticipation of this!". I was further encouraged with snippets like this in the trailer: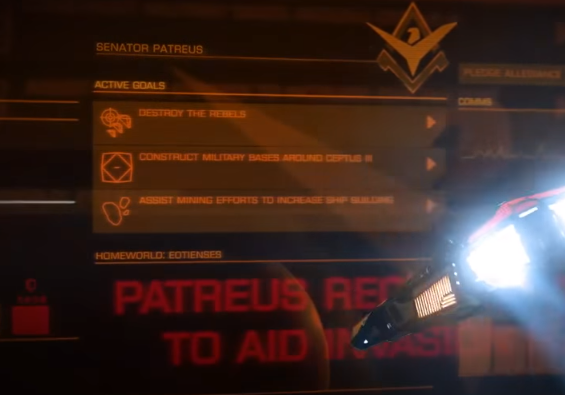 Awesome, missions thematic of the power you pledge to. How wrong I was.... it took a couple weeks of grinding out transporting vouchers from fixed points A to B in order to "defend" the Empire before I realised "This is trash, back to the minor factions".
Introduce the BGS livestreams and various comments from FD all alluding that the BGS is "The backdrop" for the game... "... If players are consciously thinking about the BGS in their actions, then the BGS is done wrong; it's actually a foreground-sim at that point"[1]
At the same time, a lot of players were wondering "Where's the incentive to move away from the faction I'm supporting, and go support the Powers? Why wouldn't I try and have my faction ascend to a Power (like they were meant to)?"
Sure enough, there was no incentive, because factions ascending to powers would never happen (except the contrived Dangerous Games)... Powerplay was meant to be the thing to drag people away from supporting the factions ("...which was a surprise to FD") and consign factions to "background noise" like was intended. Obviously, that never happened, because Powerplay was so divorced from the mechanics people actually
enjoyed
... it totally missed the mark. But again, that's because the enjoyed mechanics were the BGS mechanics, and they are not balanced. If Powerplay was meant to be balanced, the BGS could never be a part of that. There was the brief flicker of "... earning powerplay merits by running missions for a superpower-aligned faction"... but that seems to have died with the Open-Only Powerplay proposal.
I think only with 3.3, Squadrons and the BGS updates, FD have finally started to accept that the BGS is what the players
really
want to interact with. Even if it has it's problems, it's the only thing which generates meaningful, dynamic responses in the game world, and it's what we're hooked on. But FD have their work cut out for them... they're now trying to make the BGS a somewhat competitive, strategic gameplay element... Squadrons and Pledging, Squadron leaderboards and the BGS, and the reworked conflict mechanics are all indicative of this... but it's struck against the backdrop of RNG elements like scenarios, the mission boards (and all it's quirks) and all manner of other things which break any semblence of balance.
But frankly... I don't care if the BGS is balanced. I just want it to be interesting... and with the lack of attention to Hostile rep, negative states, and now the essential stalemating of influence shifts unless you're a
really
big group, it's not that interesting anymore. Yet it has so much potential.
....
throws the soapbox out the window and goes to bed
[1] I
very
highly paraphrase this, but I've pulled the actual quotes countless times, and the sentiment is very close.