Greetings Commanders and Frontier!
I need your help.
On my Elite: Dangerous community website,
www.elite-dangerous-blog.co.uk
, I have in the past created beginners guides, ship charts and of course my blueprint series. Being a sucker for projects that are more than I can handle, I have started on a vehicle codex for Elite.
http://www.elite-dangerous-blog.co.uk/page/vehicle-codex
I have begun to publish the Codex as a Work In Progress, so I can see how the format works and get feedback. The intention is to have a bible of Elite vehicles (not just flyable ships) with the most complete information anywhere. Later I want to add ship reviews, suggested loadouts and links to videos, etc.
Right now I have put together what is essentially a scaffold to flesh out, so please be patient as I put that flesh onto those bare bones. This is something I do mostly in my lunch-hour and in evenings when I get the chance, so my time is limited.
What do I need from you?
Well, information for a start. I need to know right now the speed (in m/s) armour and shields (in MJ) for the four skimmers, so I can finish off the Core Dynamics section. I did try racing a skimmer to clock its speed in my SLF, but that wasn't accurate and the skimmer tended to fly in circles.
I have managed to draw the S9 Goliath and I'm working on the S4, but does anyone know a good location to encounter the other two skimmers (S5LM and Stinger)? I need a lot of screenshots.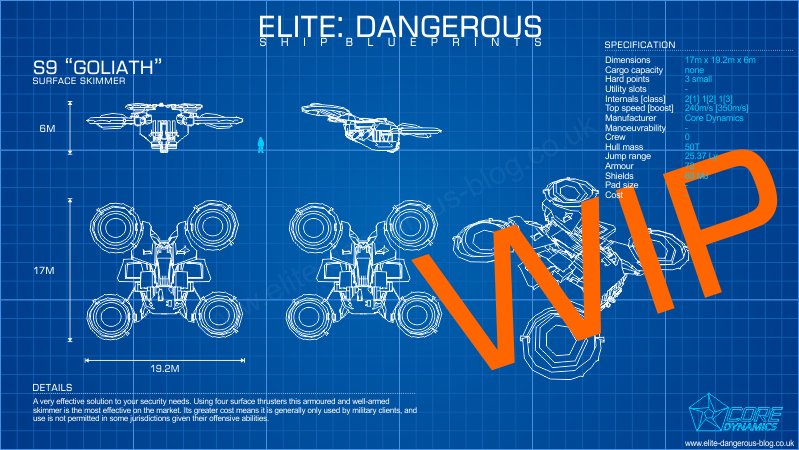 I'm sure there will be information or help needed from the community with getting screenshots of more obscure content further into the project.
Thanks in advance!
Sincerely
Anthony Hunt
aka CMDR Arithon
Elite: Dangerous Ambassador
Last edited: