Community Manager
Frontier
o7 everyone,
It's time for this week's Discovery Scanner post! Let's talk Elite Dangerous.
Heatsink Module Update
In a GalNet article on the 13th, we mentioned that the megaships in the Coalsack Sector Vu-O B6-6 and Onoros systems will provide pre-engineered heatsinks. However, these were recently offered as a CG reward and we want to extend their exclusivity for a while longer to uphold the importance of CG rewards. Therefore, these megaships will stock the heatsinks, but at a later date.
Non-Damaged Starports
The team have noted that a few starports that you may have expected to be damaged last week were miraculously unharmed. Look out for this to be rectified this week, most likely Thursday. The Thargoids won't give up that easily.
Maniacal laughter ensues
Vintage Intrepid Pack
Looking to give your suit a fresh (or old) look? The new Vintage Intrepid pack may be what you're after - we've seen lots of Commanders already sporting the suit, so if you're interested, you can find it on the store
here
.
Frameshift Live
Join us for another round of community highlights and fun playing Elite Dangerous
this Thursday
, as well as earning Twitch Drops at the same time!
Community Event Calendar Spotlight: THE BELLIGERENT DISCOVERIES EXPEDITION
A brand new expedition led by the Belligerent Renegades begins on Saturday 30th April! They'll be starting off via the new Colonia Bridge, so if you're interested in exploring around the Colonia region and maybe banking some first discoveries or footfalls, make sure to check out the information
here
.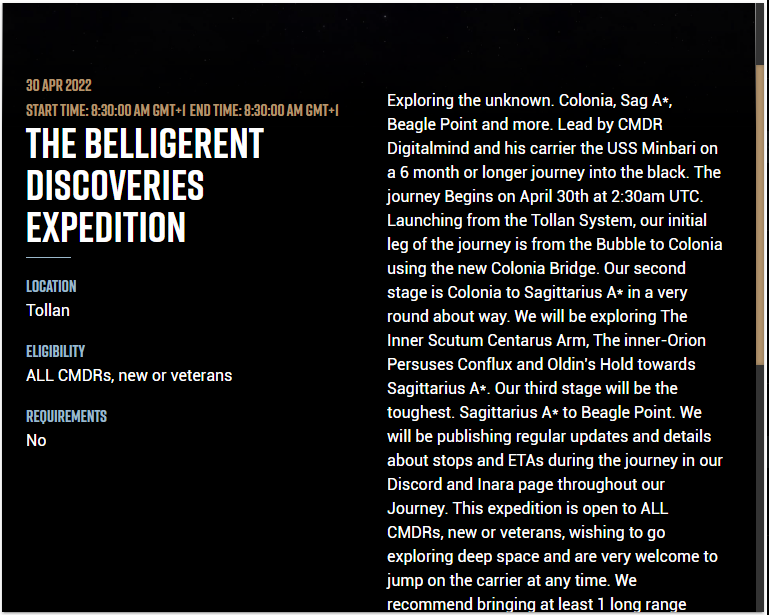 Commander Creations
I mean, I just HAD to include this phenomenal work from CMDR Jaguarious didn't I? They've made a 1/3000 scale Fleet Carrier, and is just majestic. Make sure to check out their Twitter page for more images.
Space Selfies, or 'Spelfies' took the Elite Dangerous community by storm this weekend! This handy tutorial from OrangePheonix will show you how to get your own Space Selfie to share with the world. I'd love to see your efforts below or on Twitter with the #Spelfie hashtag!
---
See you in the week, Commanders.
o7