What even is this?
Elite Observatory is a tool which can read and monitor your Elite Dangerous journal for objects which might be "interesting" so you can go take a closer look.
What is "interesting?"
A lot of things, potentially. Currently the built-in checks include:
Landable and terraformable (might not be interesting to look at, but you can go there and dream of what might be!)
Landable with atmosphere
Landable high-g (>3g)
Landable large (>18000km radius)
Orbiting close to parent body
Shepherd moons (orbiting closer than a ring)
Close binary pairs
Colliding binary pairs
Moons of moons
Tiny objects (<300km radius)
Fast and non-locked rotation
Fast orbits
High eccentricity
Wide rings
Good jumponium availability (5/6 materials on a single body)
Full jumponium availability within a single system
Full jumponium availability on a single body (pretty sure this can't happen, but I'm watching for it anyway)
These checks are all individually toggleable if there are some you don't want to see.
I don't care about any of that!
Well, you can add your own. A set of user-defined criteria can be created so you can find the things
you
like. There is a description of how to do so in the readme on github, which I will link below. If you need more help, give me a shout!
You said it monitors, do I have to alt-tab constantly to check on what has been found?
No! You can enable pop-up notifications or text-to-speech!
This sounds vaguely familiar...
Well, it should.
/u/imathrowback
on reddit created a very similar tool once upon a time, which served as my inspiration, so I'd like to thank them for that. They also said at the time: "maybe some nice soul will copy it and make it better and awesome"
I don't know how nice I am, or how awesome this is, but here you go!
What does it look like?
Depending on which version you use, maybe like this:
Or if you like the older version, then a little like this: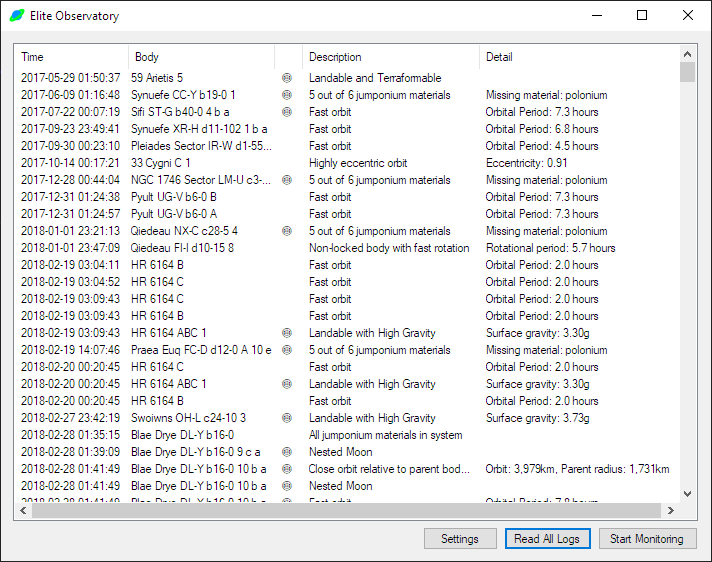 Where do I get it?
If you want to test the latest and greatest, a
complete rewrite from scratch
is available here:
https://github.com/Xjph/ObservatoryCore/releases
Please note that this rewrite is not yet feature complete as compared to the old version, and may not be suitable for use depending on your use case.
For old reliable, you can head here:
https://github.com/Xjph/EliteObservatory/releases
What do I need to run it?
Probably nothing you don't already have. The original Elite Observatory requires .NET 4.5, but if you don't have that you're probably not running Elite either. The newer Observatory Core is built on .NET 5, but is packaged with it in the portable version, and the installer should download it if necessary.
Is it safe?
Well,
I
say it is, but it's up to you whether or not you trust that. You can read the source on github if you like, and to be extra safe build it yourself.
Sure, let's take a look at that source!
https://github.com/Xjph/ObservatoryCore
or
https://github.com/Xjph/EliteObservatory
...
I like to think that Core's code is nicer than the original, but yeah, there's some stuff in there I'm not super proud of. None of it is
malicious
though...
This is broken garbage!
Report a bug! Either on github or here is fine.
I have an idea!
Let me know! Or submit a pull request! Or fork the project and just do it all yourself! Or rewrite it all from scratch! Or fail to muster up the motivation and do nothing! I'm fine with all of those options.
Where else can I talk to you?
I now have a Discord server, you can find me there!
Community Discord for Elite Observatory, an exploration multi-tool for Elite Dangerous | 379 members
discord.gg
Last edited: