Senior Community Manager
Frontier
Welcome back Park Managers,
We are very excited to bring you a new
Jurassic World Evolution 2
Feature Focus! Previously, we talked about
Challenge Mode and Sandbox Mode
and what you can expect when you jump into either of these modes. Today we're switching tracks to take a look at the Guided Tours you can add to your parks. We have made several improvements to how you build and manage your Tours and we wanted to take some time to highlight them.
Please keep your arms and legs inside the Feature Focus, and remain seated at all times. We wish you a pleasant tour!
We've brought back Tours from
Jurassic World Evolution
for the sequel. Your guests can take a ride inside dinosaur enclosures using Gyrospheres or hop on a guided Jurassic Tour as a group. Placing them inside your parks works similarly to what you're already used to from the first game: Tour Stations can be placed on their own or through fences, and you can then draw and place tracks for the vehicles to follow.
Tours can go through multiple enclosures using gates, but now you can chain different Stations together in a single loop. Make sure your dinosaur visibility is top notch across the board, so each part of your tour is as exciting as the last!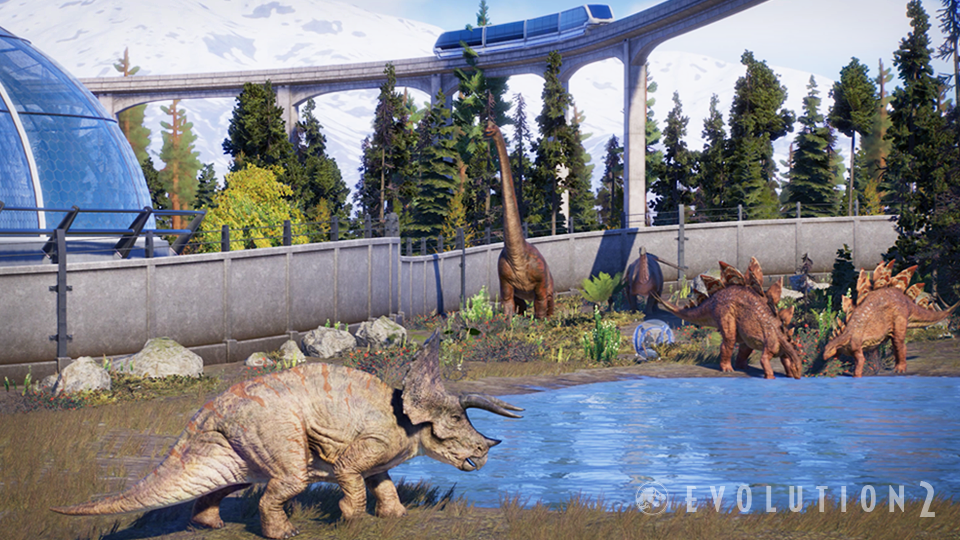 Tour tracks can now be built over paths (or vice versa), and a path junction will be created when the two cross. You can also place fences over existing tour tracks, automatically creating a new gate for the Tour to pass through. This makes it a lot easier for you to make any necessary changes to your enclosures on the fly, without needing to redo the Tour track you've already built.
Photo points can be built along Tour routes, which will take pictures of your guests. If you pay attention to your Guided Tours you'll sometimes see a small flash go off when they pass the photo points, indicating that your guests are getting their photos taken. You won't be able to view these photos in the game, however, but it serves as an extra detail you can add to your Tours.
Your Tour routes can also run through Aviaries, giving your guests an up close and personal look at the flying reptiles housed inside them. You lay down track like you would in other dinosaur enclosures and your Tour can run through an entire Aviary if you'd like. Tour gates are snapped to Aviary walls to create entry and exit points. The system is highly flexible, and you can even make several entries and exits, letting multiple Tours go through the same Aviary or Enclosure at different points!
With these new additions to Guided Tours, you can even have a single Tour moving its way through a single Park, with multiple stations for your guests to get on or off the tour. You can also split them up further and have separate tours for separate parts of your parks. Maybe create a Gyrosphere tour through a huge Sauropod enclosure, or send a Jurassic Tour through several carnivore enclosures to give your guests the thrill of a lifetime!
You will need to be careful though, as your Jurassic Tour vehicles can be damaged by roaming or attacking dinosaurs! If they're completely damaged, that section of the tour will shut down, and a Ranger team will be required to reboot the tour.
Finally, we'd be remiss if we didn't mention the tour guide, who can be heard in the Guided Tours you can add to your parks. Jurassic World spares no expense, of course, so the tour guide will be a learned figure that provides commentary of what's happening in the tour, from facts about the park's environment, to announcing when the tour is entering the territory of specific species. If you've been following our
Park Management Guides
, the tour guide will sound very familiar to you.
We hope you've enjoyed this rundown of the various improvements and changes to Guided Tours in
Jurassic World Evolution 2
! Will you be adding Guided Tours to your parks? Let us know in the comments if you've got plans cooking up already. Until our next Feature Focus, you can follow us on
Twitter
,
Facebook
and
Instagram
, and join the discussions about the game on our
forums
!