Senior Community Manager
Frontier
Welcome back Park Managers!
We are very excited to bring you another
Jurassic World Evolution 2
Feature Focus!
Last week
we talked about how you acquire, create and manage the prehistoric dinosaurs and reptiles in your parks. This week we're taking a look at the ways you can put your personal touch on your parks and your dinosaurs. Let's talk about customisation!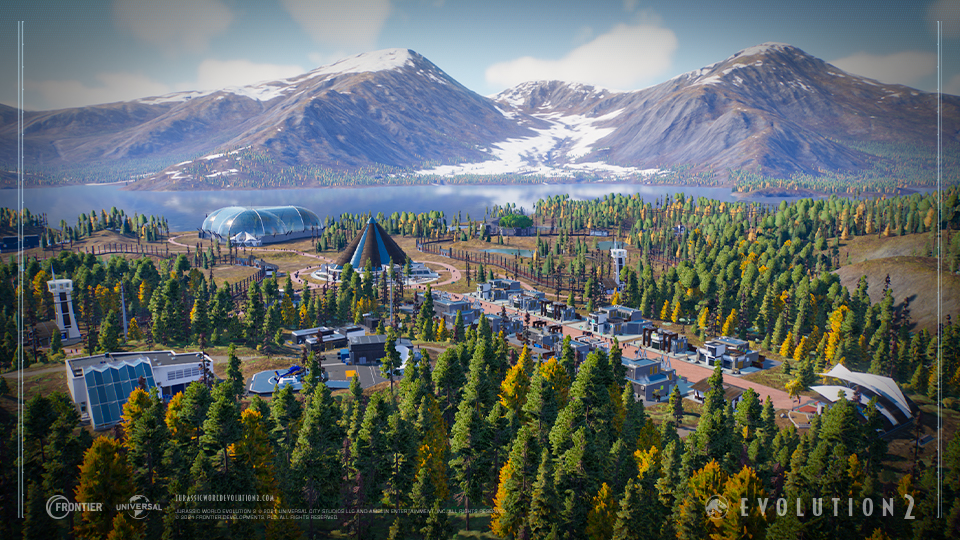 ​
In
Jurassic World Evolution 2
we're introducing Guest Building customisation. This new feature will let you edit and change your Guest Buildings on the fly, allowing you to add your own mark to your parks with unique looks and further personalisation.
Guest Buildings are split into two types: Amenities and Attractions. Amenities come in Small, Medium and Large size, which determines their overall capacity. Customising these buildings can be done internally and externally, which serve different purposes. We'll cover internal modifications first, and then move on to external customisation.
Your guests have different interests and different people will be attracted to different areas of your parks based on their interests. You can change a Guest Building's internal modules to better cater to these interests and maximise your profits. Keep in mind that the internal modules aren't visible from the outside, and won't change the look of the building itself, but will change what sort of guests the building primarily cater to. From steak houses for adventurers to bowling alleys for nature lovers, the choice is yours.
The outside of your Guest Buildings can be modified in a variety of ways to add that personal touch. With the click of a button you can cycle through different looks for the building facade, the roof and potential roof decorations, entrance style and location, and different types of outside signage and decorations. By mixing and matching different styles, you can quickly find something that works best for you and your parks. You've already seen a small sample of this in the thumbnail for this very Feature Focus!
You can further alter your Guest Buildings by changing the colouration. Contrasting and complimentary colours on the façade will make your buildings truly stand out from their surroundings. You can also change the colour of the roofs, decorations, and even lights if you have them. It's designed to be flexible and offer players a quick and easy way to put a personal touch on their parks.
Park Customisation
Guest Buildings aren't the only way you will be adding a personal touch to your parks. In
Jurassic World Evolution 2
we're expanding your options for decorating and customising your parks! You will be able to add a variety of decorations to your parks and quickly add in forests, shrubbery, and terrain surfaces with the game's quick and easy tools.
Your Terrain Tools will let you raise, lower, flatten and smooth the landscape and one of our goals during development has been to implement more control for landscape shaping and a greater variety of brush sizes. You won't be able to recreate Mt. Sibo, but you will have a little more control over the shape and look of the landscape with the Terrain Tools and Surface Brushes.
Surface Brushes let you paint the terrain with sand and rocks to mud and gravel, and once you're happy with the surface terrain you can start adding in free standing bushes, rocks and trees. We've seen many of you asking if there are decorations coming in
Jurassic World Evolution 2.
Short answer: Yes! Tables and chairs, lights, banners and planters can all be added to your parks. You won't be able to build elaborate blueprints and designs like in Planet Zoo or Planet Coaster, but we know decorations are important to the community and you will be able to add a little extra flair to your parks.
Dinosaur Gene Editing
We touched briefly on genetic modification of dinosaurs in our last Feature Focus, and we'd be remiss not to mention dinosaur cosmetic genes this week. Changing your dinosaurs' cosmetic genes will allow you to change their appearance in two different ways:
Pattern
and
Colouration
. You have already seen a few examples of this genetic modification in our screenshots and Species Field Guides.
You will be able to change the base colour of the dinosaur, as well as the colouration of the dinosaur's skin pattern. Colouration is selected from a set of different colour options, and while you won't be able to make a fluorescent pink T. rex, you will have a wide variety of skin and pattern colours to choose from.
We hope you've enjoyed this brief look into the different ways you can add a unique touch to your dinosaurs, your parks, and your guest buildings! Which part are you most excited to get your hands on? Is it customisable Guest Buildings, or maybe the wider ranger of skin patterns and colours? Sound off in the comments to let us know. Until our next Feature Focus you can follow us on
Twitter
,
Facebook
and
Instagram
, and join the discussions about the game on our
forums
!
Last edited: