Before I begin:
Due to many Commanders having to stay at home due to the COVID-19 Pandemic will feel the sting of losing out socially. True, this will not hit many of us (Gamers), though being ordered to self isolate will be isolating to many vulnerable members of the Elite community with Mental Health issues.
If you feel you need to, please contact the Samaritans on 116 123 or visit: https://www.samaritans.org/how-we-can-help/contact-samaritan/

Also, please continue to follow Government Guidelines on COVID-19, here: https://www.gov.uk/coronavirus
Alternatively, visit the Elite forums, chat, join Discord Channels, and do what we do best - play some Elite.
Above all, stay safe everyone <3 and now, on to the topic at hand...

... What better reason to give yourself something to do than to jump right into Elite for something to do.
I would like to ask all Commanders in the community to help me with something. As many of you are aware, Professor Melville and his crew had apparantley found a "unique layout" soon after finding a Cluster of Guardian Ruin sites, each containing 3 Gaurdian Ruins.
The text highlights that soon after discovering this Cluster of Sites, they then found this "unique layout".
Please go here to read the logs in full, provided by Canonn Research:
https://canonn.science/codex/the-cete/
But let's go back a little...
The Guardian Ruins are "Shrines". During the second Civil War, the religious (naturalist) faction began constructing these Shrines at an increasing pace. As they started to lose the war (terribly), they spent even more time and effort constructing more and more shrines. This is evident by how many more Shrines there are (Guardian Ruins) than there are Guardian Structures (Guarded by Sentinels, a.k.a. Constructs), and in that they span the Galaxy in many nebulas - whereas Guardian Structures have only appeared in one location (the Guardian Bubble).
However, what Melville and his crew discovered is potentially the most important layout (Ruin) of them all - at least, because we have no idea what it looks like or what its purpose is at this moment in time.
So, with that said, I also want to talk about something else in the logs: Melville thought that the system Synuefe XR-H D11-102 could have been an "end-point" or "last colony", Qoute: "Melville thinks the Synuefe XR-H D11-102 system represents some kind of end point or 'last colony'."
If true, then this is probably one of the most important points raised in the logs. We have the "End Point", so surely, there must be another "End Point" or Start Point - and by Start Point, I mean a point we can measure between Synuefe XR-H D11-102 and some other far-flung location local to the Guardian Bubble.
This leads me to hypothesize that the "unique layout" could in fact be the "Centre". It could be a Shrine that is the centre of all Shrines - a place which was either the first Shrine built, or the very final one (either built by the religious Guardians themselves if they had time, or perhaps something built by the Constructs soon after wiping out all the Guardians)... And, if so, then it
could
possibly mean that the Homeworld system could be where that "unique layout" was built.
During the first Civil War (iirc), it was purely a fight for the Homeworld - where the Abolitionists exiled the Progressives. If the religious Abolitionists had control of the Homeworld system, they could have very well built a Shrine in that system to represent the schism that had first engulfed their civilization. That would mean, then, that the following Ancient Ruins (Shrines) were then built to represent varying years of the conflict linked to the Second Civil War (which was Interstellar - it affected every Guardian world), or similarly, each Shrine dedicated to something historical during that time of conflict, since they are confirmed to have been built at a much faster pace as the war progressed (I go into much depth about the Ancient Ruins or Shrines in my dedicated post - see my signature).
So, I was looking at the 3D map provided by Canonn (which has not been updated in a long time, so this is all we have to go on for the moment):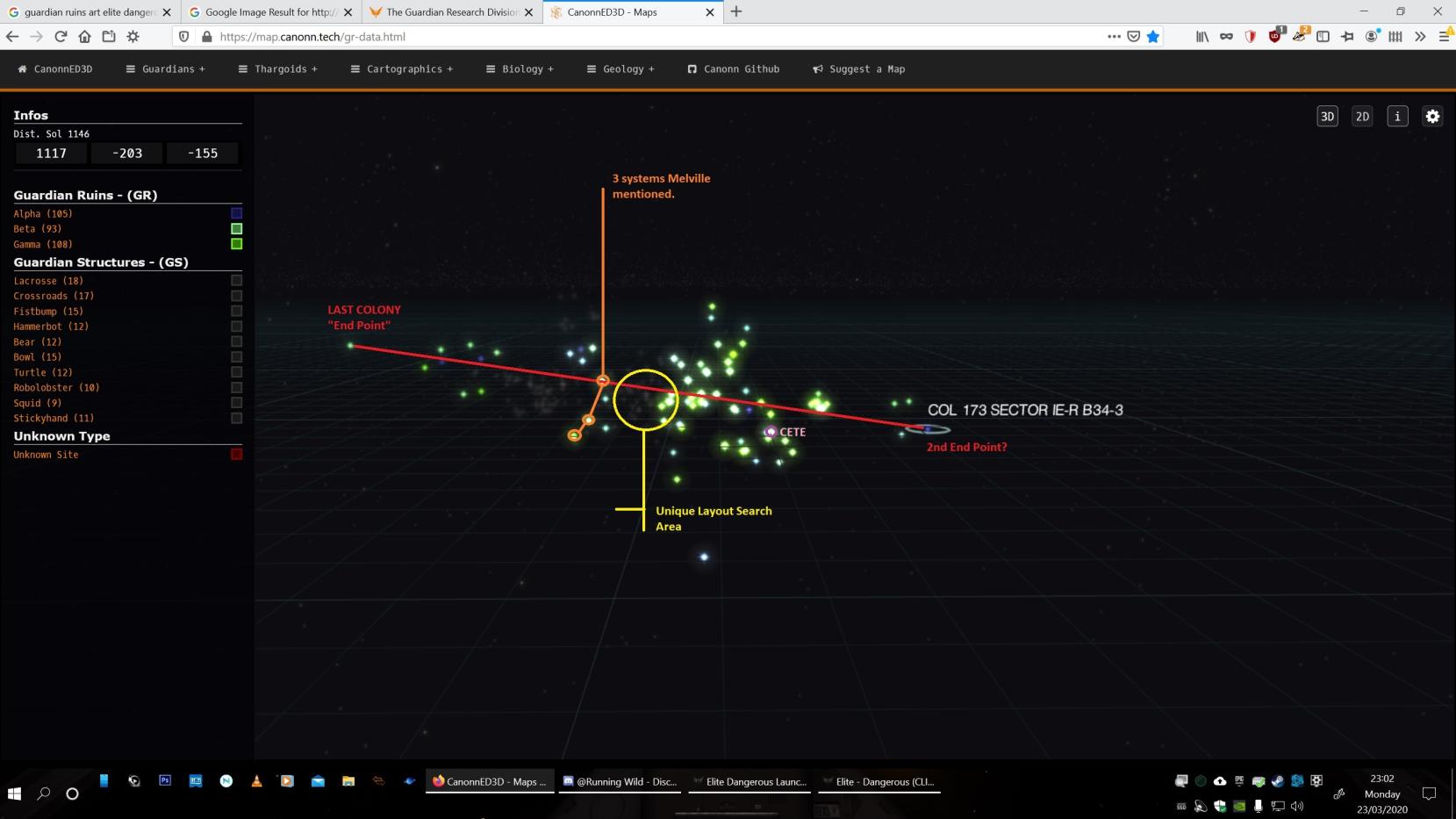 As you can see, I've drawn a straight line between Synuefe XR-H D11-102 and COL 173 SECTOR IE-R B34-3.
It may be possible that COL 173 SECTOR IE-R B34-3 is the furthest other ruin besides Synuefe XR-H D11-102, but without much more data to go by, this is all I have to go on...
However, with that said, I'm confident COL 173 SECTOR IE-R B34-3 could be the furthest, and I'll explain why.
The dates of the Melville logs are as follows:
1:
RESEARCH VESSEL CETE: PERSONAL LOG: 13/01/3303
2:
RESEARCH VESSEL CETE: PERSONAL LOG: 24/01/3303
3:
RESEARCH VESSEL CETE: PERSONAL LOG: 02/02/3303
(3 days since unique layout discovery; "We discovered a cluster of sites only a few days ago before finding a location with an entirely unique layout."
30/01/3303
)
4:
RESEARCH VESSEL CETE: PERSONAL LOG: 08/02/3303
(9 days since unique layout discovery)
5:
RESEARCH VESSEL CETE: PERSONAL LOG: 15/02/3303
(16 days since unique layout discovery)
6:
RESEARCH VESSEL CETE: PERSONAL LOG: 18/02/3303
(19 days since unique layout discovery - the CETE is stranded in COL 173 SECTOR LJ-F C12-0 at planet A 3)
So, looking again at the 3D map above, and providing the ship was travelling equally from the Cluster (3 systems) to the final location where the CETE is, it is a case of trying to divide, by 19 days, how many light years they were travelling per day.
Melville likely saw that the crew member mentioned the unique layout in his or her communications - this likely triggered the following message on day 9 since the unique discovery (my logical conclusion at least), which could explain the following message on the 08/02/3303
"This isn't a research vessel anymore – it's a prison. All means of communicating with the rest of the galaxy have been disabled. Melville has taken control of ship. His obsession has doomed us all. I'm transmitting these records in the hope that someone finds them and comes to our rescue. But the chances of that are slim."
We perhaps know why: because the end-point was mentioned, let alone the unique layout. I'm perhaps thinking that is why the CETE was continuing in that direction - Melville wanted to find the other end-point (my speculation), until the crew decided to rebel and kill everyone onboard, Melville included.
Unfortunatley, this is all just based on little evidence - and I know the community doesn't need to tell me this.
But, just by an odd coincidence
, the yellow area I've highlighted would roughly be 3 days after the discovery of the cluster, and if a line is drawn between Synuefe XR-H D11-102 and COL 173 SECTOR IE-R B34-3,
the search area is suspiciously in the middle...
However, I'm asking pilots if they could possibly help join me in the search for this Unique Layout mentioned - it could be in a star system somewhere between the 3 Guardian sites mentioned in the yellow bubble I have highlighted. Nothing may be found, but you'll be surprised at how many stars aren't searched in the Guardian Bubble (I've found a fair few already).
So, with something for the community to do, to keep all ourselves busy, I would like to ask Commanders to possibly spend some of their time searching for this Unique Layout.
(Update: 25/03/2020)
I've visited each system to get an accurate light years reading to where the CETE's final destination is compared to the 3 sites Melville's crew mentioned.
Where you see "/ 3" or "/19" that is division per number of days worked by the distance.
Hypothesized Travel Time:
Synuefe TP-F B44-0 > Col 173 Sector LJ-F C12-0 = 367.65

367.65 / 3 = 122.55‬lys (likely maximum distance)
367.65 / 9 = 40.85lys
367.65 / 16 = 22.97lys
367.65 / 19 = 19.35lys (likely minimum distance)

Synuefe LY-I b42-2 > Col 173 Sector LJ-F C12-0 = 387.79

387.79 / 3 = 129.26lys (likely maximum distance)
387.79 / 9 = 43.08lys
387.79 / 16 = 24.23lys
387.79 / 19 = 20.41‬lys (likely minimum distance)

Synuefe NL-N c23-4 > Col 173 Sector LJ-F C12-0 = 368.47

368.47 / 3 = 122.82lys (likely maximum distance)
368.47 / 9 = 40.94lys
368.47 / 16 = 23.02lys
368.47 / 19 = 19.39 (likely minimum distance)

Likely Maximum Distance Average: 122.55 + 129.26 + 122.82 / 3 = 124.87lys

Likely Minimum Distance Average: 19.35 + 20.41 + 19.39 / 3 = 19.71lys
I would say, if you were to search in a bubble around those systems, a safe maximum would be 150lys - providing Melville travelled to where the CETE is sitting in just 3 days.
These distances do sit very comfortably within the yellow area I pointed out... but again, the amount of stars is huge.
If anyone can supply their own research that would be brilliant.
Fly save Commanders o7
CMDR Dreamstate.
Last edited: