As posts and information on this topic are getting posted in the Raxxla thread incorrectly, breaking it out here for usage. Note: This is NOT about Raxxla, this is a repost from Drew Wagar (not involved with Raxxla story line).
(added brighter image)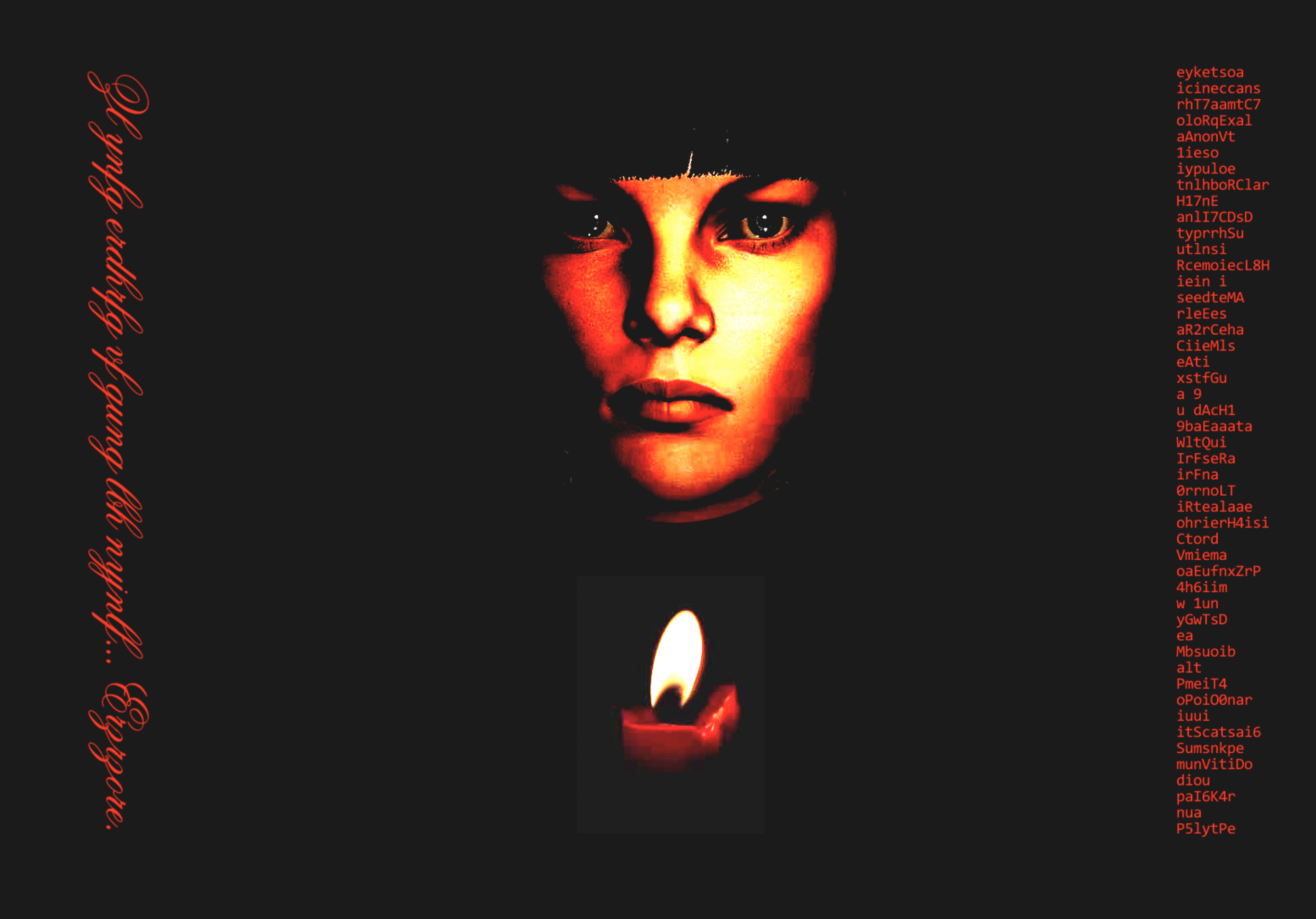 BTW - The final clue is in the image... -Drew
And yes, this final clue has been out over for a year now... -Drew
Text on left side of image (solved and confirmed by Drew):

Text: Zl ynfg erdhrfg vf gung lbh nyjnlf... Erzrzore.
ROT13: My last request is that you always... Remember.
Right hand of image text (unsolved):
eyketsoa
icineccans
rhT7aamtC7
oloRqExal
aAnonVt
1ieso
iypuloe
tnlhboRClar
H17nE
anlI7CDsD
typrrhSu
utlnsi
RcemoiecL8H
iein i
seedteMA
rleEes
aR2rCeha
CiieMls
eAti
xstfGu
a 9
u dAcH1
9baEaaata
WltQui
IrFseRa
irFna
0rrnoLT
iRtealaae
ohrierH4isi
Ctord
Vmiema
oaEufnxZrP
4h6iim
w 1un
yGwTsD
ea
Mbsuoib
alt
PmeiT4
oPoiO0nar
iuui
itScatsai6
Sumsnkpe
munVitiDo
diou
paI6K4r
nua
P5lytPe
5/2/2019 Update:
Drew Wagar's blog post on the image.
SOLILOQUY

This tapestry holds a secret.
Palimpsests and blueprints
While a universe unfolds.
An axis of dying light
That spins in the black.
But alas I can see
Its stars are locked.
For me, Dyhia,
I fear my script is lost.

"In quoting others, we cite ourselves." — Julio Cortázar
The dots in the eyes are irrelevant - from Drew Wagar Stream
It was designed to defeat the techniques typically involved when encountering a puzzle. I'm fairly confident a brute force attempt will not work. It's requires a little subtlety in the approach, but all the clues are there.
The previous clue (the one I used to obfuscate the start point of the Salomé event) used a similar technique. This one is a bit more complex,
-Drew Wagar
Previous clue as mentioned above:
At Phaethon's Reach, Follow the Path of Souls, DB-IB Fi(0) T-1319 SUM(10,7,5,3)
Last edited: