We have a new update due to the open beta trailer released on the 12th of January 2018:
CMDR Bunkerkind Anni created a nice diagram of the hard points.
I'm sure from this, figuring out its size from perspective lines should be a cakewalk for you folks.
What I can say off hand is that there appears to be 2 weapons on top. a class 2 and 3 or a class 3 and 4. There seems to be some debate on whether the forward weaponry is one class 3 or one class 2s side by side. Notice the top weapon has the hatch that slides back.
It seems to have 6 utility slots and interestingly, it only has 2 crew positions.
Oh and it is definitely a Lakon ship judging by the landing gear. (And the rear landing gear does from out of the rear engine!)
Discuss!
Original Post

I created this image after seeing various estimates of how big folks thought the Chieftain was.
I realised this could be done by using the human scale reference in some of the scale images.
What I didn't realise when making it was actually how small the Chieftain really is.
I think the Chieftain has the largest cockpit size to number of human ratio on any ship.
It seems to be not much larger than a keelback and would fit comfortably in the dimensions of an Asp explorer.
What most interesting about it is that it is shown as a 3 person ship. Only time will tell if that is true.
What we can also tell from this video:
https://www.youtube.com/watch?v=cfBn-NWh0z0
is that it seems that the Chieftain has 4 size 2 hardpoints on the top and 2 utility slots.
What else have you noticed?
Beseiger hazards that there are 9 utility slots and 6 hardpoints on the Chieftain of which the top 4 are large (2 assumed on the bottom) and thus the ship must be a large ship because no multicrew ship with this number of utility slots and hardpoints can be a medium ship.
While I understand the logic I disagree on some of his premises. I think the middle most utility slot is too large compared to the rest so it isn't a utility slot (so a total of 8)
And i think those 4 large hardpoints on the top are actually medium hardpoints.
And that there are medium ships with 6 or more hardpoints, such as the Asp or the Federal Gunship. (of varying weapon sizes)
What do you think?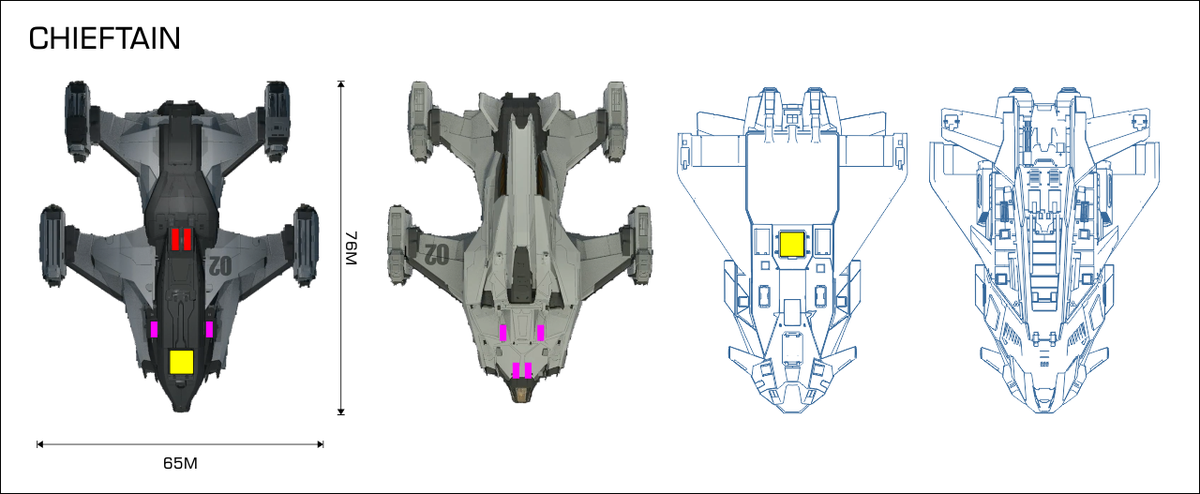 CMDR Anthony Hunt made his rather clean comparison that shows much more accurately the sizing of the ship based on the size of the cargo hatch.
What do you think of these dimensions?
Last edited: