Carrier's Insignia:
View attachment 177619
Carrier Name:
Registration:
Carrier Class:
DSSA Gene Roddenberry
K1F-32K
Nautilus Class
Designated Region:
System:
Trojan Belt

Loijoae ZV-T c17-0
Commission Date (date signed up to the DSSA):
April 5th 3306
Carrier Construction Date:
June 9th 3306
Construction Location:
Panoi - Garen Hub
In-service Date (date the vessel began its DSSA service):
July 4, 3306
Maiden Jump(s):
Ross 310
Services Available:
Repair, Refuel, Armory, Shipyard, Outfitting, Universal Cartographics
Tariff % Set:
5%
Commodities Bought/Sold on Carrier:
Will Buy Tritium at 15,000 CR/T
Will Sell Tritium at 30,000 CR/T
Nearest Tritium Hotspot:
Unknown at this time
Carrier Info (optional):
All commanders are welcome to crew the Roddenberry for exploration and mining. The intention is to have a positive crew who supports one another in their endeavors, creating lasting friendship. Of all the benefits, this is probably the best one.

Communications

Feel free to contact me through the forums. You can also reach me via DSSA Gene Roddenberry Discord at https://discord.gg/wsAuxhx. If nothing else, drop by and show your support.

I appreciate your time and all the dedication of the commanders around the galaxy. I look forward to seeing you in the black!
Screenshot:
View attachment 177620
- DSSA Gene Roddenberry has been added.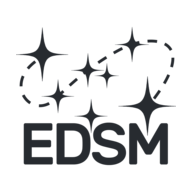 Le Système de Positionnement Galactique d'Elite: Dangerous est à votre service

www.edsm.net