Got back from my latest exploration trip, bought a T10 that I'm going to outfit for courier missions.

Just kidding....

I'm going to outfit it for exploration.

That's also funny, but true in this case
I like the T10, except for getting it through the slot
For some reason, that's the only ship I consistently scrape the tail when exiting. It's got a great view, though. It'd make a nice explorer.
Myself, I logged into my Alt account and immediately decided not to stay in Empire space or do any missions at all. Instead I decided to pursue FSD engineering (lol). So, I flew out to Maia, hitting a few lucrative systems on the way. I picked up a meta-alloy, and took it back to Farseer. I arrived with about 5 million in Exploration data, which I sold to Felicity. That put me up to Grade 4 access and another half or so. So that worked out great.
Next on the list was raw materials. I had exactly none! Not even iron or sulphur. And I'd need a bunch of manganese and arsenic and whatnot for FSD upgrades...hmm. I did a bit of searching and found that planet 5D in Deciat (where I was) had Polonium and Volcanism. I went over there and scanned for POIs, and found a whole bunch of geological sites. I went down to a couple of them (nearly bumped the ground, it's a 2G planet and I wasn't paying attention!). Each site had fumeroles, and there was a lot of piceous cobble and needle crystals and such, each of which contained a raw material of some kind. It was pretty fast to pick them up since they were all right in the same area.
I spent an hour or so. I had 27 polonium by then (which translates into lots of arsenic), and a bunch of other mats. It was kinda scenic, too: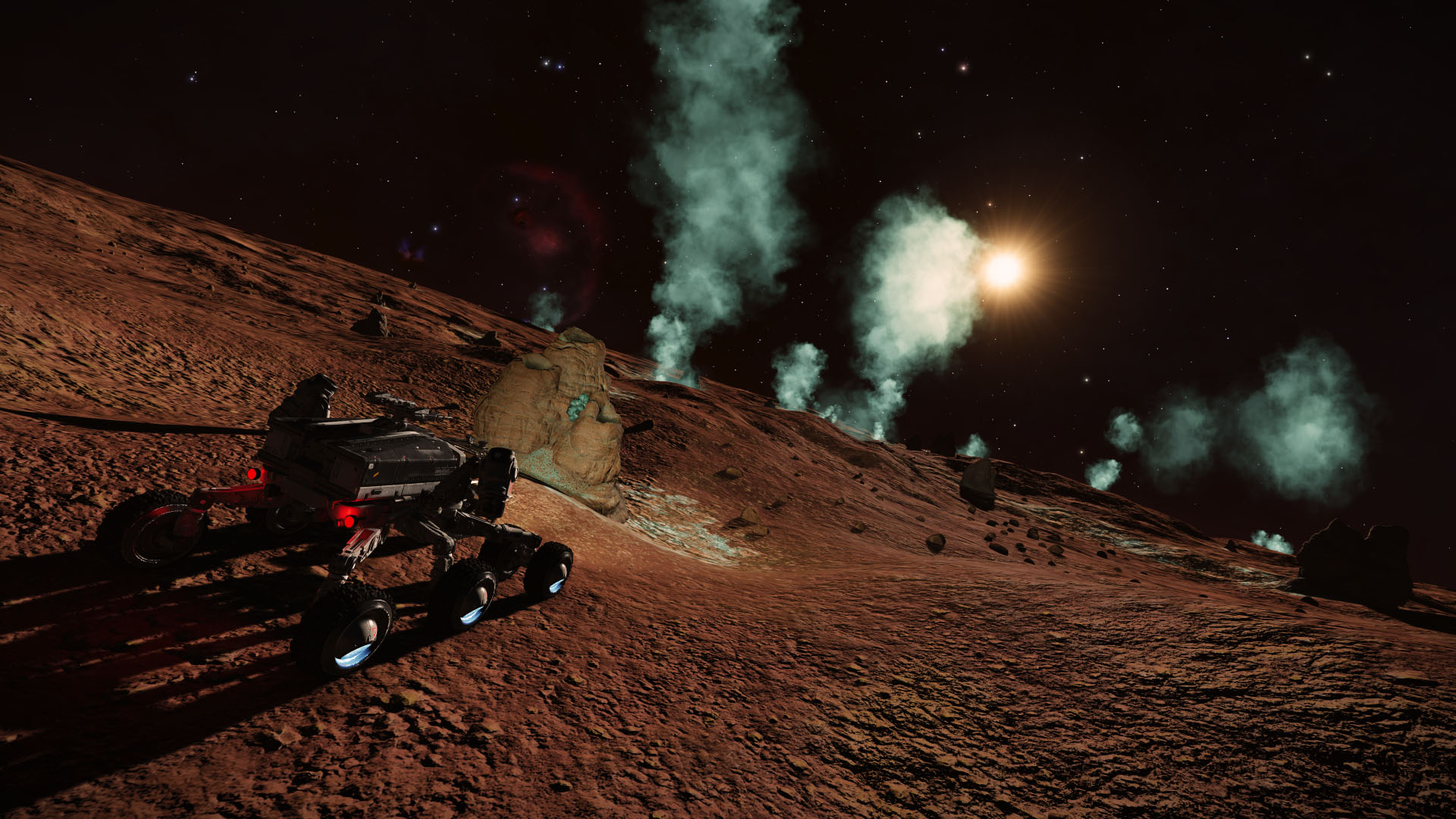 I'm not sure if I'll actually upgrade the Viper, though. I might rather spend the mats on a "better" ship. I'll figure that out later